You can click on the image to make it bigger, but I thought I'd share some pics that I took yesterday afternoon – just before me and Mr. L fell out before we'd even GOT to the DIY store.  The carpet doesn't look too bad in these, it's about 50% worse in real life.  Leila's already christened her room "the birdy room" – no, I have no idea why either.  It's all super-bland and a bit beige but at least it is what it is, a blank canvas.  Does chartreuse go with beige though?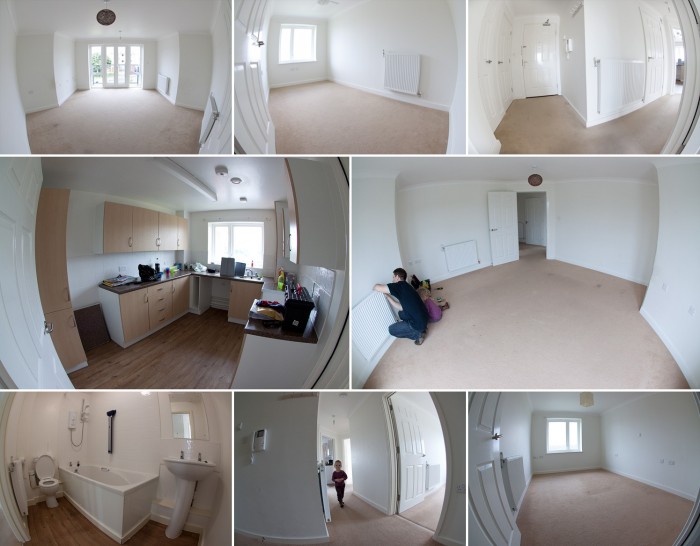 From Left to right, top to bottom: Sitting Room (looking out toward balcony), Leila's bedroom, Hallway (check out the two doors on the left – HUGE cupboards), Kitchen, Sitting Room (looking in from balcony – weird shape!), Bathroom (argh, no storage space), Hallway (looking down to kitchen/sitting room), Our bedroom.
The kitchen surprisingly needs the least amount of work doing to it, so – like the total wimps we are – that's where we're starting!  I don't know what I'm gonna do without any bathroom storage though.  I'm in denial.
This is the view from our balcony. (HDR image for no reason at all, click to enlarge) It ain't a glamourous view – particularly with the JCB currently parked out the front (and the faint smell of gas in the air (not mine)) BUT, it's almost fresh air right?  And when I stand out there, I can see/smell/taste the gorgeous bakery just down the road.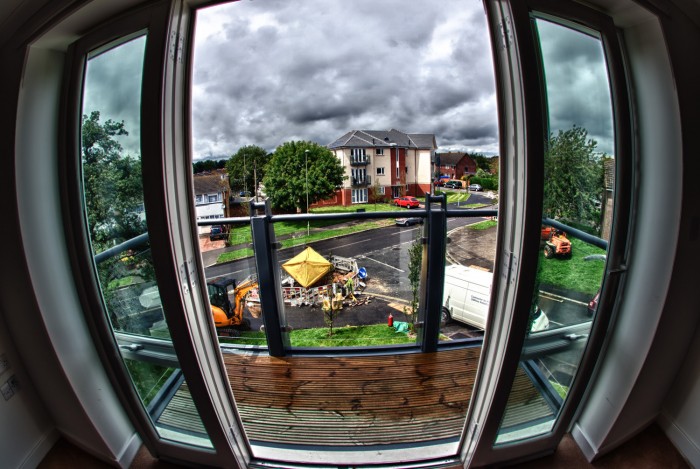 Massive thank yous for all your advice yesterday – you've really helped and I'm gonna rent a Rug Doctor instead of having the carpets professionally cleaned, I'm also going to run like the wind from the IKEA Klippan that we were gonna get.  You're right ladies, don't scrimp on the sofa(s)!
Thank you chaps (and I'm still all ears to any other nuggets of wisdom!)