I was on the lookout for a replacement for my beloved DHC Deep Cleansing Oil (which at £16 a bottle is a touch rich for my blood whilst currently hemorrhaging money in preperation for my new arrival)… when I came across Smashbox Cleansing Oil on eBay for £5 a bottle.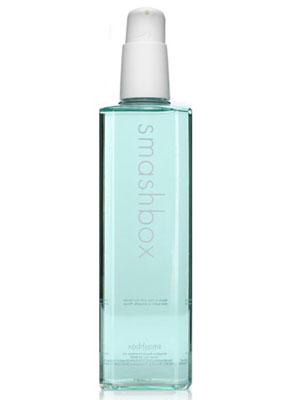 I've been trying it for 3 weeks now and thought I'd give my verdict on how it compares to DHC.
It's a huge bottle in comparison to most branded Cleansing Oils weighing in at 345ml and is definitely thinner and lighter so a little really goes a long way!  It doesn't cause me any sensitivity – even practically rubbing it into my eyes (and I often react to the mildest of products).  It removes all that DHC does and removes everything perfectly – so far top marks…
I'm not a huge fan of the smell, it's slight cucumber-ey in a cheap rather than refreshing way, but it's not terribly noticeable.  The real problem though…
…It just doesn't emulsify well at all (which DHC does brilliantly), this stuff sticks to my face-cloth and skin like tar no matter how many times I rinse in hot water.  Which means that even after the next step of washing my face with my favourite cleanser/mild soap I can still feel the oil on my skin thanks to it transferring back from my face-cloth. 
I also have to scrub the sink everytime I wash my face as it leaves a ring of make up on the sink – not really a problem (infact it's quite satisfying looking at all that makeup grime in a gruesome sunburn-peeling kinda way) but worth mentioning.
This 'problem' as I see it might not bother you if you're used to traditional OCM, but if you're prone to breakouts – you need to be extra vigilant to ensure your skin is free from the product after cleansing.
I bought my Smashbox Cleansing Oil from this seller, it's available from other sellers and also some of the discount cosmetic websites have it in stock at a good price as it's now a discontinued Smashbox skincare item.
However, I won't be buying it again – I just don't have the patience last thing at night to meticulously go over my skin a 100x to ensure all the oil is removed.  Such a shame, 'cos everything else about it is truly spot-on.
I can't bring myself to bin it either seeing as it does work so well in all other aspects.  I shall have to invest in some more face cloths and ensure I only use one for the oil and refill the sink a couple of times inbetween cleansing… makes it all a bit high maintenance though!
Oh, I hate to give it such a low score – but that singular problem is a BIG deal for me.
[starreview tpl=14]