If you do one thing today please check your blog subscriptions, update if necessary, and if you're using the Blogger.com dashboard to read your favourite blogs, consider changing to something a little less flaky (I personally use Bloglines to follow my favourites).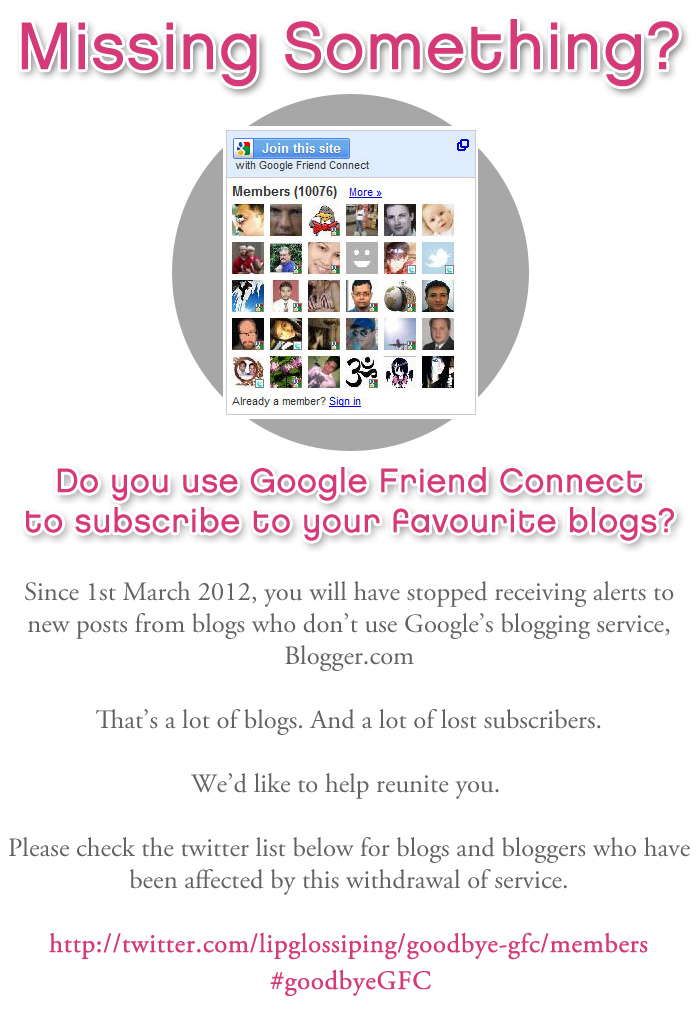 At the last count, there were nearly 40 bloggers in 'google exile' following the removal of the GFC service for non-blogger blogs.
You can find a list of these bloggers at https://twitter.com/#!/lipglossiping/goodbye-gfc/members
Have a look, you may even find your new favourite blog in the list.
.
I just want to say a massive thank you to @tsunimee for helping me spread the word about this and for being the most passionate (if a little bit too passionate at times ;)) blogger I've ever had the pleasure of knowing.  She fights for whatever she believes is right and she does it with gusto, as the French would say… formidable.
Also, a huge thank you to all the blogs out there who have nothing to personally gain from posting the above image but have done so regardless to help raise awareness.  You're beyond brilliant and I'll happily RT the arse out of any posts you wanna send my way on Twitter (@lipglossiping)
Normal posting (and quite possibly a lot more of it!) to resume tomorrow, I gotta get my readers back somehow right?!