I've already declared my preference for shopping solo before… it's a control thing.
My tastes are probably different to yours and I don't wanna spend 20 minutes pretending to like that green eyeshadow you've gone all misty-eyed for.
I mean… "Hey!  Why don't you come over here instead and examine these 7 different taupes with me whilst I delve into miniscule detail noting all the subtle differences between them".
See the problem?  I'm not a very compatible or companionable person whilst shopping.  Just leave. me. alone.
So, it's with interest that I saw Elemis' latest launch!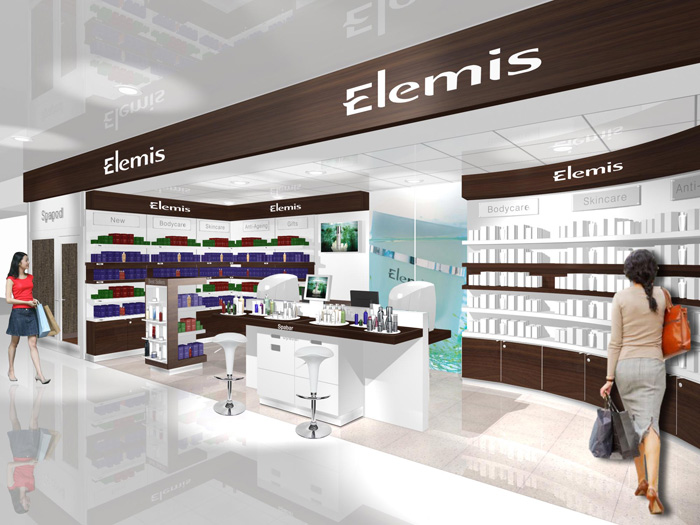 By the way… this is supposed to be a graphical representation of Debenhams on Oxford St… I wanna know why there's only two women in the picture?  There should be at least 50… all foaming at the mouth… pushing, snarling and invading one another's personal space whilst clutching their little yellow Selfies bags from down the road.
Anyway, where was I?
Oh yeah… Elemis… Well, they've introduced this thing called a Double SpaPod and it goes something like this…
Launching this May is the world's first Double Elemis SpaPod.  Now there are two treatment rooms available so you can book in alone or if with a friend you can both stop for advanced facial therapy and total body revival before you continue to shop!
I'm really not sold on this whole "go with a mate" thing but it got more interesting when I read this…
Each treatment is carried out whilst you relax on an Intelligent Massage Chair that measures the length of the spine,  takes your body weight, warms the body and is then  programmed to deliver a customised massage using a variety of techniques, working specifically on any problem areas.
Getting warmer…
And check out the new innovative Smart Glass Technology.  At the flick of a switch, this advanced glass instantly frosts over locking out the hustle and bustle of the beauty hall and cocoons you in its relaxing retreat-like ambiance…
Sold to the lady who wants to play with the switch! *flick, flick, flick*
.
I guess I can see the point with going to a spa-type thing with a mate… but I dunno, if it involves shopping too… I think I'd rather be forced to buy nothing but Constance Carroll for a year than buddy up…
Are you a sociable shopper?  Do you take your girlfriend's to the loo with you?  Do you want one of those Elemis massage chairs for your front room too?