Ever wondered if your uncle's cousin's brother was, infact, your husband?  No, me neither… but I'm sure it happens in some places, like Yeovil or Darlington.  Anyway, despite society's thirst for new technologies, I soon discovered that many people view DNA testing with the same kind of suspicion they reserve for tarot reading or "Psychic Sally".  I'm not talking about the kind of DNA testing that proves X murdered Y at the Old Bailey, that kind of science is beyond reproach – I'm talking about the kind of DNA profiling that you and I can have done.  On ourselves.  Of course, it's basically the same thing – but try telling that to some people. SOME PEOPLE.
To be fair, my prior knowledge of DNA testing was pretty sketchy, it was based around everything I've ever learnt from watching The Jeremy Kyle Show, which, as I'm sure you can imagine… amounts to not an awful lot.
If I'm being honest, vanity had a lot to do with my decision to have my DNA profiled.  I mean, we all know that the best subject in the world to talk about is ourselves.  On the health side of things, I was curious to discover whether my DNA would show a genetic disposition toward Alzheimers now that both my mother and my paternal grandmother had been diagnosed with the disease.  I also wanted to find out about any other genetic risk factors, including the much talked about BRCA1 and BRCA2 mutations that can significantly increase the risk of female breast and ovarian cancers.
23andme offers a wealth of health-related information (note, the FDA do not allow the company to provide health-related information on the basis of its genome scan in the US) to many of its customers but if looking into a potentially rather murky crystal ball doesn't float your boat, perhaps the ancestry side of things is more to your taste.  The results offer a full breakdown of your ancestral composition, detailing what parts of the world your ancestry hails from, whether you have any famous relatives, and just how much of your DNA is basically Neanderthal.  It will inform you of any relatives it discovers from across its network of customers, providing of course, you grant permission for it to perform that kind of private "matchmaking".
So, your appetite is whetted.  How does all this magic happen?
I signed up and paid my monies on the 23andme website… it's not cheap by the way, it'll set you back £125 – but I saw that as a bit of a bargain after I'd done some research into getting my BRCA1/BRCA2 genes tested privately at a cost of upwards of £1000.
Once signed up, you sit back and wait.  And the waiting is the dullest part of the whole procedure.  While 23andme offer their services within the UK, they're not based here and it took just over a fortnight before I received my DNA Collection Kit.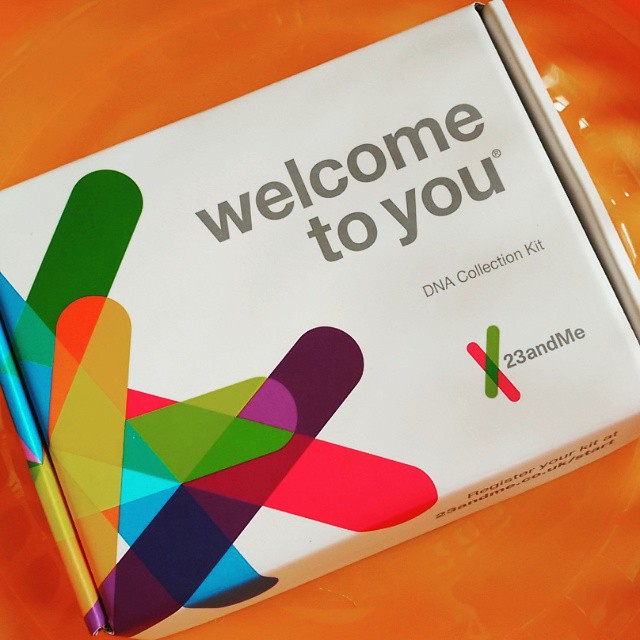 The process involves depositing saliva into a collection tube.  It's basically a spit-kit, pure and simple.  I've never felt more feral, or indeed impressed by my gobbing abilities.  It took me far less time to fill to the line than I thought it would, I was probably thinking about steak and chips… I usually am.  Once your "deposit" is safely sealed in the box provided, you'll need to head for your nearest post office, feeling like a dirty miscreant handing over bodily fluids to an unsuspecting Royal Mail employee.
AND THEN YOU WAIT.
It took a painstakingly long six weeks before I received my results.  I felt a rush of excitement, anticipation, and dare I say it, fear when that email pinged its way into my inbox.
But more of that next time…