The soon-to-be-released Black Palette from US eyeshadow maestro's Urban Decay is an altogether darker affair than the recent Naked set…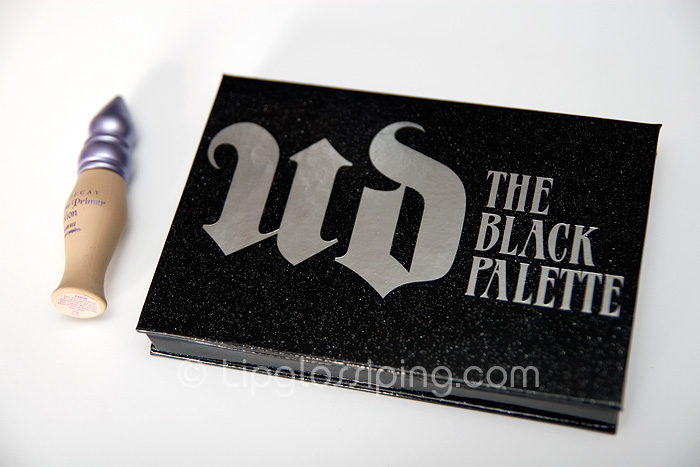 The Black Palette includes 6, 1g eyeshadows, 1 mini 24/7 eye pencil in zero and a mini eyeshadow primer potion in new 'shade' Eden.  We haven't seen Eden on these shores before so I was excited to be able to take a look when I received this sample last week.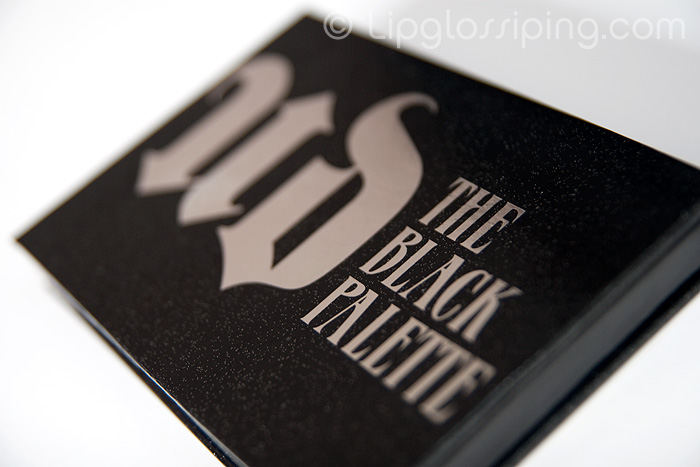 The packaging is compact.  There's been complaints about how cumbersome some of Urban Decay's palettes are and they've clearly listened to the fans.  There are no hidden drawers or slots for your car keys.  Barely an inch of wasted space… infact, the included UDPP (Urban Decay Primer Potion) sits seperately from the palette once taken out of the exterior packaging.  The Urban Decay Black Palette is thoroughly portable if you need it to be.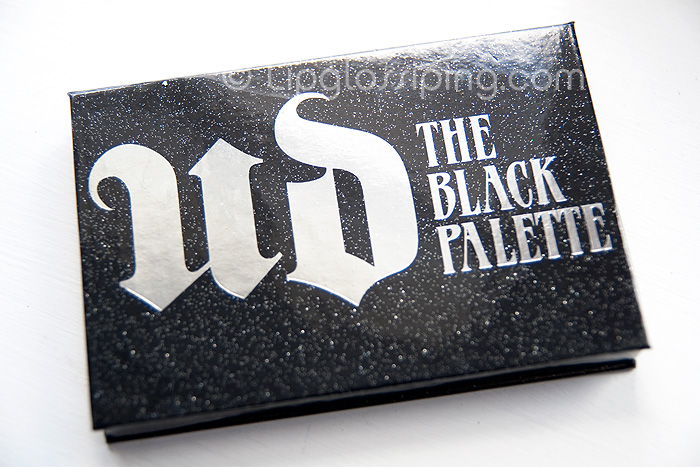 Infused with sparkle and metallic silver embossing, the cardboard packaging is as rock-as-you-like.  The magnetic closure is sturdy and as always, there's a nice large mirror inside.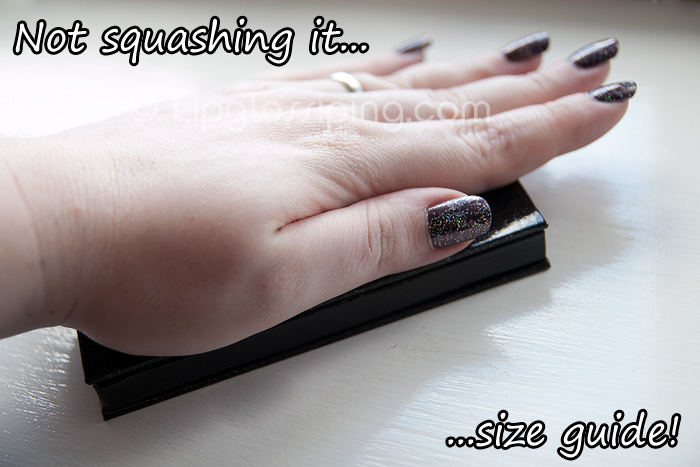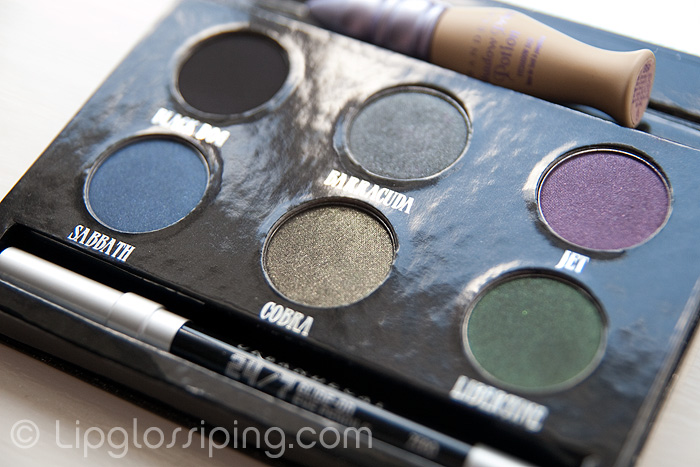 5 of the 6 shades are shimmery… and a couple of these lean towards glitter.  Though we're not talking chunky UZI/Polyester Bride/MCRA glitter.  The sparkles are fine and stick well with primer underneath.  I didn't experience too many fall out issues (and this comes from a MCRA hater).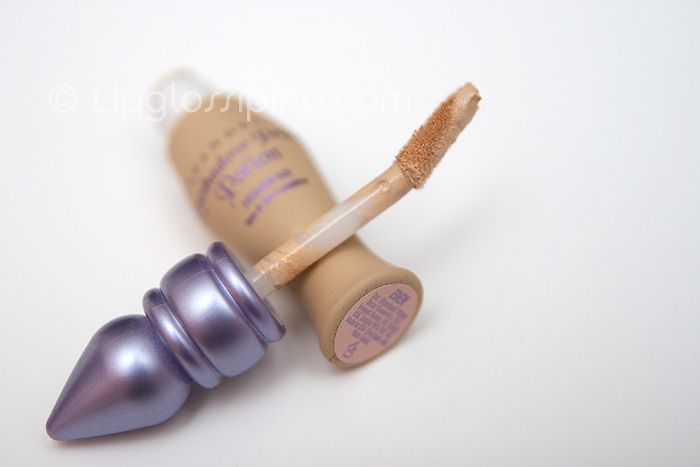 Eden, the new Urban Decay Primer Potion incarnation is a warm medium-toned shade that slightly mattifies.  On my skintone, it's clearly quite yellow and dark… I'm not sure I'm keen, but that's a personal shade preference.  I would have to be careful in application to ensure I don't leave any visible tidemarks.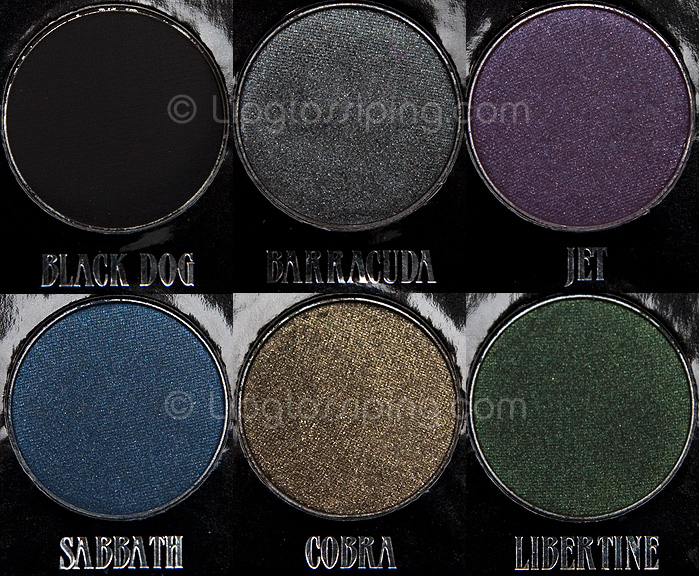 Close ups of the six shades:
[stextbox id="custom" bcolor="b0c4de" bgcolor="e6e6fa"]Black Dog – Matte Black
Barracuda – Charcoal with silver sparkle
Jet – Dark purple shimmer
Sabbath – Dark blue shimmer
Cobra – Black with gold sparkle
Libertine – Dark green shimmer[/stextbox]
Slightly on the soft side texture-wise, there's a bit of lift and loose powder when I swipe with a brush, but nothing that gives me major cause for concern.
The flipside to a softer shadow is the deep pigmentation and smooth application that these provide.
.
I've swatched the shadows three times.  Once over the enclosed UDPP in Eden (note the tidemarks on my pale skin), once over UDPP in Sin (I wanted to see if it upped the shimmer) and then once over Fyrinnae's cult Pixie Epoxy primer.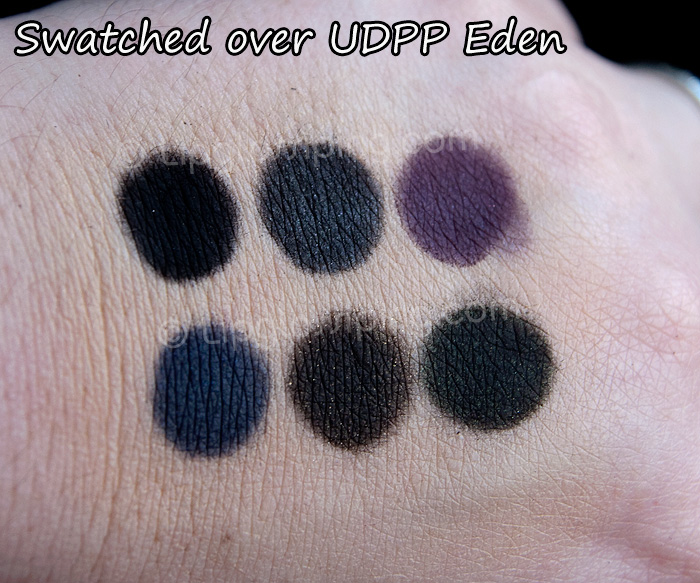 Deeply pigmented, blackened shades… slightly flat and mattified by the Eden primer.  These are swatched in the same order as they appear in the box.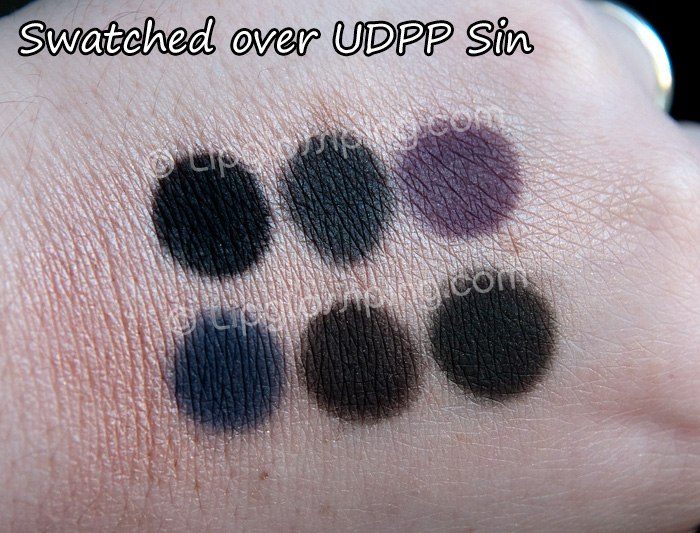 Swatched over UDPP in Sin.
To my eye, slightly sheerer… slightly flatter… slightly more blah.  Not what I was expecting really.
Something's missing. On paper, these look like great shadows…. shimmery, pigmented… blackened.  They should be HAWT, but I'm not 'getting' hawt.
I'm just getting a bunch of dark eyeshadows.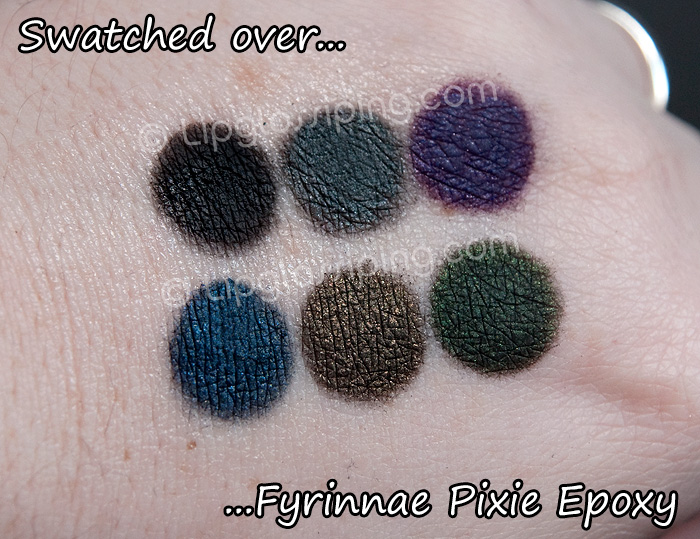 Now THAT'S what I'm talking about! Shimmering blackened shades that bring out the hidden oomph!
Not really sure about needing a separate primer to achieve this though…
Maybe I'm just a shimmer junkie and thoroughly missing the point of The Black Palette?
Maybe I've gone against the original vision in the creation of uber dark flat shades and essentially achieved the cosmetic equivalent of using Brasso on an antique lamp, thus devaluing it in the eyes of the experts.
But, it's prettier my way right?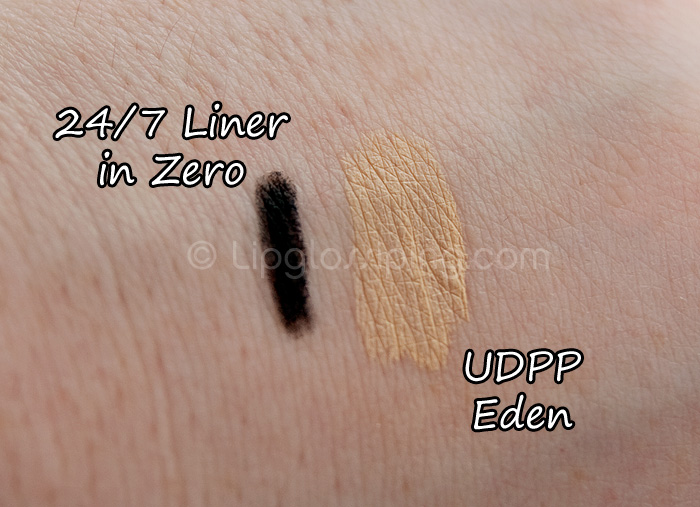 Final Verdict – The Black Palette will retail in the UK at £23.  Having just purchased The Book of Shadows III, I can't help but compare value.
Black Palette –  6g of eyeshadow, 1 mini liner and 1 mini primer for £23
BOS III – 12.8g of eyeshadow, 2 mini liners and 1 mini primer for £30
The Book of Shadows III is gonna win this comparison hands down.
If you're new to Urban Decay and want to get a general feel for their shadows or expand your collection…. go for the BOS III.
If you're a sucker for this kind of dark, smoky, night-time palette – these comparisons aren't going to matter so much. Not only that, but the shades positively sing when applied over the right kinda base.
Urban Decay's Black Palette (£23 or €33) will be available next month instore at selected Boots, Debenhams & House of Fraser Stores and online at the usual Urban Decay stockists.  U.S. readers – I'll try and find out your local release dates and availability and update ASAP.
Oh, and go buy Fyrinnae's Pixie Epoxy.  Those guys deserve a knighthood for services to eyeshadow.