When I think about French food, I think fuss… showiness… style over substance…
In case you're wondering, I pretty much think about British food as the complete opposite.  I mean, how could you not equate fuss and frippery with a country famous for producing cute little boxes of multi-coloured macarons for heaven's sake?  Suffice to say, I usually steer clear of attempting to recreate French cuisine.  I am not a patient cook and I am, in no way at all, a perfectionist.
Which is why I wasn't at all sure about my strange hankering to rustle up a loaf of brioche.  And not just any old brioche, but the kind of brioche that I grew up with when I spent my summers in the Vendée.
The Vendéenne Brioche is all about a light, cakey texture with just the right amount of sweetness.  Many in France will spread their morning slice with jam but I'm an all-butter purist, just make sure that it's *proper* butter though, ok?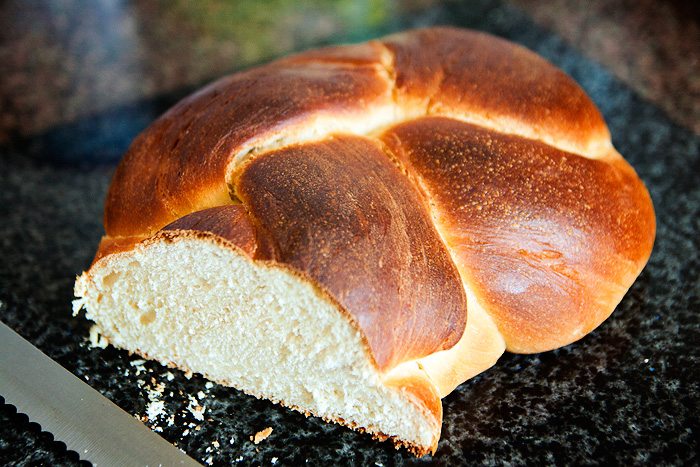 My brioche recipe is fairly basic as most go… I didn't attempt to add Orange Blossom Water as some do and the same goes for rum!  I wasn't going to spend £££ (or should I say €€€) on ingredients that I might never use again.  However, now that I've got the basic recipe under my belt, I may be a little more adventurous next time.
You will need:
220ml milk (regular or semi-skimmed, no fully skimmed please!)
1 large egg, beaten
85g caster sugar
80g butter, room temperature
10g fast-action yeast
500g plain flour
1tsp salt
1tsp vanilla extract (good quality)
If you've got a stand mixer with a dough hook, I ain't gonna lie… all the better.  But of course, this can easily be done with some good old-fashioned elbow grease.
Warm the milk to around 35 degrees celsius (tepid) before adding the sugar, vanilla extract, and beaten egg.  Then in this order: add the salt, the butter, the flour, and finally the yeast.
Bring the ingredients together until a smooth dough forms, making sure that you've combined all the ingredients well.
Place the dough into a bowl, covering it with a tea-towel and leave it to rise for 1 hour in a warm place.  I usually turn the oven onto 50 degrees c for around 2-minutes before switching it off, letting out a little of the heat (you want it warm, not hot!) and then shutting the oven door on my dough after another minute has passed.
After an hour, your dough should have (roughly) doubled in size.
Tip your dough onto a lightly-floured surface and punch it to release the gas from the yeast.  Split it into two equal halves and get ready to braid.
I use this video for braiding inspiration… it's a lot easier than a 3-stranded braid and looks super-authentic once baked!
Once braided, place your brioche onto its cooking surface.  I prefer to cook my brioche (and other breads) on a silpat or parchment-lined baking sheet but you can pop it in an oiled tin if you prefer.  Put it back in the oven (or other warm place) for a second rise, another hour will do.
Brush the surface of your brioche with egg (add a few drops of white vinegar for a super-shiny crust) and bake it in the centre of a preheated oven at 180 degrees celsius for anything between 20-30 minutes.  Check the colour of the top regularly to get an idea of how quickly your loaf is cooking.
Once removed from the oven, let it cool and enjoy the fruits of your labour with a generous slathering of butter, or jam… or both if you're feeling particularly decadent!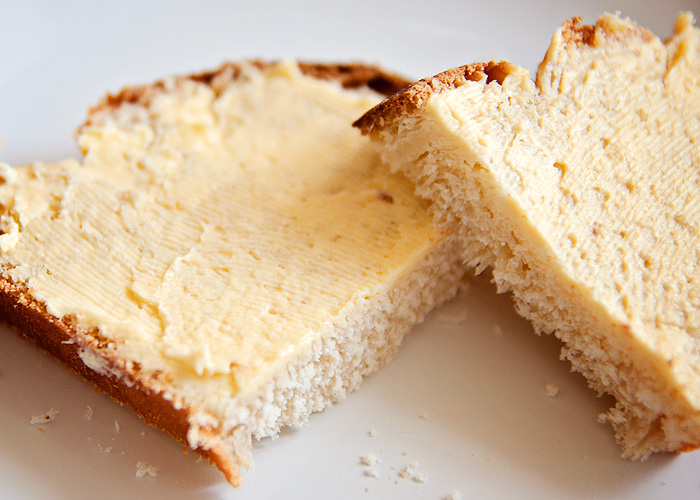 Bon Appetit!
if you liked this post, please don't forget to check out my subscriber options, here