It takes a special kind of lady to rock certain styles – I'm not a special kind of lady, "speshul" maybe…
I've been eyeing up some pretty hair jewellery around the interwebs and wondering what it would take for me to take the plunge and invest in a pretty piece.  I think the answer lies somewhere near the bottom of the bottle of Malibu lurking in the fridge.  Yes, I'm uncool enough to still love a bit of Malibu!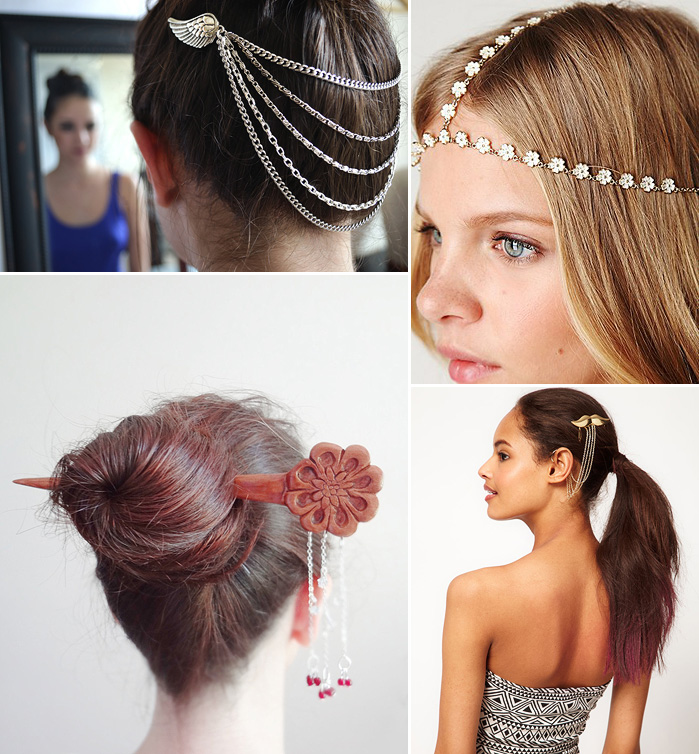 Silver Wings ($40.00)  |  Wildfox Daisy Chain (£47.47)  |  Kyoto Moon-Kanzashi Geisha Hair Stick ($40.00)  |  Moustache Ear Cuff (£8.00)
Honestly? I can just imagine getting horribly tangled up in it all the time.  Perhaps it's a trend better suited to those with effortlessly sleek locks that seemingly never frizz?
Me?  I'd turn my head too quickly and attach myself to a fucking kitchen cupboard.
Do you own and wear any hair jewellery?  Hair bands and combs don't count – I'm talking proper barnet bling!