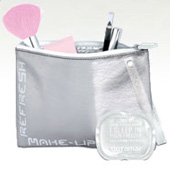 Tiny picture… sorry… it's a makeup bag.
But not just any makeup bag…. oh no…
The Refresh Make-up Chiller is an ingeneous way to keep your cosmetics cool when the temperature rises.

This handy little pouch with a pocket for a mini-ice pack is the ideal way to protect your cosmetic essentials when you're hot in the city or relaxing by the pool.

Large enough to hold your daily essentials, but small enough for your handbag, the Refresh Make-up Chiller takes the heat out of looking your best in the sun!
Um. Ok then.