I think I've finally got my overnight makeup bag packing down to a fine art.  I'm always moaning that Mr. L expects me to take about 3 items away with me yet still somehow look like a human being.
I thought I'd share what I took with me when I went on an overnight jaunt last time.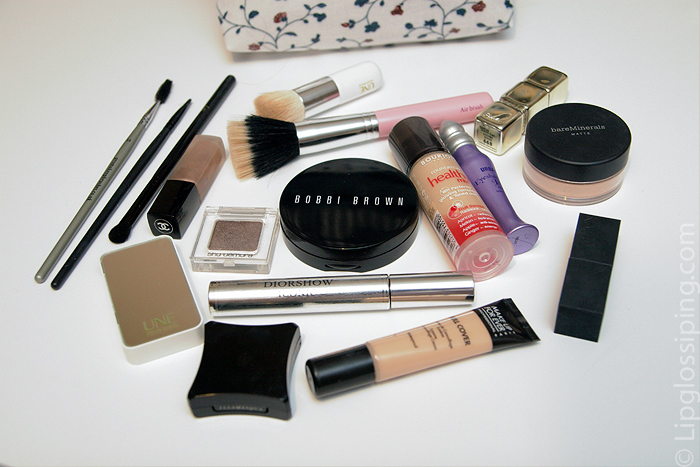 My requirements are simple.  Long-lasting makeup with the least amount of application time.  The key to this (for me at least) appears to be some simple layering.
Firstly, brushes.  I don't take any of my good ones… I've thought about purchasing some of those brush guard thingies… but they're such a boring and practical purchase and I'm always finding more exciting things to spend my money on instead!
A mascara spoolie, slanted eyebrow brush, cheapo no7 eyeshadow brush, Une Cosmetics flat top kabuki and my Pout Airbrush see me through a couple of days well.
Because I'm out and about all day, I need my makeup to go the distance and I'm finding a few key products are seeing me through the day.
Most importantly, I want my base to last and at the moment, I'm finding a combination of Bourjois Healthy Mix set lightly with Bare Escentuals Matte is seeing me through the day nicely.
Cheeks are a combination of Une Cosmetics Creme Blush in B02, with a light dusting of Bobbi Brown Illuminating Bronzer in Maui ontop.
My ever-faithful, ever-present Urban Decay Primer Potion gets packed time and time again and a combination of creme/liquid (Chanel Ombre D'eau)… and powder eyeshadows (Shu Uemura) remain solidly on my lids all day.
Diorshow Iconic and a Kajal eyeliner are foolproof to apply and never give me bother in the mornings.  The kajal smudges as the day goes on, but any errant smears are quickly wiped away whilst the majority of the product stays nicely between my lashes.
I never wear full-on lip colours when I'm travelling simply because they're too high maintenance, I chose to take my Guerlain Maxi Shine with me this time… light yet long wearing, I'm definitely looking to increase my Guerlain lipstick collection!
God, that was a dull post… I'm absolutely dying up here on this poop laptop with weird colours.  I have many posts in my head and pictures to resize and edit, but the colours are so squiffy on this monitor that I don't wanna upload anything colour crucial.  You'll wonder why I'm wearing a green lipstick or something!
Have a great weekend ladies!