I think we're all prone to being suckers for a beautifully packaged product.  There's something to be said for kerb appeal and this year… some brands have pulled out all the stops to ensure that their wares will take pride of place under your Christmas tree.
Here are some of my favourites…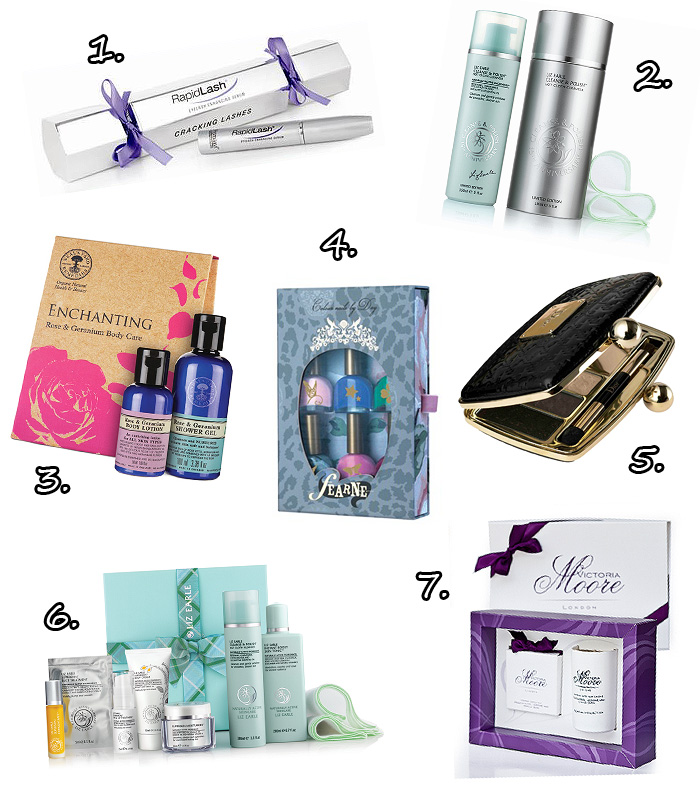 1. Limited Edition RapidLash Christmas Cracker (£39.99) – Very cutely packaged as a Christmas cracker, this Limited Edition RapidLash Eyelash Enhancing Serum is available from Boots while stocks last.
2. Liz Earle Cleanse & Polish Limited Edition (£17.50) – The iconic Liz Earle Cleanse & Polish housed in a limited edition embossed metallic shell.  Comes complete with muslin cloth and 150ml of product.
3. Neals Yard ENCHANTING gift set (£12.50) – Rose & Geranium Body Lotion and Shower Gel make this a great choice for budget conscious gift shoppers.  The packaging holds a secret…the box, which is folded together, can be turned inside out to be reused as a gift or trinket box!  Cute AND Recyclable!
4. Fearne Cotton Nails by Day (£10.00) – A set of six easy-to-wear nail polishes packaged in an adorable grey leopard print box.  Exclusive to Boots.
5. Dior Minaudiere (£59.00) – Simply precious.  3 shadows, 2 lip colours… Dior's exquisite Minaudiere would totally set any makeup-loving girl's heart a-fluttering on Christmas morning.  Comes in Grey Golds (pictured) and Pink Golds… I'm swooning…
6. Liz Earle Ultimate Superskin Hamper (£94.00) – It's no secret that Superskin is the Liz Earle range that *really* sets me alight.  I think it's a wonderful, no-BS, quality skincare line that treats my normal/dry skin very kindly.  This hamper is a treat and a half.  The ultimate in Christmas morning decadence.
7. Victoria Moore Scented Candle & Soap Gift Set (£25.00) – Choose between: Cinnamon, Vetimos & Cognac oil, Frangipani & Jasmine or Frankincense, Jasmine & Vanilla.  Three variations to suit every discerning nose!  Beautifully presented, a simply gorgeous gift for any woman in your life.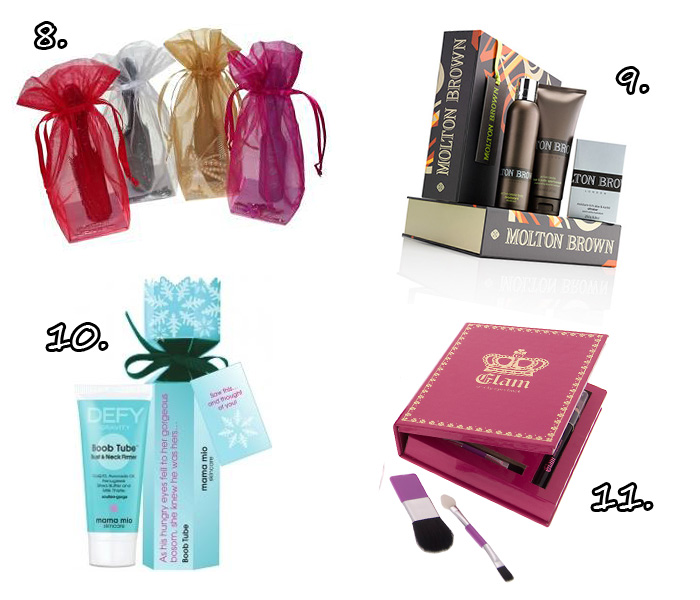 8. Denman Hairbrush Gift Packs (from £8.23) – Referred to as the Hairdressers' Hairbrush, Denman have some fabulous stocking filler gifts on offer this year.  Carefully presented in co-ordinating organza gift bags, the brushes sets are perfect handbag fillers – some diamante studded and colours to match every Christmas outfit!
9. Molton Brown The Three Musketeers (£42.00) – I suppose I'd better include one for the gents in our lives.  This beautifully packaged three-piece set for men brings together elements from their popular men's body range: Active cassia hair & body sportswash, moisture rich aloe karite ultrabar, active cassia deodorant.
10. Mama Mio Boob Tube Christmas Cracker (£10.00) – Another gorgeous Christmas cracker!  The inclusion of the words: "As his hungry eyes fell to her gorgeous bosom, she knew he was hers…" makes this a saucy Christmas stocking filler.  Just be sure you know the person you're gifting to well enough not to offend with boob-firming cream, or you may get more than you bargained for!
11. Glam Smoky Eyes Book (£4.00) – A gorgeous makeup book that includes four seriously enticing smoky eye shades to create sultry evening looks.  At the bargain price of £4 for the set, this is one to look out for whilst you're shopping for your Turkey and Brussel Sprouts!
.
Anything in my little list of perfectly packaged goodies catch your eye?  What's on your Christmas lists this year?