Well that was tiring.
The fundamental problem with trying to fit 5-days worth of sightseeing into just over 48hrs is that, something… somewhere has to give.  In my case, it was very nearly my sanity (and my feet).
We arrived in Paris at lunchtime on Monday and headed straight to our hotel to make use of their left luggage facilities.  Fortunately for us, they were good sorts and just let us check in early instead.  Our hotel was the Astoria Opera, whose nearest metro stop, Rome, was only a 2-minute walk away.  It's really well-located for using the public transport and has a great bakery around the corner for late breakfast treats!
The first thing that I want to recommend for your trip to Paris… is two iPhone apps that were paramount to our enjoyment of the city.  The first is Paris Metro, where a paltry 69p will ensure that finding your route across France's capital is a doddle and this one doesn't need a data connection to work either.
The second app that was invaluable for getting around the city was Digi Guide Paris, another inexpensive 69p purchase.  I didn't really use it as a "guide" but the offline maps capability made sure that I was always headed in the right direction.
These two nifty tools really did ensure that our trip was as stress-free as possible.  A final, honourable mention goes to the free TripAdvisor Paris City Guide which had some useful last minute information on opening times (we found out that one of our intended museums was closed on a Monday thanks to this).  Just make sure that you download as much information as possible for the app before you set off.
As soon as we'd dumped our luggage and caught our breaths, we jumped on the Metro and headed for The Louvre.  I knew in advance that I wanted to make a beeline for the quieter Porte des Lions entrance, and catching sight of the queues snaking into the Pyramid, I was keen to quickly locate it across the courtyard.  Unfortunately, it was closed!
I had a moment's frustration (because it should have been open, damnit!) before I engaged plan B and headed for the underground mall at Carousel du Louvre.  Thankfully, we only had to queue for around 10 minutes to buy our tickets and get through security before we were in!
When people tell you that it would take days, or even weeks to appreciate the museum properly, they ain't lying.  If I used only one word to describe this Parisian gem, it would be: overwhelming.  The sheer size of the place is something you can only really appreciate in person but it's worth ensuring that you've got a pair of comfortable shoes on your feet for when you attempt it!
We literally only discovered about 3% of the museum by concentrating on the major sights but even with our guerrila-style attack on the attraction's jewels, we still lingered over a few pieces that caught our eyes, in particular, everything on display by Anne-Louis Girodet de Roussy-Trioson who I don't mind admitting, I'd never heard of before.
I enjoyed documenting the crowds infront of the most well-known pieces more than the art itself.  Mr. L kept laughing at me that I was standing back and taking pictures of everyone else rather than pushing to the front to enjoy what they were capturing.  If you're really into seeing these masterpieces, it's well worth getting there for opening time as the ambiance is definitely spoilt by the sheer number of people around you.
You will struggle to have any kind of "moment" with these icons otherwise, so Google for an early-morning action plan, complete with the ideal route for getting through The Louvre before the throngs of people appear behind you!
My favourite spot in the museum (well, of the bits that I saw) was this precise location above the Daru staircase in line with the majestic Winged Victory statue.  It was relatively quiet from up here and gave us a moment to gather our thoughts while gazing down at everyone doing their thing.  I couldn't help but laugh at all the people taking photos with their iPads, it looks so funny and always puts me in mind of Penny from Inspector Gadget with her computer book!
After our whistlestop tour of The Louvre, we were famished and headed back down into the Carousel du Louvre for a bite to eat.  Unfortunately, it was proper food-court stuff so we settled for a sandwich from McDonalds and promised to self-flagellate later in penance for our sins.  Keeping it real.
We had pre-booked a behind-the-scenes Eiffel Tower tour to ensure that we bypassed the worst of the queues and I was so glad I did!  When we arrived, the queues were horrible, definitely don't be thinking you can rock up to this attraction and wait in line for ten-minutes… we're talking hours upon hours of queueing.  The excursion I booked was via Cultival.fr and cost around 22€ each which included a guided tour of the bunkers underneath the tower and the operating room of the pillar lifts which were installed over 100-years ago. Nerdy stuff!
The thing about the tower is that it just doesn't disappoint.  You see it in films, on TV, and immortalised in people's holiday snaps the world over but it just doesn't compare to standing infront of the structure and looking up.  There's something about its skeletal form that trumps any skyscraper. Brilliant!
Once we'd bored ourselves senseless with the tower's history, we headed across The Seine over to the Jardins du Trocadero where some daring skateboarders were piling up industrial-sized rubbish bins and ramps to impress the crowd. We grudgingly walked up to the Trocadero above, still not really wanting to leave the tower's magnetic pull.
Once we got to the top – dodging the numerous street hawkers on the way – we decided that it was surely time for dinner and headed for a bistro over the road where I'd spent a few happy (and slightly drunken) hours on my last trip to Paris: Cafe Kleber.  We expected to pay through the nose for its location but at 60€ for both of us for two courses and a glass of wine each, it could have been much worse by Paris' expensive standards.
I'd been hankering after Steak Frites and am pleased to say that this one didn't disappoint!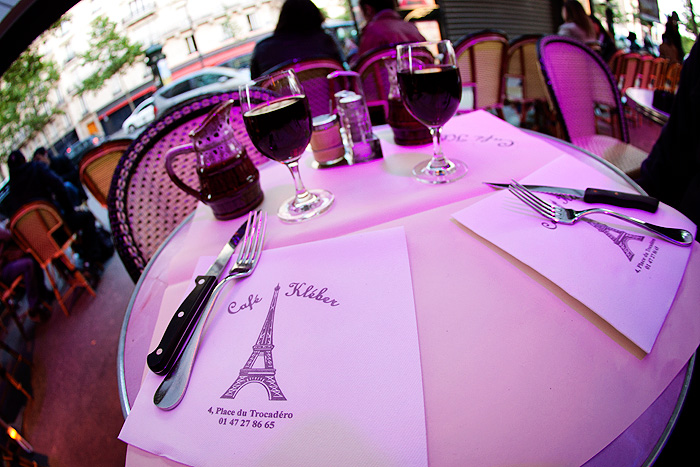 We headed back to the hotel after a Nutella and Chantilly crepe from a nearby food stall overlooking the tower's dazzling 10pm light show.  What a perfect way to end our first day in Paris!
Here's some instagram shots from our first day, I was switching between cameras like a loon: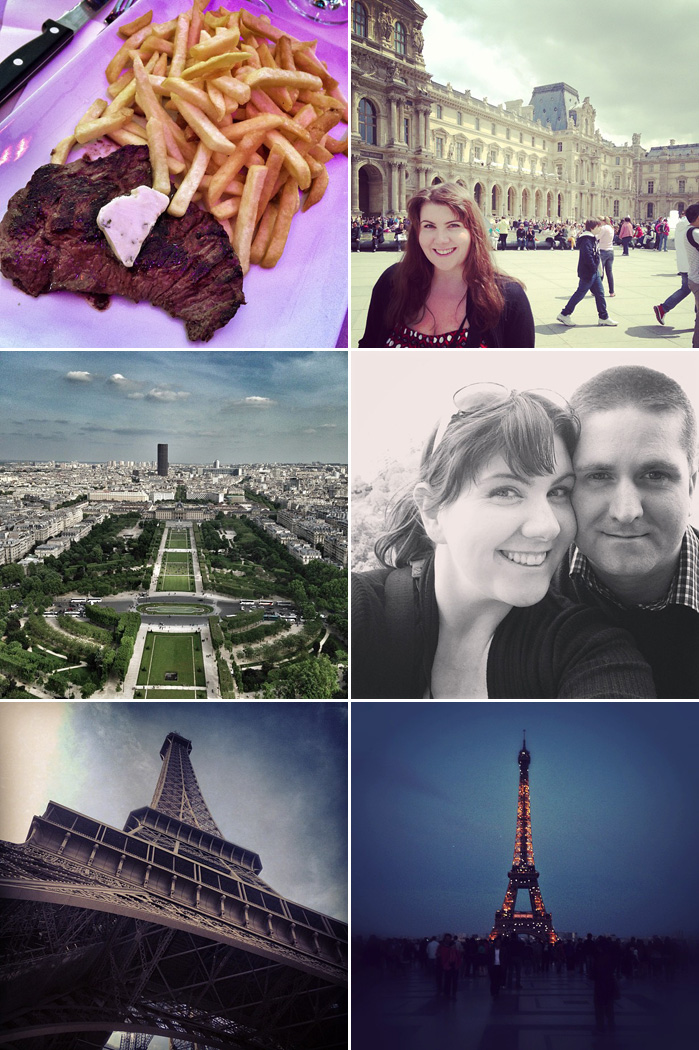 Day two coming up tomorrow… tell me what your favourite sights of Paris are?  If you haven't been, what do you dream of visiting in the city of love most of all?