I'm starting to wonder if and when Butter London are gonna run out of these cutesy "British" slang terms… I reckon that when inspiration is at its lowest ebb, someone in the office sticks an episode of Only Fools and Horses on the DVD player.  "Alright me old china?" <— Butter London Spring 2016 name right there.  Naturally, the polish would be an off-white cream, somewhat like a glaze.  Can I make money doing this?  Hands up if you'd give up EVERYTHING to name nail polishes for a living.
Butter London Shag from their Autumn/Winter 2012 collection is a clear nod to the season's hues.  Reminiscent of fallen Autumn leaves (before they've turned mouldy), with a dazzling metallic finish that glimmers beautifully in the late afternoon light.  Well, what little we have of it.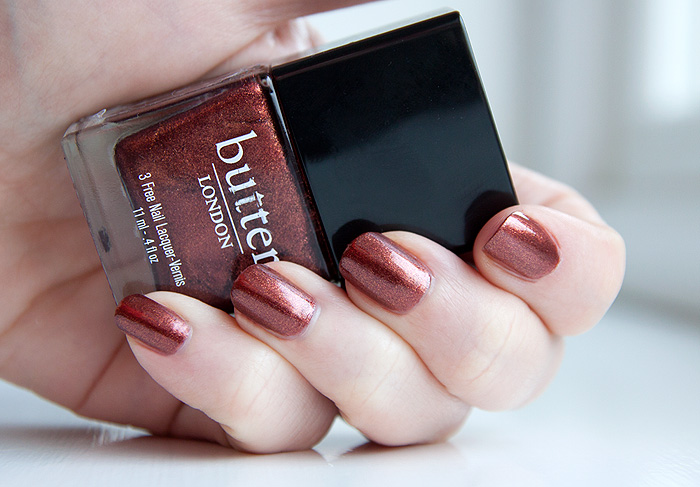 The formula on this one was a dream and the above photo shows two coats – the polish applied smoothly and dried to a shiny finish, the above photo shows no top coat.  If you had the opportunity to conceive a Butter London polish, what would you call it and what would it look like?
Butter London Shag is priced at £11.95 and available to buy online at www.thepowderrooms.com