I should have known from the moment I started poking through my beauty products that I was simply not going to be able to keep this list succinct and to the point.  Instead, I have still been really strict with myself and any "categories" that have more than one item, only do so because choosing between them would have literally given me an aneurysm.
And so, I present… my favourite products of 2012.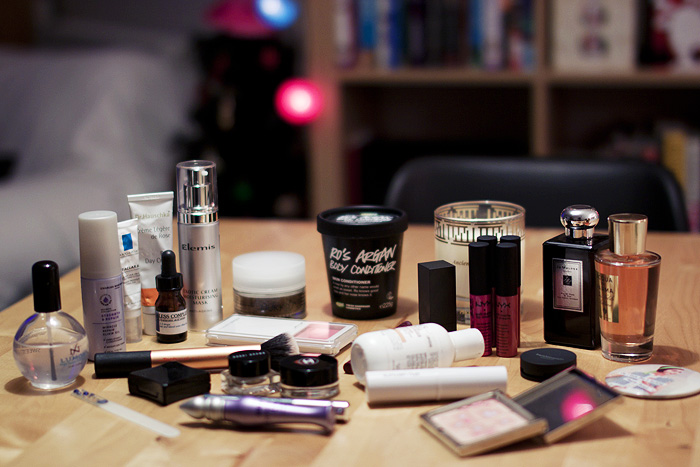 Let me talk you through them…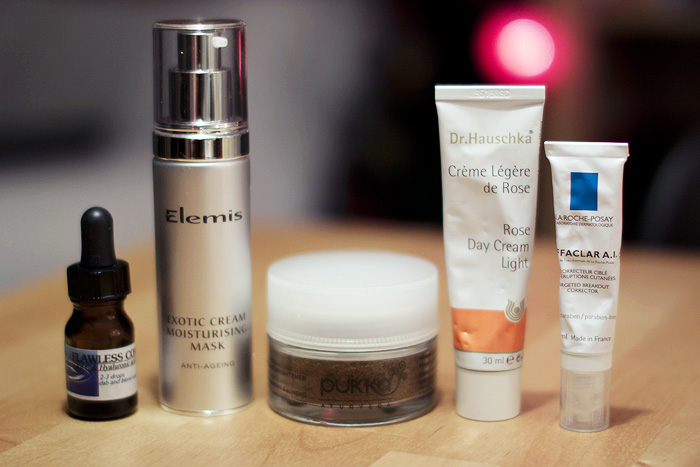 Skincare
I allowed myself a little more leeway when it came to choosing my favourite skincare products of the past year.  What with cleansing, moisturising, treating, and protecting your skin – I couldn't simply choose a single product.
In March last year, I came across a vitamin c/hyaluronic acid serum on the 'Bay and although my head told me not to invest in skincare products from the same place that I buy my Brabantia bin bags on the cheap… I couldn't help myself.  It's done a really nice job of balancing my skin concerns, reducing dryness without causing congestion or additional blackheads.  Vitamin c in skincare generally has a short shelf life, so the small 10ml size ensures that I use the product up while it's at its most active.
Another treat that I've been enjoying using once a week is the Elemis Exotic Cream Moisturising Mask* which I use as an overnight treatment mask.  It smells divine, gives my skin an intense boost of hydration and leaves it feeling incredibly soft and supple the next morning.  Although it's not cheap at £32.50, you do get a full 50ml and I've been using this for around 8 months and it's still going strong.
I blogged about the Pukka Nourishing Brightener* earlier in the year and called it a "miracle".  I stand by that claim today, as it's been a lifesaver through these colder months.  I've use it roughly once a fortnight as a manual exfoliator, just adding a quarter of a teaspoon to my cream cleanser before gently working it over my skin.  It keeps my foundation looking smooth on my skin without over-exfoliating.  I'm not generally a fan of manual exfoliators (especially for people like me with diffused redness) but I've found this one has been gentle enough not to cause any issues.
Out of all my moisturisers, Dr Hauschka's Rose Day Cream Light has been the one that I've used most consistently through the changing seasons.  With my (newish) serum, I'm finding that I need to use less cream moisturiser in the mornings, which is great for increasing makeup longevity and I usually apply this just to the drier areas of my skin where my foundation can clump and go patchy.
Finally, when it came to choosing a "treatment" product, there was only one that was going to win it… La Roche Posay's Effaclar AI has been my weapon of choice against zits for most of this year and I'm showing no signs of growing tired of it!  The cream formula sits really well beneath makeup and works wonders to calm hormonal breakouts into not-such-disastrous events.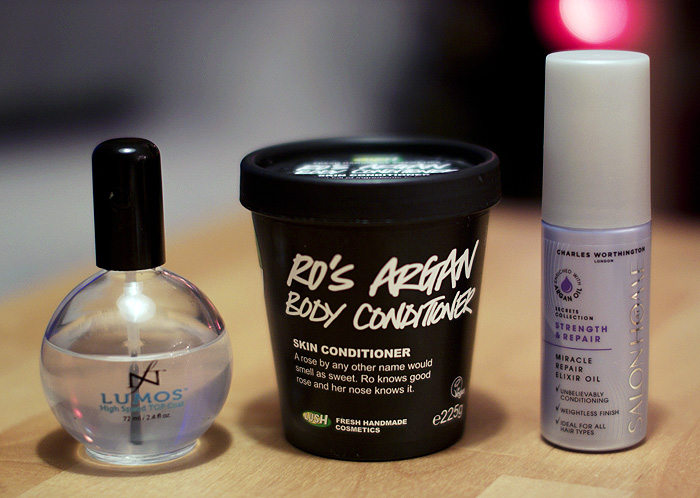 Nails, Body, Hair
Look how strict I've been!  Just three products… one for each category.
For nails, it was easy… I've been completely loyal to my LUMOS High Speed Top Coat over the past 12 months, and long may it continue – check out my jumbo salon-sized bottle that shows no signs of thickening (screw you Seche Vite!).  It does everything that I want a quick-dry top coat to do… simply perfect.  I buy my bottles on eBay because it's a pro-product and I can't get my hands on it otherwise…
LUSH have really pushed the boat out with some great products in 2012 and my favourite is Ro's Argan Body Conditioner* which has really revolutionised the way I shower.  I don't use it every-day because it would be an expensive habit… but once a week, I'll apply this in the shower, wash it off and enjoy ridiculously soft, good-smelling skin without any fussing around with body lotions.  Dreamy!
I feel like I've spent most of the year searching for a great shampoo/conditioner combo that will regenerate my dry/flat/greasy at the roots hair but nothing has ticked all the boxes.  Charles Worthington Miracle Repair Elixir Oil* has become a replacement for my long-loved Gielly Green Argan Rescue oil.  It's less expensive and does an equally wonderful job at smoothing the ends and injecting some great shine without weighing down my hair.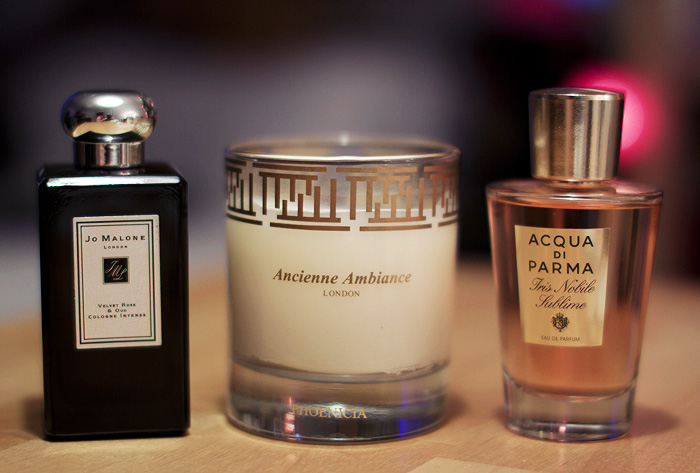 Fragrances
I had another near-aneurysm moment whilst trying to decide on my fragrance choices and in the end, I had to narrow it down by choosing my two favourites that were launched this year, and even then… I tried to slip in a third perfume (Balenciaga Florabotanica) and a second candle (Diptyque Feu de Bois) but stood resolutely strong at the last moment *wibble*.
Jo Malone's Velvet Rose & Oud Cologne Intense* came out earlier in the year as a limited edition release (it's still available) and delivers a hit of everything that I love in a fragrance.  Rich, dark, and beautifully balanced between the masculine and feminine, I've been wearing it and receiving many compliments as a result.  It's not hugely lingering but this will probably be a positive as we move into warmer months.
I've been such a huge fangirl of Ancienne Ambiance* since I first came across the brand a couple of years ago and the delight that is their Phoenicia candle brings a huge smile to my face every time I light it.  The earthy Cedar and fresh herbs makes for the most soul-warming fragrance combination known to (wo)man.
My second perfume choice is this masterpiece of a scent from Acqua di Parma.  Iris Nobile Sublime* is and was my favourite fragrance release of the year – unabashedly feminine without any over-the-top sweetness, she makes a quiet but substantial statement in all the ways that you'd want a proper grown-up perfume to demonstrate.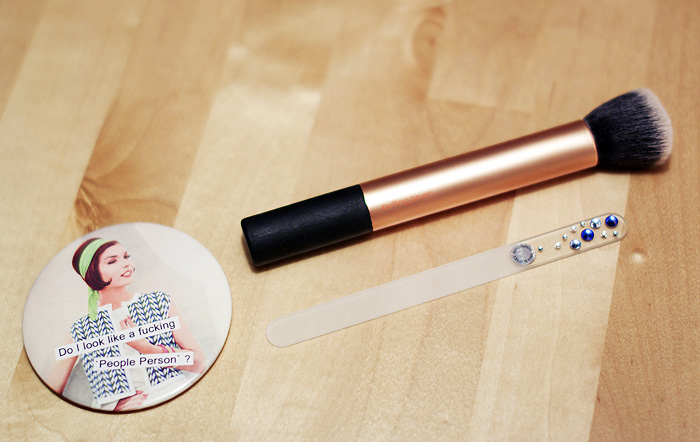 Tools
My favourite "tool" of the year was this fabulous little mirror that I picked up on a late night shop, for some reason… the sentiment just spoke to me 😉  I've had lots of people admire it… but of course, I had to tell them to sod off and stop talking to me.
When it comes to my undying brush obsession, the Real Technique range has triumphed completely this year and from the range, it's the Buffing Brush (from the core collection) that has impressed me more than any other.  It seems to possess the magical ability to create a flawless finish, particularly with cream products – which I've favoured this year.  I need to buy another so I don't grumble every time I want to use it for blusher only to find it covered in foundation!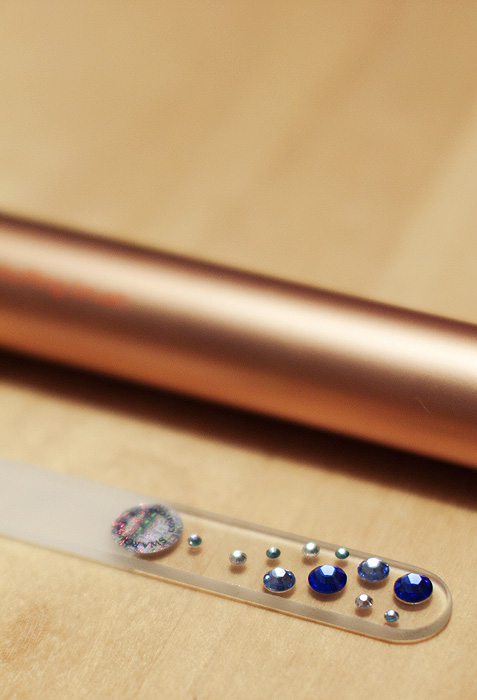 My final pick of the best tool of 2012 is this beautiful glass nail file* from Mont Bleu.  I've talked about these nail files a few times before but if you're looking for professional quality crystal nail files that won't let you down with the added bling of something a little more personal – these are the very best choice you can make.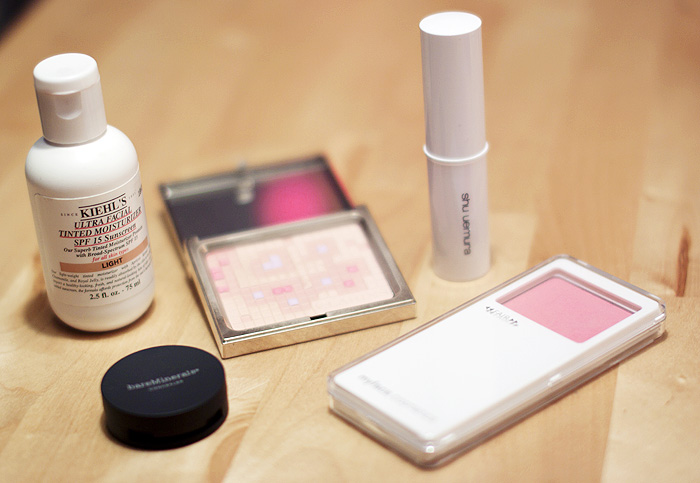 Face
Are you sitting comfortably?  Good.  Let's talk makeup…
Foundation is my true weakness and there was just no chance of only being able to choose one favourite.  I've made it slightly less wanky by choosing one that is full-coverage and one that is more of a tinted moisturiser – thus totally justifying my inability to make a concrete decision – smart eh?
First up is Kiehl's Ultra Facial Tinted Moisturizer… and as I'm writing this, I'm searching for a link and CANNOT FIND ONE.  I now have a horrible feeling that they've discontinued it, which would be a fucking tragedy because it's fabulous.  I love the no-fuss, no-mess packaging that dispenses the perfect amount with a little squeeze.  I love the generous quantity of product and the sheer, buildable coverage that allows my skin to look natural whilst still toning down the redness.  I love the adequate moisturisation and how beautifully this spreads over my skin with its light texture and weightless appeal.  OH KIEHL'S… WHAT HAVE YOU DONE?!
Well, thank God I've got a backup favourite to fall back on… although for very different reasons (and also not available in stick form any longer – infact, MUA say this one is discontinued too FFS), the Shu Uemura Nobara foundation provides a wonderfully creamy base with plenty of slip to allow seamless blending.  I've just picked up a backup in the SpaceNK sale online (shade 584) and am looking forward to trying it in pan form.  The coverage is medium to full and the pigmentation in the creamy formula is nothing short of astounding – you don't need a huge amount but unlike other heavily-pigmented foundations, this one is very forgiving if you're a little heavy-handed.  It skims over pores, never settling, and gives a frankly flawless (well, nearly) canvas.  Yeah, you just keep discontinuing my favourite base products beauty industry.  THIS is why I have too much makeups.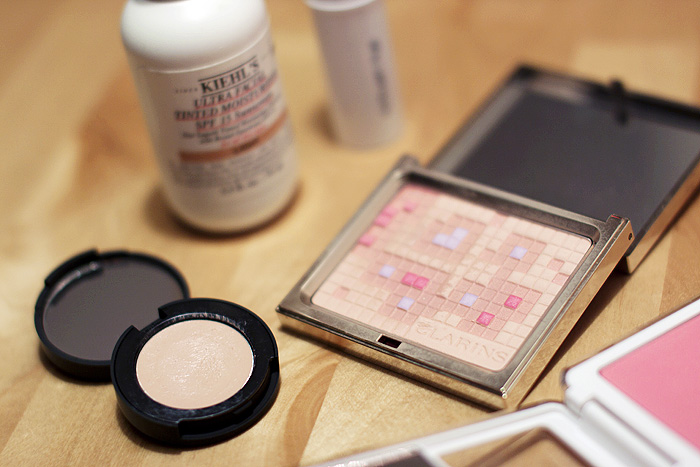 Talking of flawless coverage (and definitely not discontinued), Bare Minerals released a variety of concealers last year and their Correcting Concealer* has replaced Bobbi Brown's as my favourite blemish buster in 2012.  It has a particularly emollient formula that would need setting on oilier skins but is hugely forgiving around the eye area, especially if you're seeing your first laughter lines *cough* crowsfeet *cough* gradually appear.  Soft, very creamy, and full of deception – just how I like my concealers – the SPF20 is a welcome addition aswell!
For a little while now, Clarins have made my favourite powders – they're beautiful to look at (totally important), offer light coverage, often contain the perfect amount of sparkle for luminosity without glitterizing yo' face, and set my makeup instantly.  Well, the brand are still knocking them out with most collections – often just called Face Palettes and leaning a little more toward the bronzier side of "powder" in the Summertime, and I for one, will never be able to get enough of them.
I thought I might struggle with choosing my favourite blusher of 2012 but my hand almost instinctively reached for Paradiso Pink from MyFace Cosmetics without my brain having to do anything!  I've always wanted to find that perfect pink blusher that wouldn't make me look ruddy.  I want a smooth-blending pop of colour that marries with my natural rosiness, nothing too barbie but nothing that takes an age to build-up.  I found it last year with this little gem.
Eyes
I'll start with the most obvious – the one product in my entire makeup collection that gets dragged out of the drawer daily, my Illamasqua Eyebrow Cake in Gaze.  Eyebrow perfection with a long-lasting powder formula that gives me definition in literally, seconds.  The perfect way to frame your eyes. Expect to see this on the list next year, and the year after that… and the year after…
Following on in the same order that I'd apply my eye makeup, we come to primer and one that I've never strayed from because it achieves everything that I've ever needed it to achieve.  Urban Decay's ubiquitous Eyeshadow Primer Potion is the be all and end all of eye primers are far as I'm concerned.  I've tried a few others, but always revert back to the original.  My only complaint about the product was rectified when UD changed the packaging… I still haven't needed to repurchase since the packaging changed and I'm ekeing out the last drops before I take to the above tube with my bread knife!
You'll discover that I'm very loyal to my eye products… I've used the same liquid eyeliner since I discovered it back in October 2011… and literally, the same one – daily!  Now that's a bit of a bloody good value eyeliner isn't it?!  The Kiss Me Heroine Make Smooth Liquid Eyeliner gives me precision that I assumed I could only ever dream of.  I haven't touched a cream/gel eyeliner since picking this up… the fine tip and pigmented ink is just hugely effective and quick to master.  I can even do flicks consistently now.  Yes, let us all take a moment to appreciate that statement.
Ahh mascara… every girl's best friend!  This spot should have been reserved for Benefit's They're Real which literally blew me away when it was launched… but the thing is, it's quite expensive isn't it… and it dries up quite quickly doesn't it?  If Benefit could do a couple of tiny tweaks to the formula to address the drying up issue, it would probably remain an absolute favourite but until then… enter Clinique Lash Power mascara*.  It offers a tubing formula, tiny precision wand, and the ability to lengthen and darken my pale lashes to the max without ever clumping or smudging.  It won't give you batwing lashes, it's no va-va-voom (unlike They're Real) but it will never let you down and for those of us with already decent lashes, you can't beat the blackening formula and definition.
Here come the big guns….
Chanel's Illusion D'Ombre(s) were probably my biggest splurges of the past year, because one wasn't enough.  I now own four of them, and use them more than any other eyeshadow in my collection.  They're simplistic, glamourous with just the right amount of sparkle, and long-lasting with a splash of primer underneath.  I'm still not entirely sure whether they're a cream OR a powder?!  I think they're officially called cream-powder eyeshadows, so I guess Chanel couldn't make up their minds either.  Out of all my shades, Illusoire is the one that I reach for with most frequency.
My next pick has been risen from the dead, literally.  I pulled my Bobbi Brown Metallic Long Wear Cream Shadows out from the back of my storage earlier in the year and haven't put them back since!  When I first bought them, I found them to be all glitter and no substance… beautiful glitter with lots of irridescence that resulted in simply making my eyelids look a bit greasy.  The solution was kind of obvious, but the penny has only dropped recently… layer them.  You should know by now that I own many, many-a-taupe eyeshadow and patting a little of one of BB's Metallic LW Cream Shadows over the top takes them to another dimension – a grown-up sparkly one.  LUSH.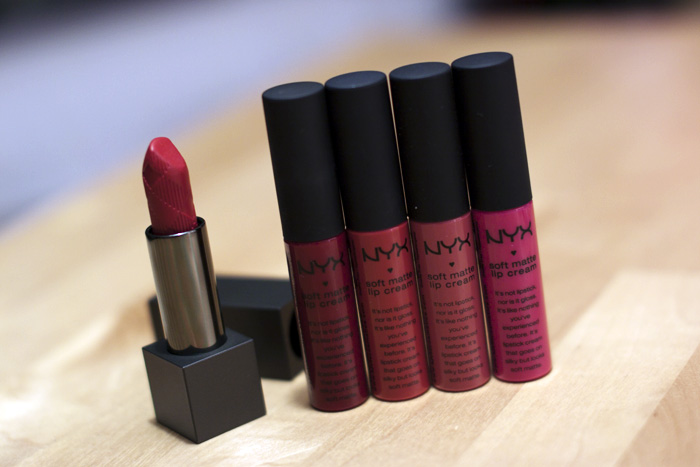 And finally… lips…
I'm afraid that I has nothing but lipsticks for you – it often comes as a surprise to people when I say that I generally abhor lipglosses.  I give them a good go and can appreciate a dud from a dream BUT 10 times out of 10, put both infront of me and I will always reach for the lipstick.  My favourite kind of lipstick?  Liquid ones… especially if they're matte.  I have a feeling that this year will be the year of the Armani Lip Maestro – watch this space…
And so, to my final picks from 2012… two very different brands, at opposing ends of the price scale.  One from the U.S. and one, British.
This year was a truly great one for red lipsticks, I kept discovering great formula after great formula – something that is so important with any bold lip colour and it's as if the industry has finally cracked it.  Long-lasting, non-drying, evenly-wearing… this Burberry Lip Velvet in Military Red* is as close to the perfect matte formula that you can achieve.  The colour is outstanding with enough warmth to give it retro leanings without scaring off cool-toned skintypes like me.
Oh NYX, I dislike your brand presence in this country… it's a half-hearted appearance but I do love your Soft Matte Lip Creams (even if they smell a bit funky).  Seriously though, these are the one lip product that I've worn more than any other throughout the year – I have the shades that you can see above and they're my workhorses.  Quick to apply, good pigmentation, matte finish, and last very nicely.  The trick for amazing longevity from these is to apply in thin layers, allowing a few moments for each layer to dry before applying again.  I would like MOAR shades please NYX.
Phew.
Have I picked any of your favourites, tempted you into trying something new, or expressed an undying love for your product nemesis?  What do you think of my choices for 2012?
* originally discovered via a press sample