I'm digging out my Autumn stuff… move over Summer, bored of you now!
I've bought my first pair of ankle boots for the season and I'm concentrating on the good things about the cooler weather.
Surely one of the loveliest is that whole Lorna Doone windswept thing… just in from the cold, pink-flushed cheeks, bitten lips and wild (but still very much under control) hair.
Here's 5 Lip Plumpers to help you achieve seriously sexy lips this Autumn!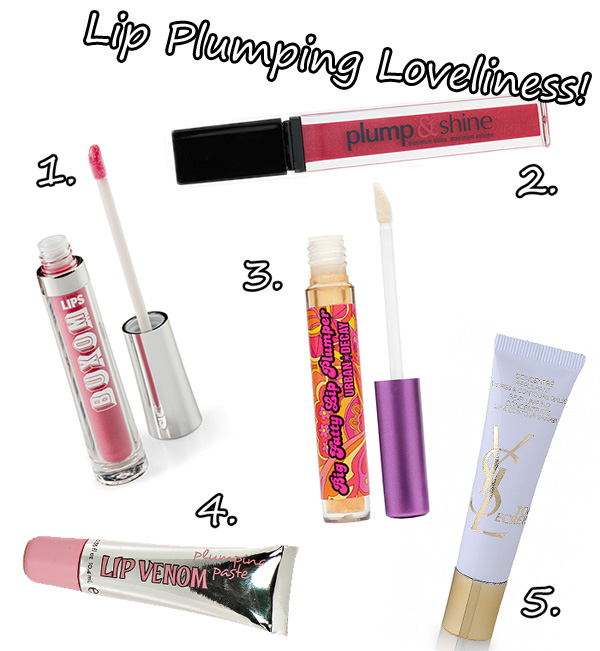 1. Bare Escentuals Buxom Lip Polish in Kanani – £17
They Say: Pout-perfecting Buxom naturally creates the look of fuller, more voluptuous lips.  Infused with 100% pure bareMinerals, it gives a luminous shine with no sticky or tacky feeling. Tingly, cooling sensation reminds you that lips are getting an immediate increase in fullness.
Available online and at counters nationwide.
2. Plump & Shine – £24.95
They Say: Plump & Shine is a multi-functional new lip gloss that instantly and visibly plumps up the lips for a fuller, more sensual and defined pout while coating them with a moisturising liquid shine.
Call 0844 243 9243 for stockist details and mail order
3. Urban Decay Big Fatty Lip Plumper -£12.00
They Say: Urban Decay plumping lip gloss with a gold sheen. Increases lip size for up to a 20% fuller pout.  Starts after 10 minutes & lasts for up to three hours!
Available online at Boots or instore.
4. DuWop Lip Plumping Paste – £15.00
They Say: From the makers of the Original Lip Venom, Plumping Paste is a treatment masque for the lips that conditions, exfoliates, and plumps simultaneously.
Combined with the classic Venom formula, Plumping Paste leaves the lips supple, full and hydrated- the perfect canvas for lipstick or gloss.
Available online at Simple Beauty
5. YSL Top Secrets Re-plumping Lip Concentrate & Contour Shaper – £20
They Say: A targeted treatment for lip and the lip contour, inspired by the beauty tips of professionals.  A volumising concentrate to provide a wonder-full lip result, for smooth, plump, perfectly redefined lips and a glamorous smile.
Available online at Debenhams or on counters nationwide
.
What are your favourite lip plumpers and do you prefer the treatment or gloss type?