I freaking LOVE getting things through the post… letters, makeup, postcards, ebay purchases, those little sachets that Nivea sometimes send out, even the occasional dog poo if it's from an admirer…
…but sanitary wear?
Let me introduce you to Trinkets.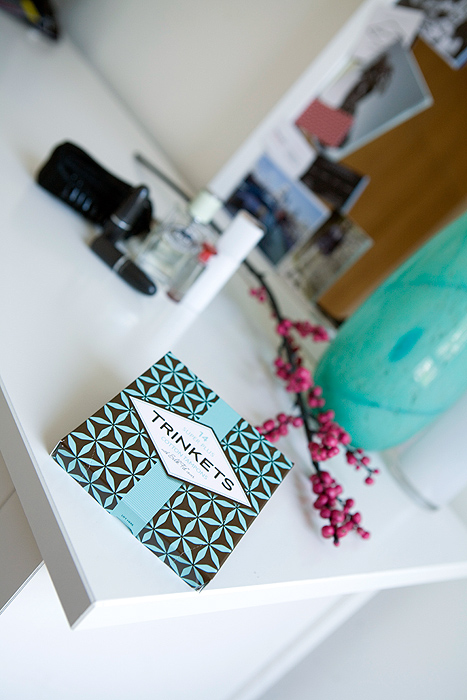 They Say:
In our lifetime as a woman, we will experience around 500 periods and use around 11 thousand tampons! That's a lot of tampons and a lot of hassle! So, sit back and relax as Trinket Women deliver a precious gift direct to your door each month. Cotton, sophisticated and feminine, we believe Trinkets tampons will make you feel good about your period. Period!
"Yay! I'm so excited my box of Trinkets has landed on my doormat, now I know my period is imminent!  I can't believe how GOOD I feel about the impending 5 days of inconvenience, grumpiness and occassional pain!  Hoorah!"
Sarcasm aside… I actually think it's kind of a nifty idea…
More times than I'd like to admit, I've gone to the bathroom cabinet only to discover an empty, unreplaced box of tampons.  This results in much pleading with Mr. L to go do the "corner shop shuffle" in a fake moustache and sunglasses, only for him to come back with the wrong stuff.
You can choose to have your Trinkets tampons delivered every 3, 4 or 5 weeks.  You also select type and absorbency requirements and with prices starting from £2.29 for a box of 16 with the option to cancel at any time, they're not taking the mick.
If you want to give it a go, take advantage of the offer the people at Trinkets have put together for my readers.  Enter code T1045 on the website to get a 2nd pack for free.  I've just ordered 2 boxes for £2.29 delivered, that's cheaper than I can get them from Boots.
It's a great deal with no STRINGS attached and the code will be available for a limited PERIOD only.  God damn I'm funny.
What do you think of the idea?  Useful or folly?