Fudge isn't a brand I know much about.  Infact, my idea of haircare is Head & Shoulders followed by my beloved Mason Pearson hairbrush that I've had since I was 2 years old and leave the mop to dry naturally.
You'd think that using no styling products or heat would mean my hair is in fantastic condition.  Unfortunately, that's not the case and I've got more split ends (thanks to an aversion to hair salons) and frazzly bits than I care to count.
Since becoming pregnant though, my hair has enjoyed somewhat of a reprise.  It's been glossier, thicker and fuller than ever before.  I can go 4 days without washing it (I normally have to wash every other day or look like chip pan head).  I'm due to push this little flump into the world (no doubt swearing and screaming for the drugs) on the 5th May, so my days of unnaturally lovely hair are sadly numbered.
In preparation for my return to crap hair, I've dug my hairdryer out from the bottom of the wardrobe and ordered 2 products on eBay from Fudge:
Fudge Head Polish (discontinued from website)
which states:
A smooth polishing glaze that leaves hair soft with an incredible reflect.
I also grabbed: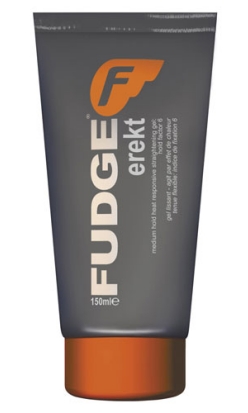 Fudge Erekt (£7.99 – currently on offer)…
Get it straight up with Erekt for dead straight hair.  Get into your power tool and blow up those locks for soft, shiny, frizzless hair.
 
What it does:

Straightens and smoothes curl and frizz
Creates shine, softness and manageability
Makes blow drying curly hair easier to control
I'm hoping for good results!  Either that, or I'll just have to get pregnant again.*
*I should just point out to my lovely husband that I am of course joking before he scrambles for the Yellow Pages blind panic sending him scanning the 'V's' for vasectomy.