Happy Monday morning you lovely lot!
Stop dragging your knuckles on the floor.  I know you've only had time for 8 mugs of double espresso so far but look lively 'cos I've got a treat for you today!
Jo Givens, the infinitely wise Treatments Development Manager at Liz Earle's London flagship store has agreed to share some of her best tips to prepare your skin for whatever Winter has to throw at it!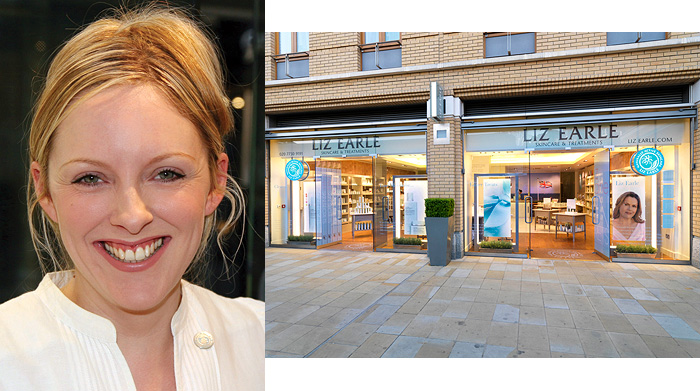 L-R: Jo Givens -Treatments Development Manager at Liz Earle, Liz Earle Flagship London Store
Dear Lipglossiping readers!
I'm so honoured that I have been invited to share my seasonal skin tips with you all!
As the summer has sadly come to an end, I begrudgingly pack away my summer wardrobe as my 'tan' starts to fade along with the sunshine.  Autumn is here and winter is on its way.  The air feels cooler and the leaves on the trees have started to transform into a beautiful sea of orange and gold.  I find that this is the time my skin starts to feel in need of hydration, as the central heating resumes once more and sucks away skin moisture, and signs of damage from the harsh UV rays of the summer start to be revealed.
It is important to remember that we need to adapt our skincare routine during these coming months, along with good nutrition to keep skin looking and feeling its best whilst maintaining flagging energy levels.
.
Problem: Skin breakouts during changing seasons
Solution: Plummeting temperatures and central heating can wreak havoc with your skin- symptoms of this can be breakouts (spots or pimples), due to inflammation, bacteria and a build up of dead skin cells and excess oils.  Use a clay mask which is rich in minerals to absorb excess oils.  I would recommend using this 2-3 x a week all over your face, or just on specific areas as a spot treatment overnight.  I firmly believe in supplements for the skin and garlic tablets are perfect as an anti-inflammatory treatment for the skin – always consult your doctor before taking anything internal.
.
Problem: Dull and tired skin
Solution: Exfoliate skin as once stubborn skin cells are removed your skin will instantly look clearer and brighter. Also, I always recommend exoliating your skin before using a facial mask, as this can literally double the effects of any mask.  Try to do at least 10 minutes of exercise a day – this will boost the circulation to the skin and keep it looking fresh and hydrated.
.
Problem: Parched, dry skin
Solution: As your skin can feel drier in the winter months, double up with a hydrating facial oil at night underneath your existing moisturiser.  Try a facial oil that is made up of 100% plant oils packed with skin loving ingredients such as argan oil and organic rosehip oil.  Also, try using a richer moisturiser at night that will provide super hydration whilst you sleep.  Focus on massaging your skin with gentle caring sweeps for at least 2 minutes every night as this will boost circulation and keep skin supple.
.
Problem: How to Survive the Christmas Preparations?
Solution: After a warm bath, pat skin dry and lavish skin with a rich luxurious body cream.  Burn a natural Lavender soy candle for 10 minutes in your bedroom before you sleep to scent the room-this will aid relaxation
.
Problem: Low Energy Levels during Dark Mornings and Evenings
Solution: I would always advise to start your day with a dry skin body brush. On dry skin, brush upwards using long sweeping strokes towards the heart – this boosts a sluggish system.  Once you have body brushed, massage a body scrub over damp skin – this will remove dead skin cells and bring oxygen and nutrients to your skin cells.
Banish tiredness by not eating sugary foods at night- these energy foods can disturb sleep.  A daily supplement of milk thistle is great during the winter months to boost the liver energy which will help the body to eliminate waste and maintain vitality.  Also keep up your daily water intake as dehydration can have a negative effect on the skin and body.

Interior of Liz Earle's flagship London store
Thanks so much to Jo for taking the time to share your great tips and solutions with us!
I've already contemplated introducing some dry skin body brushing into my daily routine and I love treating my skin to Superskin Concentrate as an overnight dry-skin quencher whenever I feel it rebelling against the elements.  It's a bit heavy for daytime use… but my goodness does it sort me out while I sleep!
Also, one of my favourite bath-time relaxers comes in the form of the Vital Oils for the Bath… the site recommends 1/2 capfuls per bath but this stuff is SO potent that a couple of drops does it for me!
However, if you really want to get your skin Winter-ready, you can't beat a visit to The Treatment Rooms in the London store to indulge in one of Liz Earle facials or skin tutorials with an expert therapist like Jo.
What are your main skincare concerns for the upcoming Winter?  Dryness?  Dullness? Something else?