…and the winner of my Bodyform inspired giveaway is…
#9 – Rhamnousia!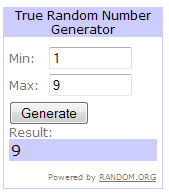 Mum *was* supposed to be choosing.. but she was taking too flippin' long and driving me up the wall with her indecision so I told her that she couldn't play anymore and I went on Random.org instead.  Sorry Mum.
Rhamnousia, please drop me an email with the address you want your prizes sent to and I'll get right on it!
Thanks for taking part everyone and don't forget that today's the day you can grab your free Jemma Kidd lipgloss with special packs of Bodyform!!

See more details here!