EGO Professional are a haircare company that manufacturer a number of styling tools including: 2 types of straighteners, curling tongs and a hairdryer.  I had the opportunity to try a set of their hair straighteners for potential review, and I have been putting them to the test throughout December.
Back in November, I tried the Cloud 9 straighteners, and whilst I was very pleased with their performance at lower temperatures… I was concerned that they tugged a little more than I had expected.
I was curious to see how these EGO Professional Hair Straighteners compared as they are both marketed as salon quality irons, both with a RRP of over £100.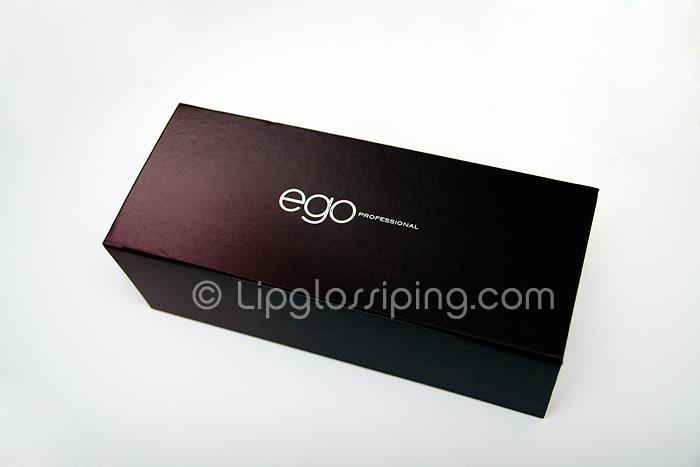 The packaging is simple, a blackened red box housed in a plain white cardboard sleeve, it simply doesn't have the 'kerb' appeal that the Cloud 9's had with all that sleek black and turquoise.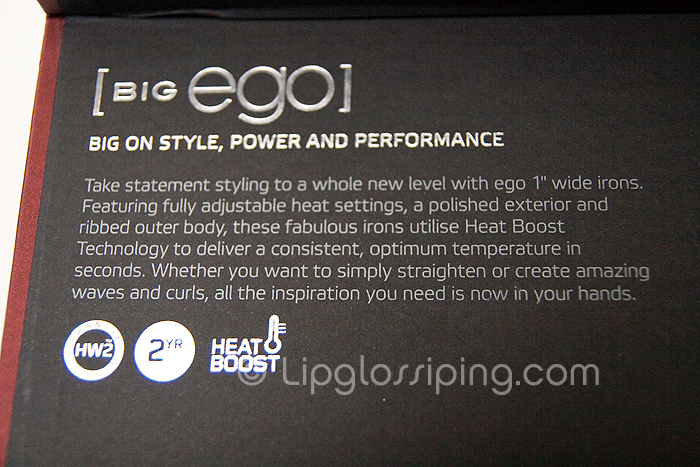 A few things about these irons from the "blurb":
Take statement styling to a whole new level with Ego 1″ irons. Featuring fully adjustable heat settings, a polished exterior and ribbed outer body, these fabulous irons utilise heat boost technology to deliver a consistent, optimum temperature in seconds. Whether you want to simply straighten or create amazing waves and curls, all the inspiration you need is now in your hands.
Let's take a closer look at the irons…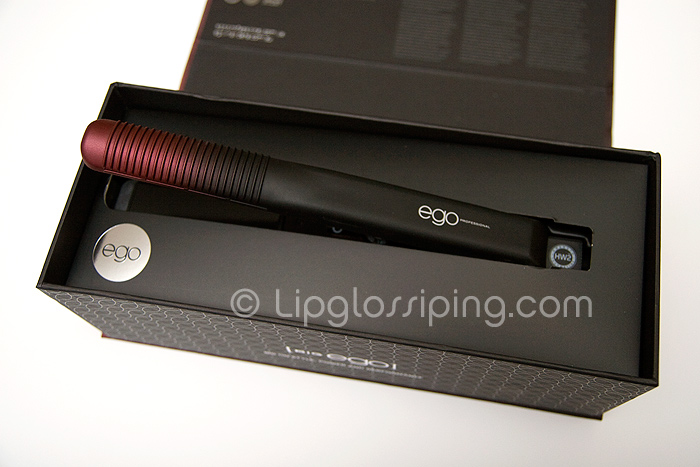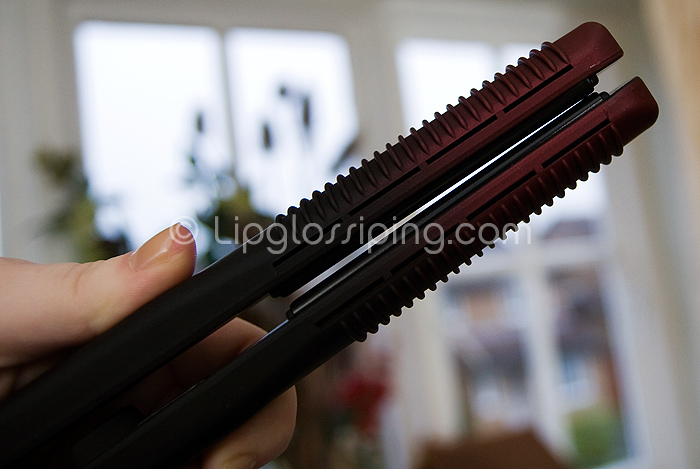 I was a little confused by all that ribbing.  I'm used to sleek smooth barrels for optimum curling, and I even commented to their PR that I didn't understand how the ribbing could help create curls at all.  Reflecting on my comment… I think that I was hoping that it might lay a foundation and soften the negative review I was sure would transpire after attempting curling.
As you can see, the ribbing covers the whole of the barrel from the tip to the base of the ceramic plates.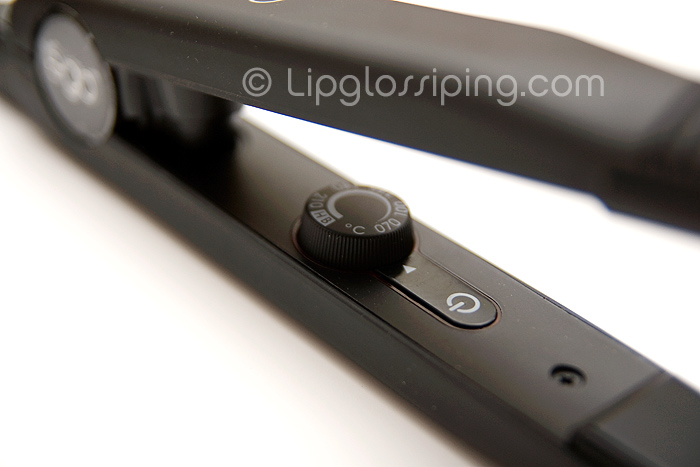 The controls are very simple, comprising of two features.  An on/off switch and a dial which controls the temperature of the irons.  Disappointingly simple really when compared to the Cloud 9's flash LED enhanced interface.  It took a little more "peering" to ensure that I had selected my desired temperature setting.  Not generally a problem, but in the dark winter I did have to angle the straighteners towards the window to get the light to fall on them so I could tell how hot I'd set them.  I'm being finickity, but it made me appreciate that sleek interface of those Cloud 9s. 1-0 to the Cloud 9s.
Back to the design of the Big Ego Hair Straighteners, I captured some close ups of various aspects of the tools…
The barrel is a matte red, unisex in appearance and not smooth or at all 'silky' to the touch.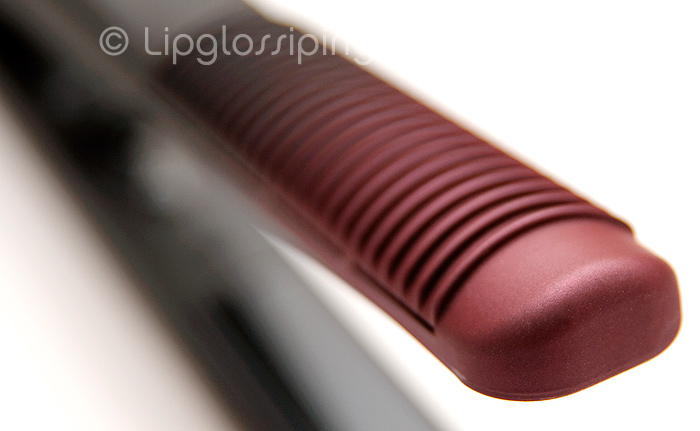 The Big EGO Hair Straighteners boast ceramic 1″ plates, overall build quality is very solid and not at all flimsy to the touch.  They heat up in a matter of seconds, easily as fast as the Cloud 9's leaving me barely enough time to spritz my hair with my chosen heat defence spray!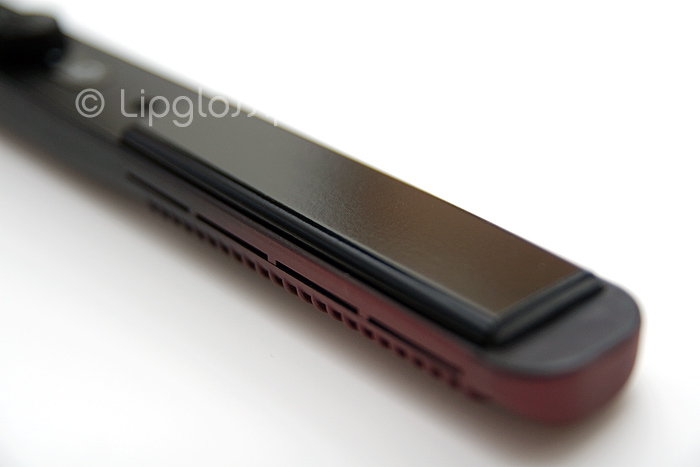 The power cord (at 10ft) is more than long enough to allow for a great reach and the swivel connector ensures that you can use them without having to contort your arms into weird and wonderful positions.
Slightly more important than the swivel connector though, is the glide.  Oh god, do they glide? Swish! Straight down the hair shaft without a single pull or tug… Ah-mazing.  I've tried with dry hair and damp hair and I simply cannot make these babies give my hair a yank.  Smooth as silk.  1-1, that's a tie folks!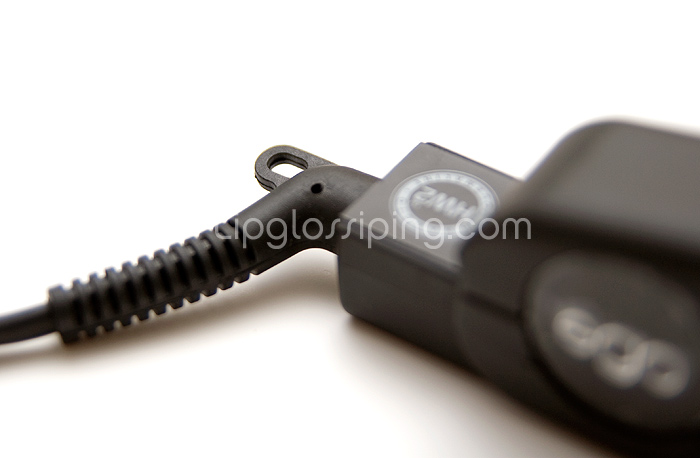 But how does they perform?
Here's the obligatory 'before'…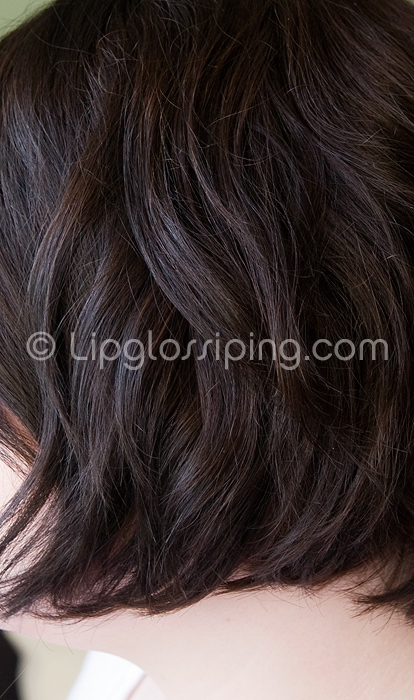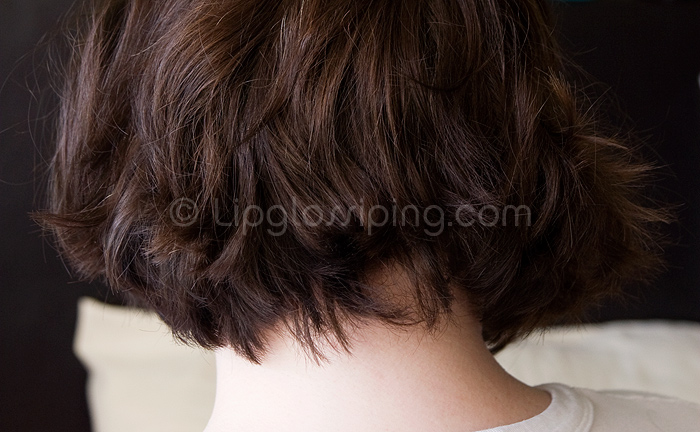 Same as my C9 trial, I went to bed with wet hair… woke up like an explosion in a mattress factory.
And after…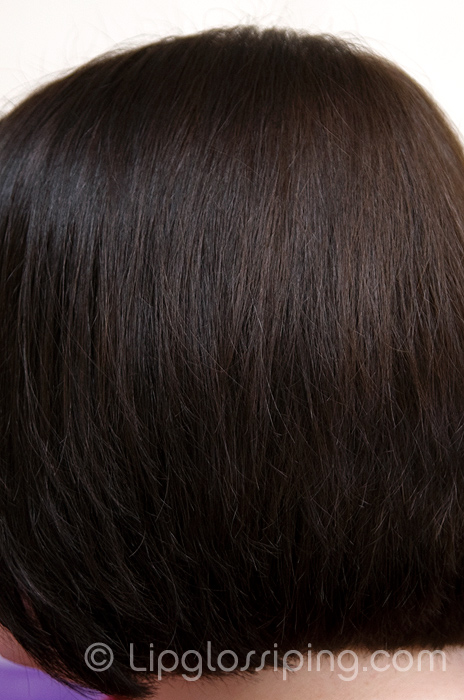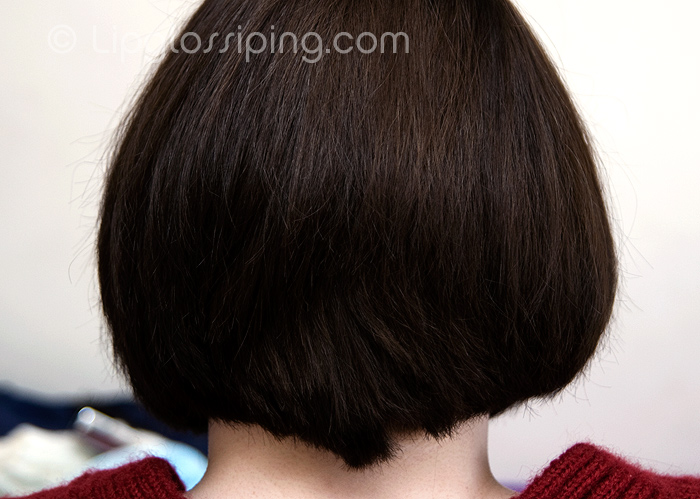 Hello sleek bob!!  (please ignore the weirdness that is the layers my hairdresser has cut into the back of my head – yet another reason to ditch her).
This is at 150 degrees (or as close as I could tell on the dial).  I wanted to use the same temperature for comparison purposes.  I was able to achieve this finish in around 13 minutes, which is longer than the Cloud 9s but to be honest, I *think* the time difference was at least partly down to me being more cack-handed on the test than the fault of the straighteners.  Out of fairness though, I'm gonna have to give the Cloud 9's a point for speed.  2-1 to the Clouds.
The final thing I wanted to try was curling, I actually curled one side with my Cloud 9s and the other with the Big EGO hair straighteners, and instantly… I preferred the C9s.  I found the Big EGOs awkward to use with the ridges on the barrel.  I actually gave up halfway through after getting annoyed with them.
And then I tried a couple of weeks later…
Oh my word.  I don't know what 'clicked'… but my hair seemed to find a natural path through the channels in the ribbing, the strands wound round the barrel with ease and I was left with defined but smooth waves, kinda like my before picture but tamed.  Whilst the C9s curl admirably, these seemed to leave my waves with greater definition.  And I'm (rightly or wrongly) putting that down to those funny grooves.
2-2 – feel the tension!
Both straighteners leave my hair feeling soft, shiny and smooth.  My hair hair feels almost 'conditioned' once straightened and I've not noticed any damaging effects from regular use (although I always ensure I use heat defence spray, and mostly use the irons at 200 degrees or below).
One last thing…
Price.
The Cloud 9's retail for around £129, the Big EGO's around £109.
3-2 to the Big EGOs.
Two very good pro styling tools, both with great capabilities… but that glide… those waves…
The Big EGO Hair Straighteners are where I'd put my money.
You can purchase the Big EGO Hair Straighteners online and Feel Unique are currently offering them for £99.99 delivered – bargain!