I'm pretty rubbish when it comes to styling my hair.  I'm growing out a bob at the moment, not on purpose… I'm just too lazy to make the appointment for a trim.
As the layers are getting longer, the increased weight is starting to have an effect on my roots… weighing them down and increasing the slaphead factor – not an encouraging look.  I was offered 2 different styling products to have a play with and after a couple of weeks experimenting on just how to get the best out of them, I thought you might wanna have a read of my observations.  If you don't… whatever, just don't bother darkening my door again.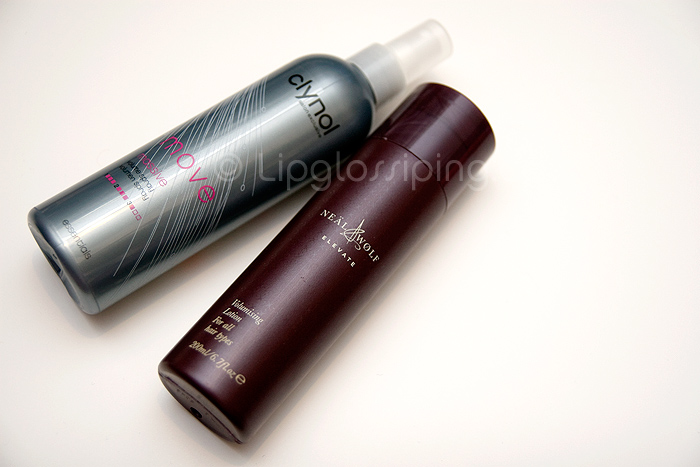 Clynol Move Massive Volume Spray (£6.75)
Technology: Pro.VolumeForce.Complex, with Panthenol and volumising resins.

Benefit: Volumises the hair, providing strong yet moveable hold.

Usage: Spray evenly onto dry or damp hair and style as preferred. Leave-in.
I've used this on both wet and dry hair and I prefer the results I get from using it on dry hair.  I lift sections from the front backwards, spraying quite generously before taking my hairdryer and giving my hair a quick upside-down blast at the roots.  I then take my brush and coax the hair back being careful not to flatten the roots with the weight of the brush and once styled, the root lift seems to stay in place for a good few hours before dropping.  I particularly like the Clynol Move Massive Volume Spray for when I'm styling my hair into an updo, the effect seems to be more apparent and gives some great 'flathead' avoidance.
I like, that as a spray, it's easy to use and great to reach for in a hurry.  I've used it successfully in conjunction with my Batiste Dry Shampoo (again before pinning my hair up) and it really freshens up my style.  It smells great and most importantly, is completely non-sticky
Neäl & Wølf Elevate Volumising Lotion (£11.95)
Goodbye to drab limp locks, and hello to luxuriously thick hair, filled with body. ELEVATE has been designed to leave hair stronger, fuller and give more control.  Designed to improve body and texture while enhancing shine and manageability.  Specially selected ingredients complete the effect, reducing static and adding a spectacular glossy finish.
The more traditional serum format that I'm used to…  Just aswell really, 'cos there aren't any usage instructions on the bottle… however, being a salon brand rather than one for numptys like me, this is possibly understandable.  I initially didn't notice many benefits from using this product until I started applying it a touch more generously.  After towel-drying my hair, I squeeze out a good 10p-sized blob and apply throughout my roots.
When I first started using this, I was nervous of making my roots greasy… but I needn't have feared.  I add more product (10p size at a time) until I'm happy that I've applied a nice even amount throughout.  Then I flip my head over and blow-dry upside down, encouraging the air to pass through my roots and teasing with my fingers to encourage more lift.
The result is BIG hair, and I'm sold.  It takes a little more work than the Clynol, but the results are more dramatic if you take the time.
I'd happily use both products for different situations.  The Clynol is great for a lower maintenance lifestyle, which to be honest is me (most of the time).  But if I wanted to bring out the big guns, I'd reach for the Neäl & Wølf Elevate.
.
Overall I was impressed with both products, sadly neither lasted the full day… but in honesty, I didn't expect miracles.  All volume had flattened significantly by lunchtime, earlier if I was naughtly and didn't stop playing with my hair.  I'd also recommend that if you ARE going to use these styling products then it might be wise not to overload your hair with too many other products at the same time.  Keep it to the minimum to achieve the best results.
Do you have any tips for bringing the 80s back to our barnets?