Well, colour me confused.  The Avon Gel Finish Nailwear range has been getting rave reviews across the pond since its introduction over there a couple of months ago.  Not only for its far-reaching shade range that spans a variety of different finishes aswell as colours, but for its impressive wear time.
The coming-soon-to-the-UK range of 24-shades promises a gel like shine and intense colour, delivered in just one coat… a salon finish at home, and no need for a top-coat.  That's a lot of promises for a small bottle of polish… I was sent a small selection from the new range to see if it lived up to my expectation… and I'm sorry to say, that so far, it's fallen short.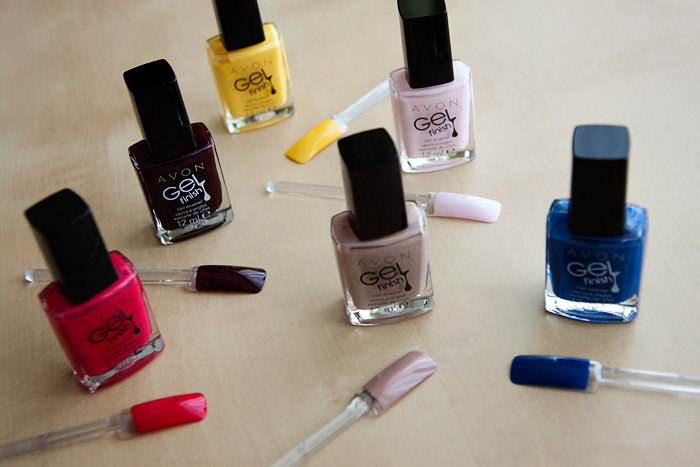 The shade range however, is indeed impressive… but then again, so is Avon's current Nailwear Pro+ enamel, of which I count myself a fan.  So for me, this range really has to deliver on and above an already fairly high benchmark.
Every single shade that I was sent needed more than a single coat to achieve opacity.  Infact, they all needed a total of three coats for full-on no translucent patches coverage.  Which flagrantly laughs in the face of their one-coat claims, no?  Bad enough you say… but listen, because the formula is thicker than most… not in an unworkable way, quite the opposite actually as it flows nicely onto the nail.  So what's the problem?  Well, the problem is, that this ain't no speed-dry polish and when you're testing claims that a nail polish needs no top-coat, you're in for a damn long wait until you can pull your knickers up when you're piling three coats of thickly-formulated polish onto your fingertips.
I painted my nails at around 9pm.  At 11.30pm, I took myself off to bed… my nails felt completely dry to the touch but they weren't.  Ok, so I didn't wake up with duvet marks but they had lost A LOT of the shine, as if the surface had been lightly buffed by premature contact with bedsheets etc.  I just don't have 3hrs to hang around waiting for my nails to completely dry.  You can probably see that there is barely any shine on my nails in the photo below.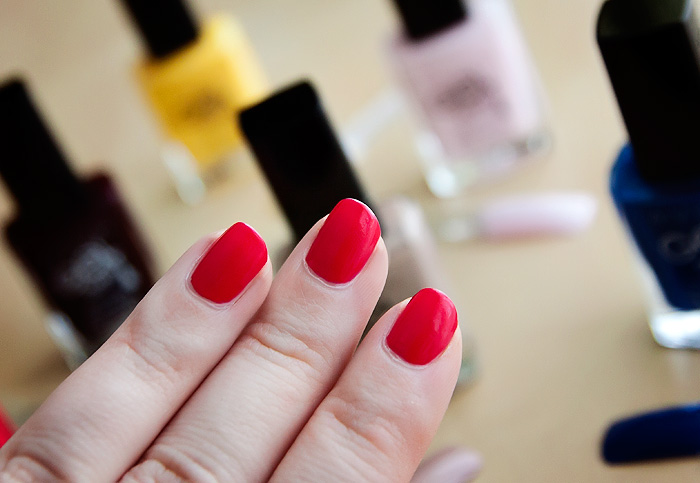 In addition to this, look at the tip wear I'm starting to get (without a top-coat, remember how it says it doesn't need one?) after a period of no more than 17-hours!  Now, all of the issues I've encountered can (probably) be solved with the addition of a quick-dry top coat.
But then, I just don't see why I'd need this range when there's a brilliant Nailwear Pro+ range already fortified with acrylic gel for strength, which doesn't make any claims that it doesn't (for me at least) live up to.  I'm going to work my way through the rest of the shades with a proper wear-test and if I'm forced to eat my words, I promise I'll be back to provide a further update!
Avon Gel Finish Nail Enamels are due to launch in April, priced at £7 for 12ml.
* press sample
if you liked this post, don't forget to check out my subscriber options, here