What's in a name?
I'm curious ladies… which of these would you be happy to call taupe?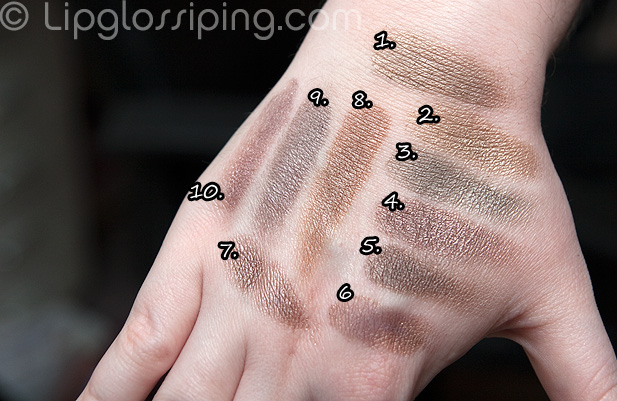 All of 'em? None of 'em?
Adj. 1. taupe – of something having a dusky brownish grey color
These are a few of my favourite shadows… individually I refer to them as taupes, but seeing them together like this makes me realise just how un taupe-ish some of them are.
Infact, only about three of them qualify for me.
Which ones would you classify as taupe?
And don't say "does it really matter… they're all brown" or I'll insist you burn your makeup collection as penance.
EDIT: You guys sure care about taupe more than I thought you would!

#1 is Fyrinnae Species 8472
#2 is NYX Sparkle Cedar
#3 is NYX Dune
#4 is Fyrinnae Maneki Neko
#5 is a Body Shop shadow (#32 I think)
#6 I think I swatched #10 twice which would explain why I can't remember it!
#7 is MAC Satin Taupe
#8 can't remember, sorry!
#9 is MUA (superdrug £1) Eye Dust No5
#10 is BarryM Mushroom

I'm in agreement with most of you. The truest taupe's (to my eye) are #3, 9 and 5.  The others are far too plummy or bronzey.