When Christmas packaging is done right, it's a joy to behold.  There's no other time of the year when packaging is more important… especially for lazy-ass people like me who will quite happily spend more on a present to avoid having to do battle with a roll of sellotape on Christmas Eve!
This is packaging done right: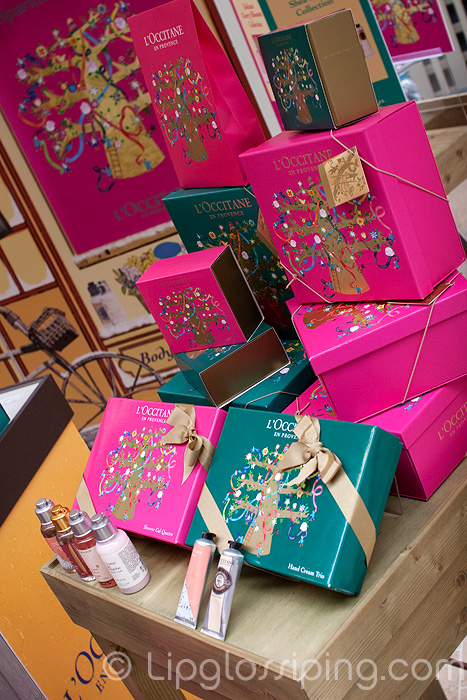 L'Occitane will be bringing out an impressive range of Christmas gifts that will be sure to impress the women (or men!) in your life.  With gift sets starting from just £20, there's a beautifully packaged set to suit most budgets.
Here's what will be available: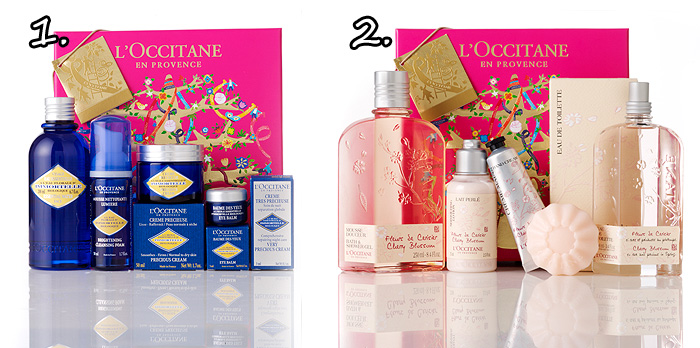 1. Precious Immortelle Collection – £49.00
Immortelle essential oil is renowned for its anti-ageing virtues. A complete anti-ageing collection, for visible radiance and youthful looking skin.
Set includes:
Immortelle Precious Cream 50ml
Immortelle Brightening Cleansing Foam 50ml
Immortelle Eye Balm 5ml
Immortelle Very Precious Cream 3ml
Immortelle Essential Face Water 200ml
2. Delicate Cherry Blossom Collection – £46.00
L'Occitane's Cherry Blossom fragrance range celebrates the poetic beauty of the cherry blossom and its delicate, feminine flowers…
Set includes:
Cherry Blossom Eau De Toilette 100ml
Cherry Blossom Shower Gel 250ml
Cherry Blossom Body Lotion 75ml
Cherry Blossom Soap 50g
Cherry Blossom Hand Cream 30ml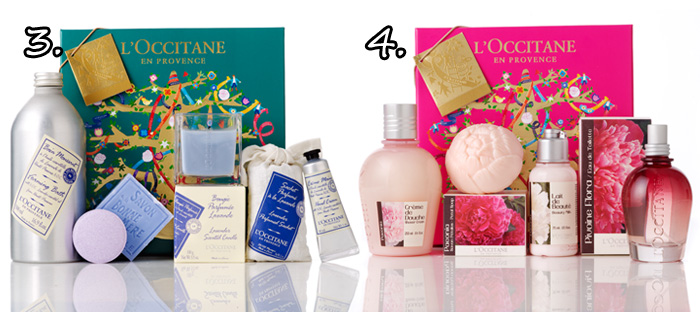 3. Relaxing Lavender Collection – £39.00
Indulge in soothing and relaxing Lavender; a perfect treat for any occasion.
Set includes:
Lavender Foaming Bath 500ml
Lavender Scented Candle 100g
Lavender Hand Cream 30ml
Lavender Bonne Mere Soap 125g
Lavender Bath Pebble 28g
Lavender Scented Sachet 35g
4. Captivating Peony Collection – £46.00
A floral collection with fresh green notes for a feminine and captivating fragrance.
Set includes:
Peony Eau De Toilette 75ml
Peony Shower Cream 250ml
Peony Beauty Milk 75ml
Peony Petal Soap 125g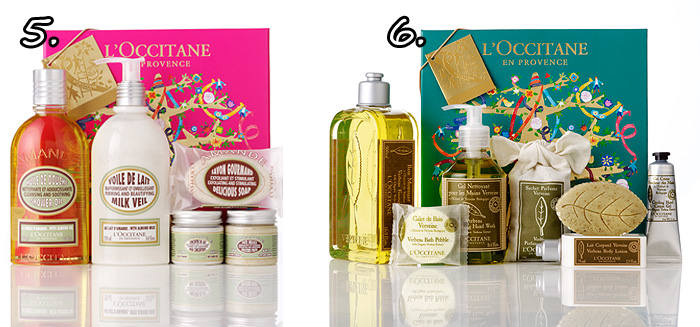 5. Delightful Almond Collection – £39.00
Almond is highly prized for its nourishing, soothing and firming properties, whilst leaving skin delicately fragranced.
Set includes:
Almond Milk Veil 250ml
Almond Shower Oil 250ml
Almond Delicious Paste 50ml
Almond Soap 50g
Almond Milk Concentrate 50ml
6. Revitalising Verbena Collection – £39.00
The fresh, citrus aroma of Provençal Verbena for bath and body lifts the spirits.
Set includes:
Verbena Foaming Bath 500ml
Verbena Soap 75ml
Verbena Hand Cream 30ml
Verbena Body Lotion 75ml
Verbena Perfumed Sachet 35g
Verbena Bath Pebble 28g
Verbena Hand Wash 250ml

7. Nourishing Shea Butter Collection – £39.00
Shea Butter is renowned for its nourishing and protecting properties. An ideal ingredient for dry and dehydrated skin during the winter months.
Set includes:
Shea Butter Hand Cream 75ml
Shea Butter Foot Cream 75ml
Shea Milk Hands & Body Wash 500ml
Shea Milk Shower Cream 75ml
Shea Milk Soap 100g
Shea Body Lotion 75ml
8. Romantic Rose Collection – £46.00
A delicate collection of four roses combined to form a romantic scent, for a soft and elegant fragrance.
Set includes:
Rose 4 Reines Eau De Toilette 75ml
Rose 4 Reines Bath Soap 50g
Rose 4 Reines Shower Gel 75ml
Rose 4 Reines Hand Cream 30ml
Rose 4 Reines Body Milk 75ml
Rose 4 Reines Candle 100g

9. L'Occitan Men's Collection – £46.00
From rugged to groomed, L'Occitane has created the perfect formulas adapted to men's skin needs.
Set includes:
L'Occitan Eau De Toilette 100ml
L'Occitan Shower Gel 250ml
L'Occitan Shaving Gel 150ml
L'Occitan After-Shave Balm 30ml
L'Occitan Soap 100g
.
…and finally, the two "stocking sized" gift sets – a.k.a – the ones for people you don't love quite as much…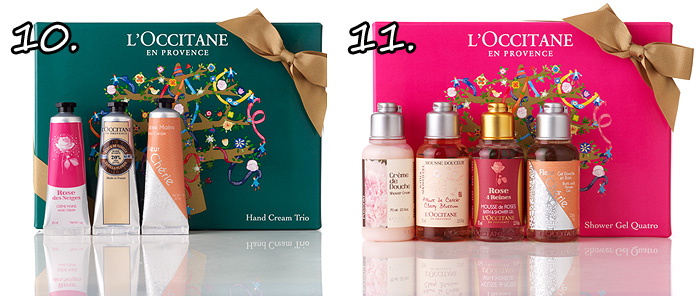 10. Hand Trio Collection – £20.00
The international best-seller Shea Butter hand cream has been given three seasonal fragrances in this limited edition set.
Set Includes:
Fleur Chérie Hand Cream 30ml
Shea Vanilla Hand cream 30ml
Rose Des Neiges Hand Cream 30ml
11. Shower Gel Quatro Collection – £20.00
This limited edition collection includes L'Occitane's three best-selling shower gels, as well as the new Fleur Chérie scent.
Set Includes:
Cherry Blossom Shower Gel 75ml
Peony Shower Cream 75ml
Fleur Chérie Bath & Shower Gel 75ml
Rose 4 Reines Shower Gel 75ml