I'm a huge fan of holidaying in the UK.  When L was born, I don't mind admitting that I was too nervous to take her out of the country but now that she's grown up enough for me to be able to cope with the flights, we've gotten used to being able to sling everything in the back of the car and set off up the motorway instead.  I've never been a fan of beaches, I find them too boring for words, coupled with the fact that I roast instead of tan and an all-inclusive just isn't my idea of fun.
We always stay at the budget hotel chains: Travelodge, Etap and Premier Inn – as-long as they're clean, the beds don't make me itch (my biggest fear!), and there's a working telly in the room – I'm happy.  We use our room as base camp, nothing more – it gets too messy to want to spend time in it with Leila about!  I also don't usually pay more than £12 a night for a Travelodge room, taking advantage of their frequent sales.  I'm sure now that Leila is about to start nursery, we'll find ourselves more restricted to school holidays but we'll cross that bridge when we get to it – I'll still sniff out a bargain!
We usually book around 5/6 day breaks, and the deals often run from a Sunday – Saturday (if you're lucky enough to get the Friday night).  We've literally travelled all over the UK in the past three years and have been able to double our spending money simply by compromising on our accommodation, though I know that wouldn't sit well with everyone.
Anyway… today, I'm sharing a few Instagram snaps from Liverpool and Manchester.  We spent 3 nights in each city (Liverpool Docklands Travelodge & Manchester Salford Quays Travelodge) – both hotels were fine, the location for Liverpool was a little out of the way though and the walk into town wore us out each day!  On our way in, we noticed a Hotel Formule 1 and an Ibis right opposite Albert Docks and would probably try and stay in one of those next time.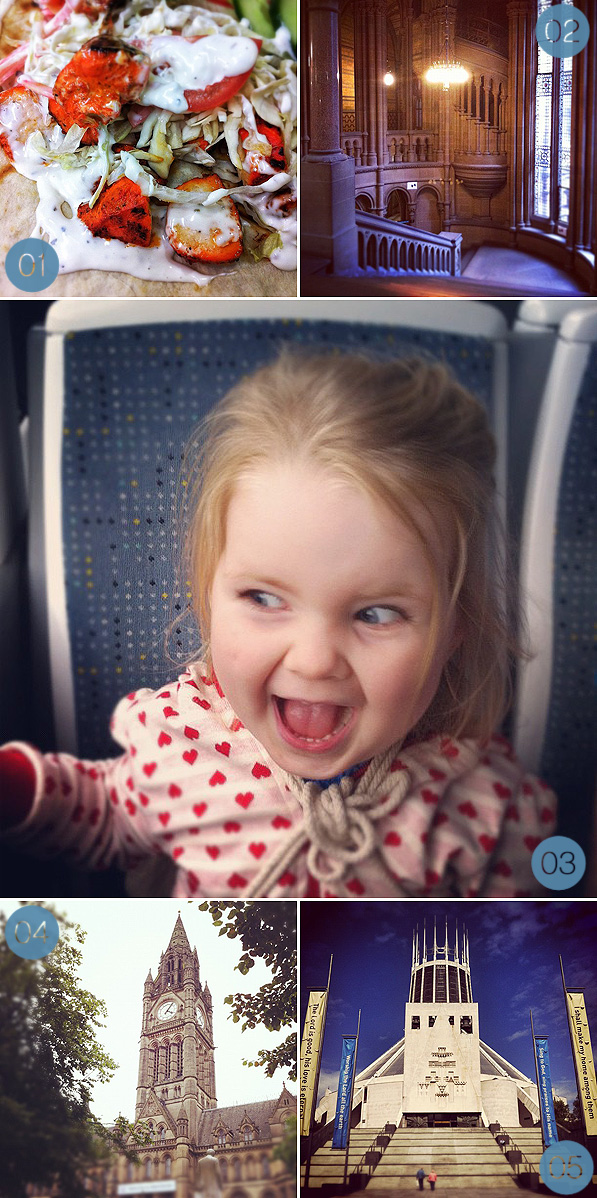 01: A 'proper' northern kebab – on naan bread and everything! (down with soggy pittas!)
02: Manchester Town Hall has the most incredible interior ever, the main staircase looks like it should have come from Hogwarts!
03: Leila was a little bit excited about her first tram ride.
04: Manchester Town Hall
05: Paddy's Wigwam in Liverpool, a.k.a Metropolitan Cathedral of Christ the King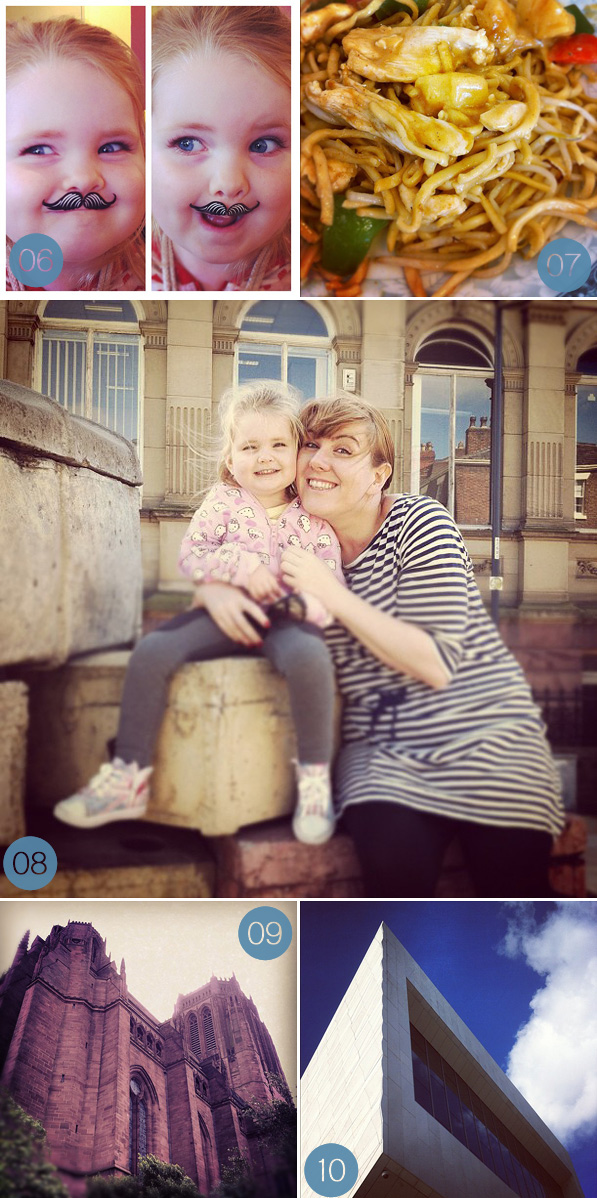 06: Leila just being my silly little goof!
07: So many lovely tweeps and readers recommended Tokyou Noodle Bar in Liverpool, I couldn't ignore it. Yum, yum Chicken Satay!
08: L and me on the Hope Street Suitcases!
09: Liverpool Cathedral (Anglican). So. bloody. impressive.
10: The Museum of Liverpool has some pretty corners.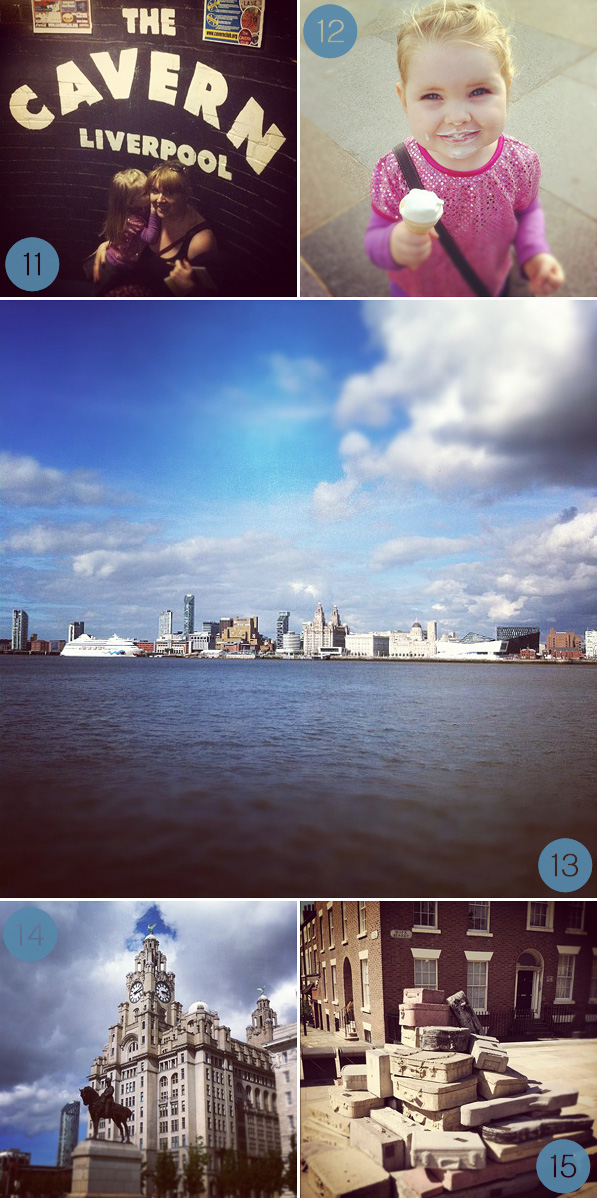 11: Well, when you're in Liverpool… you just have to, don't you?
12: Ice cream and sequins.  Girl heaven.
13: Ferry across the Mersey. Yes, I AM a total tourist.
14: The Liver Building, I can't even tell you how excited I got when I first spotted the birds from a distance.  I swear, I'd been scouring the horizon since Runcorn.
15: The Hope Street Suitcases (again)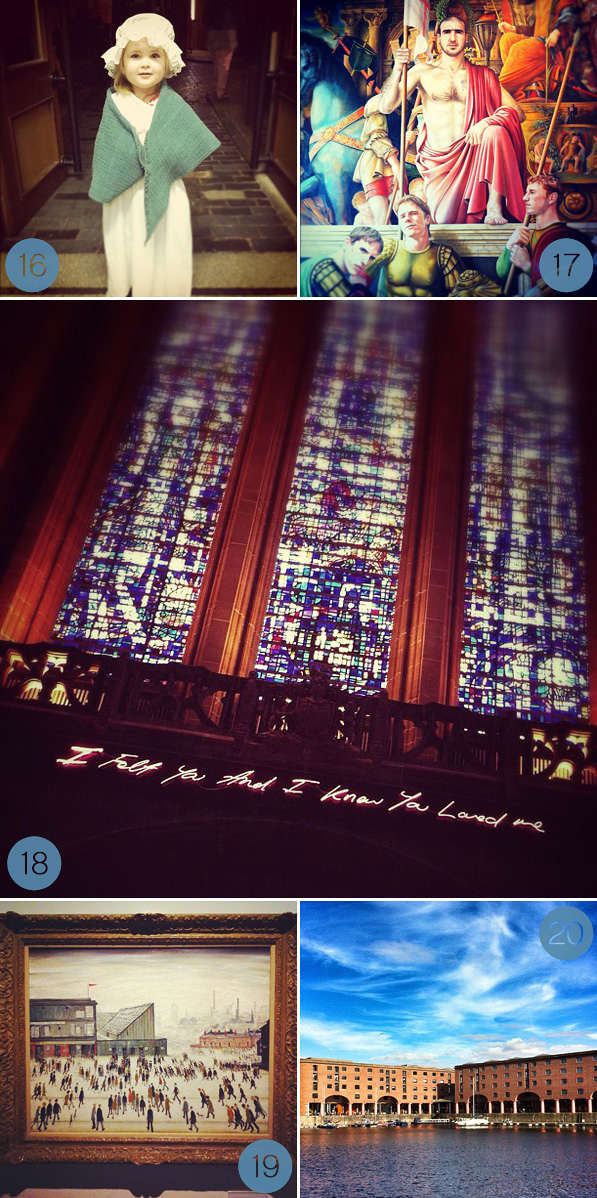 16: Leila the Victorian street urchin, exploring Lark Hill Place at Salford Museum.
17: The National Football Museum in Manchester is basically brilliant. Unless you hate football.
18: Stained glass and neon at Liverpool Cathedral.
19: You haven't been to Manchester if you don't see at least one Lowry, obviously whilst simultaneously singing "…and he painted matchstalk men and matchstalk cats and dogs"
20: We looked and looked for Fred's weather map! At Albert Docks, Liverpool.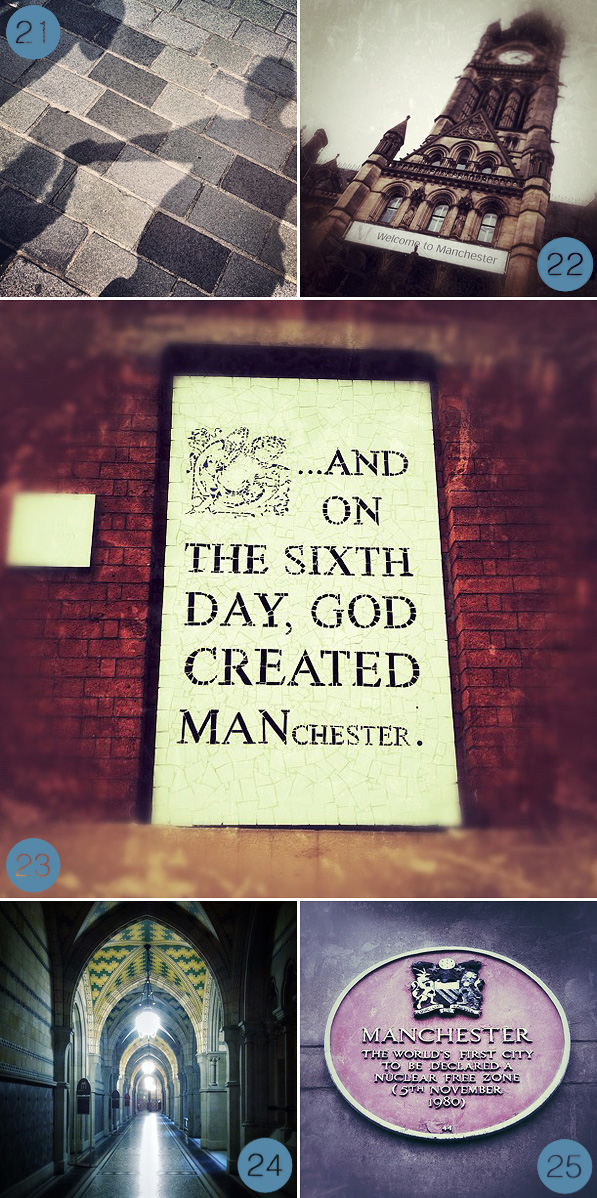 21: Shadows!  We were really lucky with the weather, who knew it didn't always rain in the North West?! 😉
22: Welcome to Manchester!
23: And on the sixth day…
24: Manchester Town Hall (bit obsessed – sorry!)
25: Someone please explain this one to me!
.
Enough holiday rambles and photos… though you should be pleased that we have the internet ether separating us because I'm one of those irritants who would tie you to your chair until you'd looked through every. single. picture.  Twice.  And commented.  My poor family.
I'll finish with my holiday highlights, just incase anyone is googling and wants some down to earth tips.
1.  The museums – both cities have amazing museums, many of them completely free (though donations are always appreciated).  You can literally fill your cultural boots and then some.  Or, you could just go around pressing all the buttons like me and Leila.  I thoroughly recommend the People's History Museum in Manchester, it was a real trip highlight.
2. The eats – there is so much choice, but I am partial to a curry cafe and a kebab.  I know, a disgusting habit – but in my defence, I nearly always choose a spinach-based curry (that's at least a vegetable right?!) and a chicken tikka kebab (never got drunk enough for a lamb doner!)  Our favourite curry cafe has always been Little Aladdin Cafe, behind the Arndale in Manchester… it's tiny though, so be prepared to wait and don't leave without ordering a cheese naan.  Got it?
3. Walk, walk, walk – Other than a couple of obligatory tram rides, we walked everywhere and saw SO many hidden gems and shops that we wouldn't have discovered from inside a bus.  Both city centres are nicely compact and most sights are within easy walking distance.  Plus, we saved some money and didn't feel so guilty about those curries as a result!
4. Don't judge a book by its cover – Cathedrals?  Town Halls?  Yawn right?  Mr. L dragged me into Manchester Town Hall half an hour before it closed (I wanted to go to Starbucks), but I'm so pleased I succumbed.  Keep an open mind and make little detours into sights you don't think will interest you if they're close by.  Again, that's the beauty of walking a city – take a chance on the unlikely attractions and more often than not, you'll be rewarded with some great memories.
.
Hope that wasn't too boring for you, it's ok – I'll let you out of your chair now.
What are your favourite holiday haunts in the UK?  I'm always looking for new inspirations!