Apart from the baby thing, 2014 will forever be known to me as the year of the lipstick.  We've been treated to some fantastic lip launches this year haven't we?  From Estee Lauder's dreamy Sculpting Lipsticks to Clarins' Spring Joli Rouges that I literally wore all Summer long… just some of the great examples that I've enjoyed over the past nine-months.
Bringing up the rear with another extremely well-formulated lipstick launch is Clinique.  I've had the pleasure of trialling their new Long Last Soft Matte Lipstick which launched back in May/June kinda time – sorry for my tardiness but I was busy with that whole "baby thing" I mentioned before.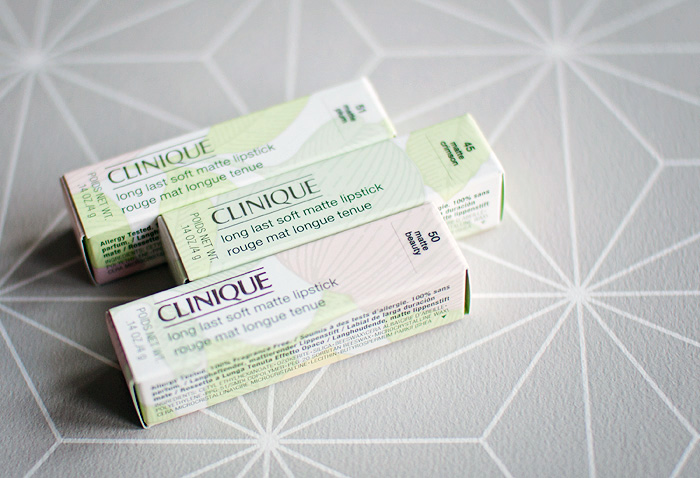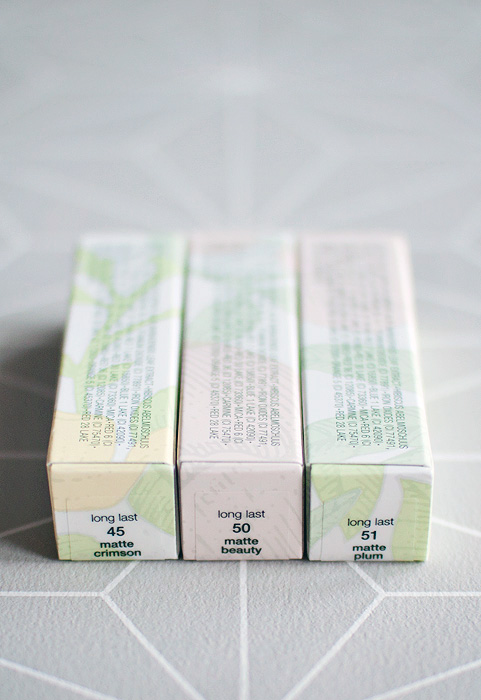 There are eight shades available in the line-up, ranging from ultra-bold oranges and reds to more demure but equally pigmented nudes.  It's not the most comprehensive selection but this isn't a problem for me.  Choice is great… but in all honesty, I'm a terribly indecisive person, choosing a Friday night takeaway practically tips me over the edge.  At least with this range, if I want a red… my mind has been made up for me and I don't have to examine the ever-so-subtle nuances between ten different shades of crimson.
The packaging is sleek and sophisticated.  It's heavy enough to feel reassuringly solid in my hands, with a part matte/part glossy exterior and some very tactile ridges.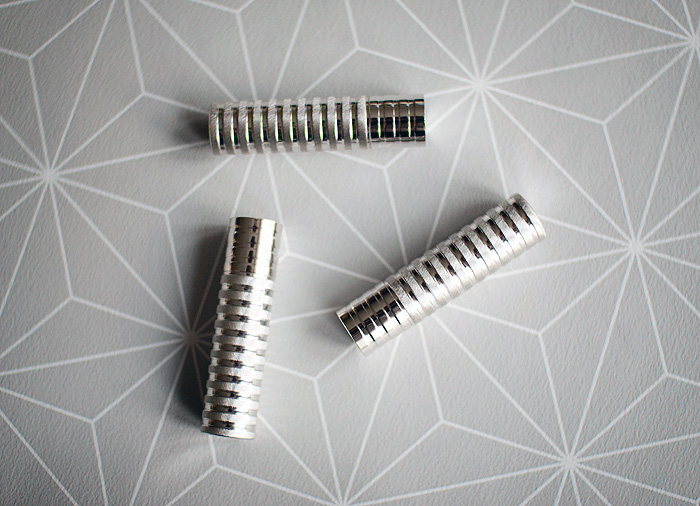 Crimson is a bold red with strong cool undertones that give it vivacity and sparkle but its bold pigment means that you really do need a lip brush to do it justice.  There's nothing informal about this red, wear it loud and wear it proud!  Beauty is the archetypal my-lips-but-better shade.  A shade that removes all traces of anaemia from my otherwise pasty complexion and injects life with the least amount of effort on my part.  When you don't know which lipstick to choose in the morning, this is the one your hands would reach for.
Plum is a shade that I haven't seen very many blogs featuring but I think it's my favourite of the three!  It's easily the most vivid plum-shade I own.  It leans purple enough to induce excitement without filling me with the I-can't-wear-this fear factor.
But most importantly of all, how does the range feel and wear on the lips?
Amazingly well as it happens.  My first instinct was to be completely surprised by how the bullet glides.  There's an expectation with long-lasting lipsticks of a drier texture, one that drags and skips during application… but not these…. they positively glide over the lips.  I wouldn't go so far as to call them "buttery" but they're very smooth and comfortable.
As for how the range wears, well that's also worth getting excited about because I was able to apply in the morning and still enjoy how the colour looked mid-afternoon.  The pigment does fade after about 4-hours, but it fades evenly and cleanly, leaving a soft stain on the lips.  They're not the lightest-feeling lipsticks in the world to wear (unlike the Estee Lauder Sculpting Lipsticks, which are frankly made from pixie pee) but neither do they feel heavy or drying on the lips.
Infact, my lips suffered no ill-effects at all from day-long wear, whether I'll be able to say the same once Winter sets in, time will tell.
Clinique Long Last Soft Matte Lipsticks are priced at £17.00 each and are available to buy on counter or online at clinique.co.uk, boots.com, and other outlets.
* press sample
if you liked this post, please don't forget to check out my subscriber options, here