This is an absolutely AMAZING Nails Inc. deal!

For TODAY ONLY, you can save £85 by purchasing a set of 10 Nails Inc. polishes for only £25.
I know they occasionally have some nice deals like this…. but usually with a few dubious shades that no-one wants thrown in… not this time!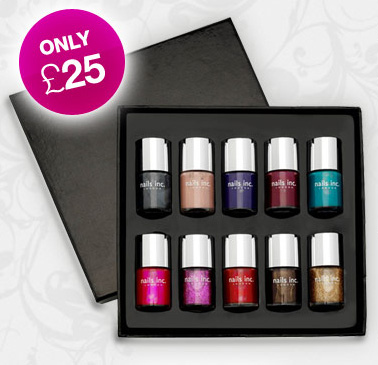 Those are 10 flippin' lovely shades and I don't know about you but I'd be glad to wear each of them!
Also, look at the cute box they come in… what a great Christmas present they'd make for someone special… but I'm not sure I'd be able to keep my hands off them!
Shades include:
Berkeley Square – dark grey
Eagle Street – dusky nude
Duchess Street – vibrant purple
The Vale – deep plum
Eden Grove – vibrant real
Montrose Place – iridescent hot pink
Buckingham Street – hot pink glitter
Dean Street – pillar box red
Maple Street – metallic brown
Shelton Street – gold glitter
What do you think ladies?  Are you as tempted as I am?  I'm really cursing my little eBay polish haul from last night now… my fingers are hovering and I'm wavering… God knows, I don't need more polishes in my life but I'm not sure I can resist!
Talk me down!
** You may also want to take a quick look here before ordering if you decide to go for it – it worked when I tested it late last night**