Don't forget to pick up the News of the World today if you want to take advantage of the free makeup kit in conjunction with Models Own.
The kit includes: liquid eyeliner, tweezers, an eyelash curler, mascara and eyeshadow with all items housed in a clear plastic makeup ziploc bag.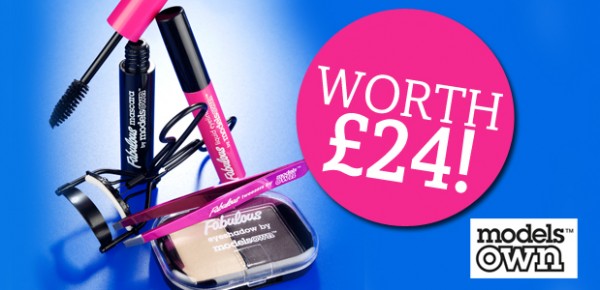 I've had a play with the kit I was sent as a preview and the runny mascara and scratchy eyeliner aren't gonna get any love here.  The tweezers weren't half bad and the eyelash curlers (although not the most precise bit of mechanical engineering) do a decent job and fit my eye shape well.
Finally, the eyeshadow duo features a pair of wearable shades with a soft, blendable (if slightly dusty) texture.  I wouldn't pay £24 for it but for the price of two Sunday papers, I think it's worth a punt particularly as both tools included were completely usable.
To take advantage of the offer, collect TWO tokens from Fabulous magazine found within Sunday's News of the World.  Tokens are available today, Sunday January 16 and Sunday January 23.
Once you have collected two tokens, take them to a participating Tesco store to redeem for the Models Own makeup kit.
For more info, check the website here.  Will you be picking one up?