Cheap Smells has always been an oasis for bargain discoveries… I highly recommend a browse when you get that late night urge to spend a few coppers.  It makes me feel like I've gotten more bang for my buck and stops me from overspending.  I don't have a problem, I don't have a problem… really.

BUT…
In the past, their shipping system has infuriated me.  It went something like this…
Spend £1.50 with us and we'll only charge you 99p for postage. (woohoo!)
Spend £9.50 with us and we'll charge you £3.15 for postage. (err…)
Probably one of my biggest turn offs for shopping online is that sliding scale of postal charges… or just high postage charges in general.
Well, I was flippin' pleased to notice that Cheap Smells now offers free standard postage on ANY order.  Not only that, but I checked… they haven't increased their prices as a result (well, not on the items I would notice anyway – Creaseless Creams, Stila odds and ends).
I think that this is what one might call, a good executive decision!  While I'm here… will you indulge me in a little enabling?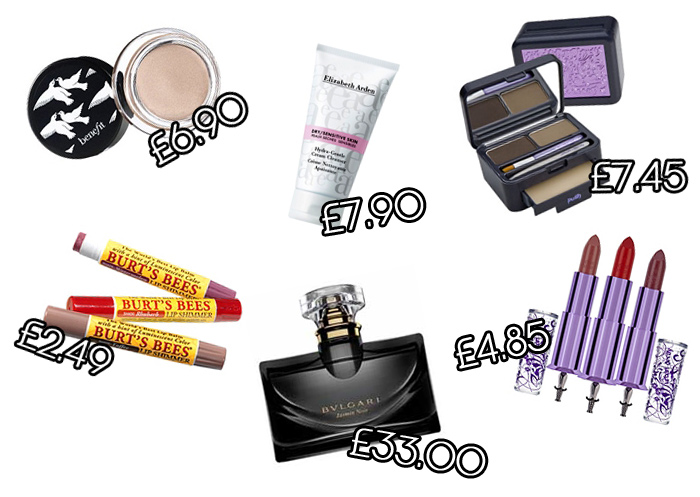 1. Benefit Creaseless Cream Shadow/Liner in Sippin' 'n' Dippin' – £6.90
2. Elizabeth Arden Hydra Gentle Cream Cleanser (Dry/Sensitive Skin) 150ml – £7.90
3. Urban Decay Brow Box – £7.45
4. Burts Bees Lip Shimmer – From £2.49
5. Bvlgari Jasmin Noir Eau de Toilette Spray (100ml) – £33.00
6. Urban Decay Lipstick – £4.85
What's your 'cut-off' for OTT postage charges online?  Name and shame the worst offenders!