My little girl Leila loves watching me polish my nails, she loves lining up my bottles along the carpet… organising them by shape, colour and height.  She makes me nail polish trains and loves nothing better than picking out my next shade.  With that in mind, you can imagine the ridiculous amount of delight on her face when I presented her with her own set of nail polishes*.  No?
Well, here's an idea…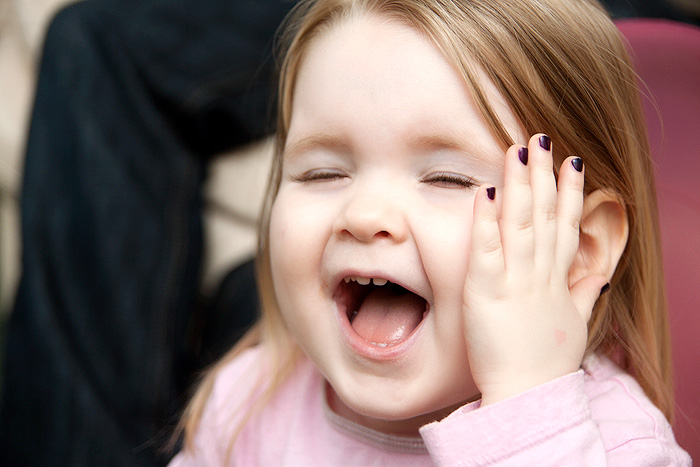 I've never painted Leila's nails before.  Aside from the politics about whether or not children should wear cosmetics, I've just never felt comfortable applying solvents to those tiny little fingers.  Hell, all I need to do is look at my own peeling, yellow nails to discover more than one supporting reason why I'm keeping my polishes locked in my cabinet when I'm not around.
But Little BU make nail polish especially for little fingers with a non-toxic, water-based, solvent-free formula.  The brainchild of Patricia Dente Haimes, a former New York beauty publicist — these formulas have spent a long time in careful development and are now ready to be unveiled to the world.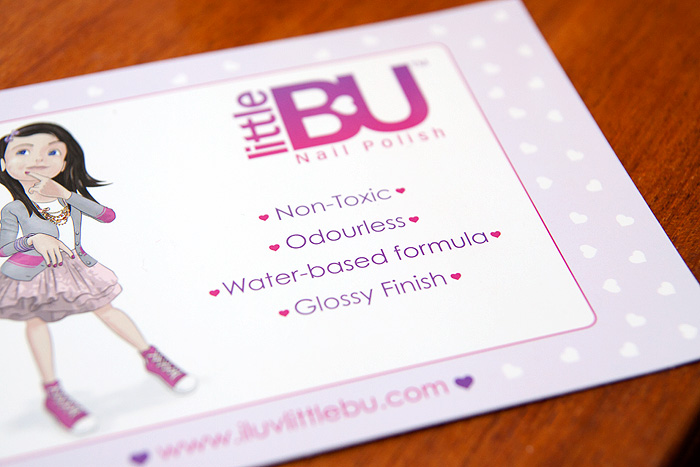 I've tried a water-based polish before but I found it an utter pain to apply.  Streaky, watery and sheer to the point of frustration.  In Little BU's case, I can confirm that both the shades Emma (red) and Sofia (dark purple) are opaque in a single coat and when you're trying to paint a moving target, that comes in very handy.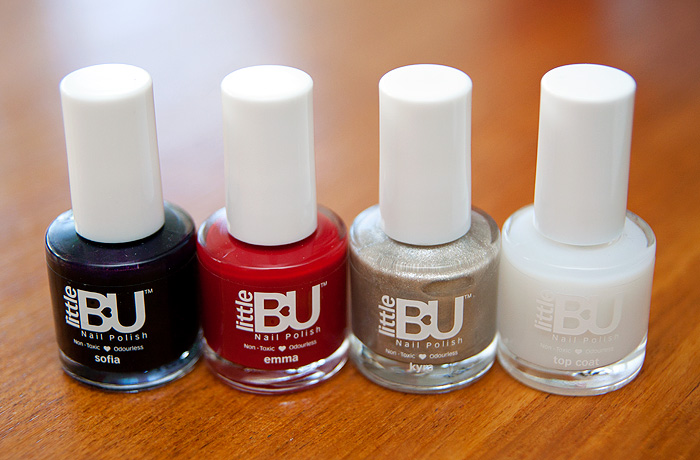 Kyra (luminescent silver) wasn't quite so successful, mostly because Leila decided she didn't like it and wasn't going to afford me even thirty seconds of the patience needed to apply it, but I could tell that it was sheerer than the other two shades.  Over on the right in the above photo is the top coat.  It's not an absolute necessity if you're just having afternoon play but I do recommend it for sealing the colour to the nails so it doesn't wash off too easily in soapy water.
Leila has already requested that I might like to buy her Olivia (soft blue) and Riley (bubblegum pink) and I'm sure I can stretch to those for her Christmas stocking but until then she's rocking red toenails, just like her Mum.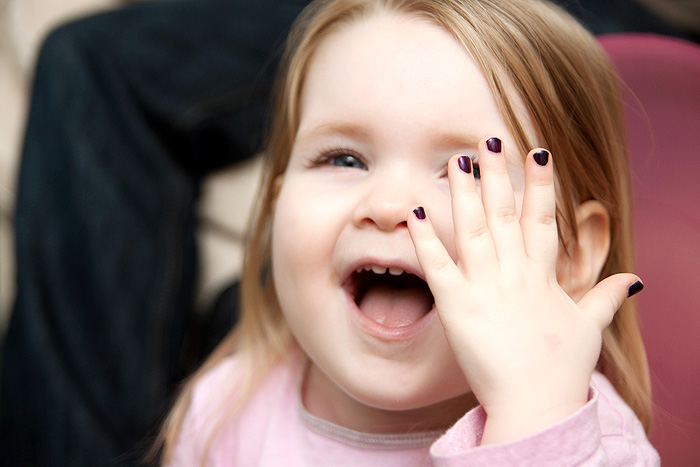 Little BU are having a launch party in Harrods on Saturday 15th October from 2pm – 6pm.  It's set to be a proper knees-up with mini manicures, face painting, colouring in and balloon modelling and what's more — we're all invited!  If I can make it into London, I might see you there!
Little BU Nail Polishes are priced at £9.95 each and available online at www.iluvlittlebu.com or instore at Harrods.
* press sample