…a.k.a the most overdone post in the blogosphere in recent weeks.
Everyone is different… with different needs, different tastes and different budgets… so what works for me may not work for you but these are the products that have made this Winter a far more comfortable affair.
It's probably useful to let you know the kind of issues that Winter has been dishing out to me first right?
Skin: A touch of seborrheic dermatitis that flares up with greater prominence when the seasons change and in cold weather. Dryness (with the odd patch of scaliness if left untreated for too long) around the edges of my nose, eyebrows, hairline, behind my ears (yeah, weird) and under my eyes.
Hair: Coarse, dull and kinda bushy! (just for clarification, we're talking head hair here mmm-k?)
Nails: Where do I begin… these have suffered the most this winter and I'm starting to see the point in using acetone free nail polish removers despite still being in love with my poundland bargain purchases.  My nails have started to peel quite badly on the edges and I'm having to trim them regularly just to remedy this.  My cuticles are like elephant hide and the poor things sob everytime I approach with a new polish.
As you can see… a few issues that have needed to be kept under control.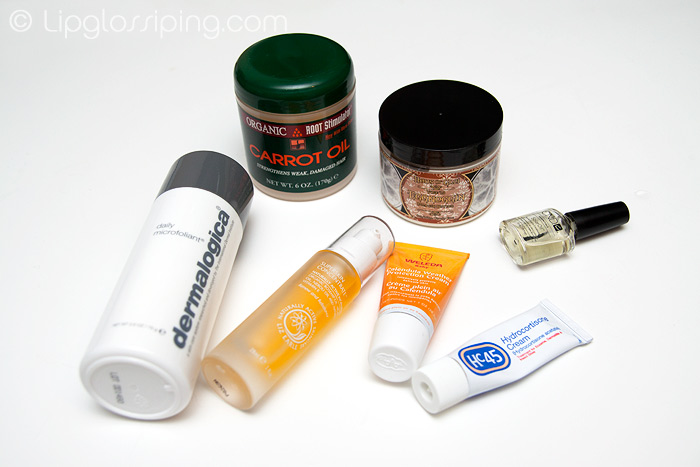 It has literally taken me until the last week or so to pin down *which* products are having a reasonable effect on those issues and the ones I've shown above are the ones that I know are making a real difference.
Dermalogica Daily Microfoliant (£28.50 – ish)* has been a gentler alternative to my usual scrubs at keeping my face free from flakes.  I've started trialling a Clarisonic in the past week but up 'til then, it's been the Dermalogica sloughing my skin without causing extra dryness or irritation.  I can see why it's so revered amongst industry experts.
Liz Earle Superskin Concentrate (£37.80)* has probably been my skincare product of the year.  It's one to avoid if you have oily skin but on my combo/dry skin – it's a tonic and a half.  As the weeks have gotten colder I've upped the frequency with which I'm applying and I'm on a full pump every evening spread all over my face (except the bridge of my nose!).  It's 'organic' scent takes a little getting used to and many will dislike the heavier feeling it leaves behind.  Me?  It lets me know that my skin is getting the nourishment it needs.
Organic Root Stimulator Carrot Oil (£4.39) The range is targeted toward the needs of Afro hair and although it's recommended use is on the scalp, I've been applying this on my hair 20 minutes before jumping in the shower.  I combine this with Pantene Pro-V Colour Protect 2 Minute Damage Rescue Treatment (which I use as a conditioner rather than treatment) and have been enjoying much healthier and smoother-looking hair as a result!
Haus of Gloi Pumpkin Butter (£5.70 – ish) Another 'product of the year' is the Haus of Gloi's pumpkin butter formula for deep and long-lasting body moisturisation.  I'm in love with the thick but absorbable creams… finding the perfect scent can be a bit like playing Russian roulette but at £5.70 for a full-size tub, it's hardly breaking the bank.  The site's stock of pumpkin butter moisturisers is slowly dwindling, replaced by the lighter emulsions… that makes me sad – I'm hoping I have enough stock in my own beauty cupboard to last me through 'till it really does start getting warmer.
Weleda Calendula Weather Protection Cream*(£5.50) Good enough for baby, good enough for me. It's been my handbag staple for weeks now.  The thinner-than-Vaseline texture and gentle scent make this intensely moisturising product my pick for on-the-go moisturisation.  I apply a very small amount (half pea-sized for my entire face)… it spreads like a dream and although it's lanolin/almond-oil based, sinks in fairly quickly without leaving me looking shiny aslong as I'm careful not to over-apply.  Also wonderful for ravaged cuticles!
CND Solar Oil – (£5.07 – ish) Whilst I'm not convinced it's my HG for keeping my nails in good condition, it's done a better job this Winter than my LUSH Lemony Flutter which is why I'm including it in the list.  It's inexpensive and quick to apply before or after a manicure.  It smells divine (if you like marzipan!) and certainly goes some way to giving my poor tips a bit of respite.
HC45 Hydrocortisone Cream (£3.77) This is a 'branded' version of a cream that should be used very sparingly indeed!  I usually pick up a chemist-own version for a bit less than this.  It's a steroid cream that can thin the skin with prolonged use, hence the 'sparingly' comment.  For me, nothing comes close at soothing my skin in an emergency.  I usually use a miniscule amount behind my ears if the skin starts to crack (nice) or if I get wind burn.  Leila also benefits from a smidge if her eczema gets out of control which thankfully this year, it hasn't.
.
So those are my winter skin saviours, it's not the most glamourous list in the world and the price point varies wildly from a couple of quid, right up to £40 but these are the products that I haven't been able to better.
*denotes PR samples
What are some of your winter must-haves?