Perhaps the ultimate offering from the Boots Star Gifts this year is the Soap & Glory Big Splendour set which, from tomorrow, will be slashed to better than half price.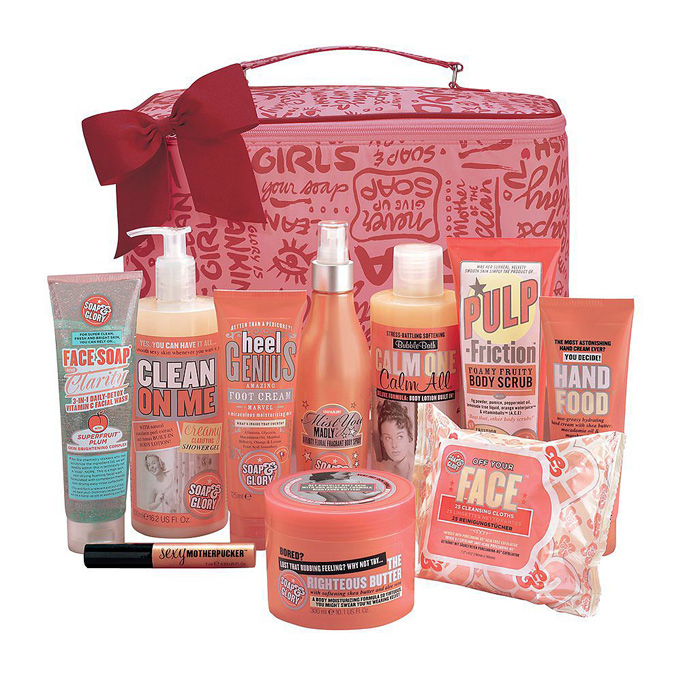 The set includes the following Soap & Glory bestsellers:
Clean On Me™ Creamy Clarifying Shower Gel – 500ml
The Righteous Butter™ Body Butter – 300ml
Pulp Friction™ Body Scrub – 300ml
Face, Soap & Clarity™ Fresh Facial Wash – 150ml
25 Off Your Face™ Cleansing Wipes
Heel Genius Foot™ Cream – 125ml
Hand Food Hand™ Cream – 125ml
Mist You Madly™ Fragrant Body Spray – 250ml
Sexy Mother Pucker™ Lip Plumper In Candy Gloss – 7ml
Calm One, Calm All™ Bubble Bath – 500ml
From tomorrow, the price will be £25 (was £60) and the offer will run until Friday, 24th December.
Stocks are going to fly off the shelves, so if you know a S&G fan who would love one of these under their Christmas Tree – please avoid potential disappointment by jumping on this offer quickly.