I am bereft.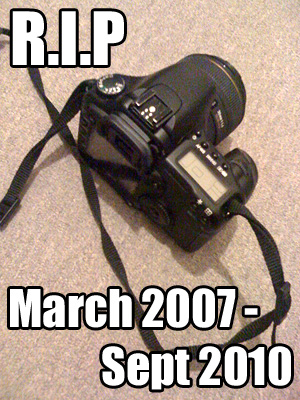 I scrimped, I saved and I ignored my student loan to save all my pennies for my baby Canon back in 2007.
And on Saturday it went to the great big Crumpler  in the sky.
.
I'm moping.  The skies are grey and the birds aren't singing.  My shoulders are struggling to support the weight of my big fat, miserable head and Winter feels closer now than it ever has before.  I could catch beach balls on the shelf that my bottom lip has become and I've discovered the wonder of the monosyllable.
And yanowot really pisses me off?  These bloody cameras cost MORE now than they did 4 years ago!
*kicks something* (not a small child incase you had your phonebook open at Social Services).
.
Um… So uh, how was your weekend?  Don't tell me it was ggggggreat, 'cos I don't give a flying fstop.