Listen up, 'cos you're about to learn something really important.  If you ever find yourself stranded in the wilds of Africa, you'll thank your lucky stars that you read this post.
If you see a cheetah lurking in the bushes and he's giving you the eye, run for the nearest tree.  If it's a leopard, don't.  Cheetah's can't climb… leopards actually like to drag their prey up the nearest tree, so you'd be doing half the hard work for him.
But how can you tell the difference between a leopard and a cheetah?  They're both cat-like and spotty right?
Study.  Those are cheetah spots.  Or at least, they're supposed to be.
BUT THEY'RE NOT!!!
As cute as those new Tweezerman tweezers undoubtedly are (you know how I love my wild prints!)… those are, in fact leopard spots.  For shame Tweezerman, you could've got a beauty blogger eaten in the wild!
Behold.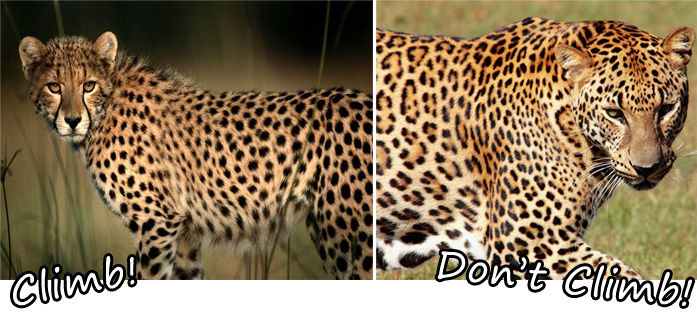 The cheetah (on the left) has oval, regular shaped spots whilst a leopard (on the right) has rosette shaped, irregular spots.  Now, you tell me… are those new tweezers leopard-print or cheetah-print?
Yeah, no need to thank me.  It's all part of the service.  You wouldn't get this in Cosmo.
.
Tweezerman Safari Print Cheetah *cough* Slant Tweezers are available from next month, priced at £22.00
p.s. I really love my Tweezerman wide grips, I'd even take them on safari with me to catch mosquitos a la Mr. Miyagi – sort of.