New out this week is Bourjois' Elastic Mascara… complete with rather funky packaging!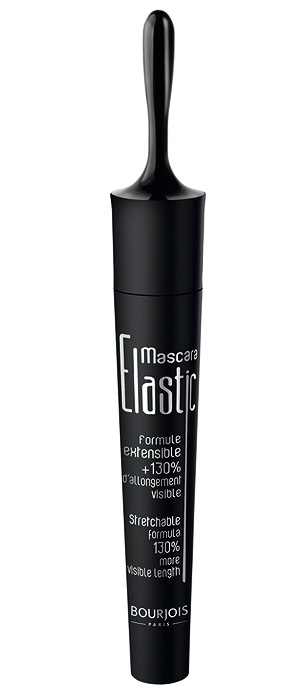 They were putting these out on the shelves of my local Superdrug last Friday but I couldn't see any testers so was unable to check out the wand and brush – boo!
I was also on my way back from my sk:n appt so I didn't wanna hang around too long with my uber-flushed red bits on show, but I'm going back into town this afternoon to check it out.
They say…
The new Elastic Mascara achieves 130% more visible length to the lashes with its innovative, ultra-lengthening elastic formula and lash-extending brush.
The brush is the essential partner to the mascara and has two parts: the reservoirs which release the formula along the whole length of the lash, and the long, fine bristles to stretch the formula and visually increase the length of every single lash.  All lashes, even the shortest and finest, are stretched to the maximum leaving them intensely smoothed and coated from root to tip.
I do love me a bit of lengthening mascara, there haven't been too many new high street mascara releases recently have there?
Boots are currently offering a 3for2 on all Bourjois or you can head to Superdrug for £2 off!
Price: £8.99 / €12.99
****
I've recently had a bit of a mascara purge (threw away 7 of the damn things)… so I think I can treat myself to some new mascara love.
In other mascara news, I keep reaching for my YSL Singulier in an attempt to finish it off…  I'm just not that keen on it especially considering it's price tag.   I'm kinda loving my L'oreal Telescopic Explosion (controversial choice?) but it's a bit of a faff to apply…
I think I should get back on my 'mascara series' wagon, I've been through so many tubes and forgotten to review them – bad blogger!
What are your current mascara favourites and will you be checking out this latest offering from Bourjois?