This is potentially the dullest post I've ever written.  Infact, so uninspired by it am I, that I've left it until the very last minute.  Of course, I'm talking (as have many other blogs) about Google Friend Connect.
What is Google Friend Connect I hear you ask?  Well, it's this here widget on the left with a ton of pretty faces on it (and some ugly ones).  And currently, over 2200 of you are subscribed through it.  But not for much longer.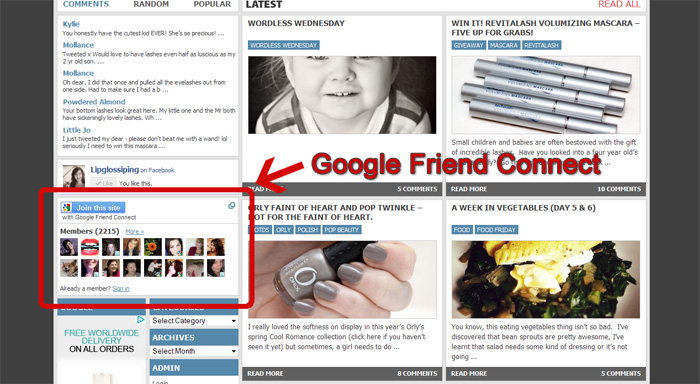 You see, my blog runs off a system called WordPress, and Google has their own blogging system called Blogger.  It's like Man U. vs. Liverpool, Google are taking the ball away and won't let WordPress play with it.  If you stop receiving updates from Lipglossiping.com – then it'll be because you were playing with the ball and Google is a biatch.
So what are your alternatives?
Well, to stay up to date with my beauty related ramblings you could…
.
Subscribe to Lipglossiping.com via email.  This basically means that you'll receive one email (never any more) per day containing the posts from the previous 24 hours.
Subscribe through a 3rd party such as HelloCotton or Bloglovin.  You can use these services to subscribe to all your favourite blogs and find new ones.
Subscribe via Facebook.  If you click that little 'like' button over on the left there (above the Google Friend Connect widget), you'll automatically like the Lipglossiping facebook page which should then send you a wall update whenever a new post goes live.  This is of course, assuming that you're signed up to Facebook.
Subscribe by adding the RSS feed to your preferred RSS reader.  If you already use one, you'll probably know how to do this, you usually just need to copy and paste the URL into your feed reader – my feed can be found here.  If you don't already use a feed reader, my preferred reader of choice is called Bloglines and I've used it for years.  Here's a screenshot of how mine currently looks.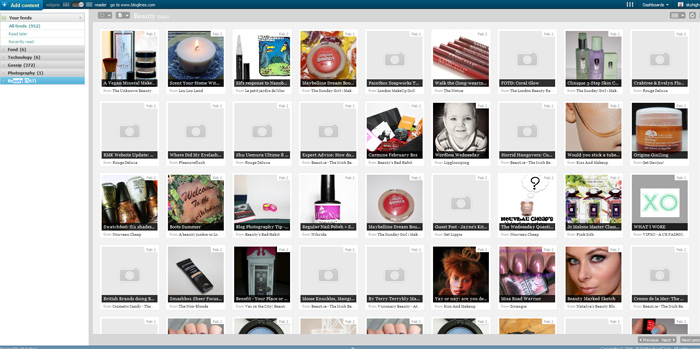 .
Basically, there are lots of other ways that you can keep updated with my rubbish.  I'm on Twitter, Pinterest, Google+, Facebook – I'm everywhere I shouldn't be just so I can avoid doing some work.
Are you subscribed?  Mind if I ask how you stay up-to-date with lipglossiping.com?