It doesn't matter how many billions of blades your razor has, they all have one thing in common – they go blunt.  It may be after 7 shaves, it may be after 15 or even 20 but you can bet your bottom dollar that before you're ready to chuck it in the bin, you'll be sporting the freshly corned-beef look on your shins.
The Razorpit is an ingenious solution to prematurely blunting razors.  Its objective is to clear the razor head of the tiny hairs, dead skin and shaving soap that inevitably builds up in there over time.  Yeah, gross – hope I don't come back as a Razorpit in another life.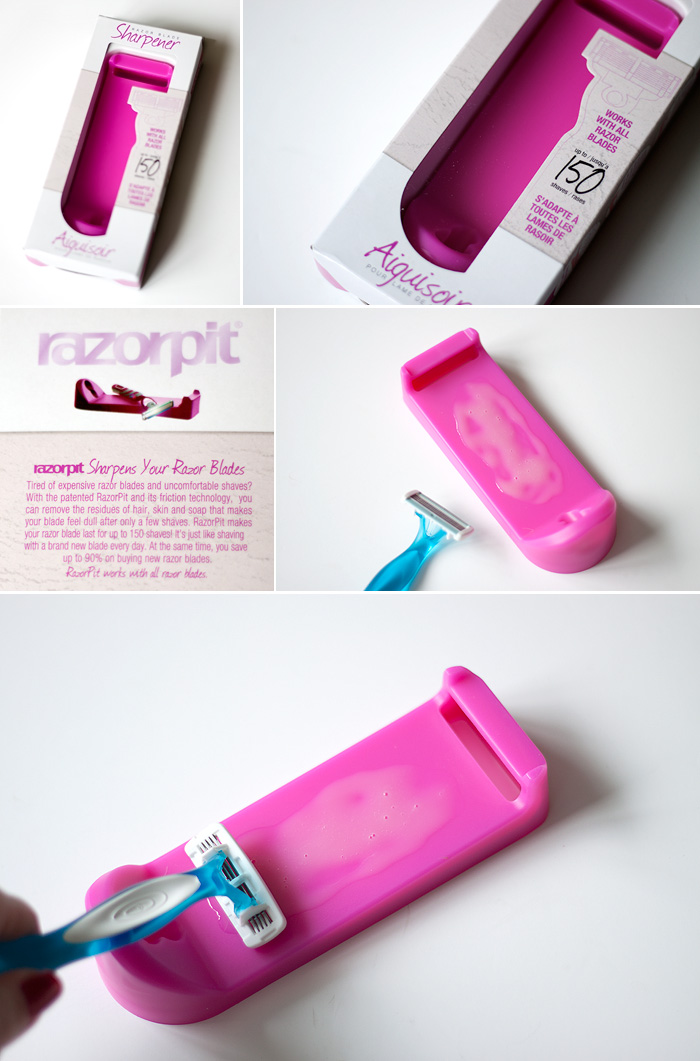 It works quite simply, thanks to the power of friction.  We all know about the power of friction don't we?  I've seen enough carpet burns over the years (not on me, obvs) to appreciate the impressive force that a bit of friction can create.  In order to fire up this power on the Razorpit, you need to apply some shaving foam or liquid soap to the flat plane of the gadget and push your razor over the lubricated surface in the opposite direction to the regular shaving motion.
My razor wasn't particularly gunked up but it did remove a couple of stray hairs that I'd checked were firmly wedged between the blades just moments prior to testing it out.
Overall, my feelings on the Razorpit are mixed.  I think it's a great gadget that seems to do exactly what it says on the tin, and I've no doubt that it will prolong the life of my razor.  I think my hesitation lies in the simply sexist fact that I think this one is more for the boys in the household?  I just feel that I can live without something like this in my life… Mr. L on the other hand is now sporting a very pink new accessory.  And loving it.
My recommendation?  Get one for the man who has everything.
The Razorpit is priced at £19.99 and available to buy online (in either pink or black!) from presentsformen.co.uk
* press sample