Let's start this season's gift guides off with some beautiful bargains shall we?  You know me, I'm just as happy swatching on the counters at Harrods as I am trawling the clearance section at CheapSmells, my makeup snobbery gets treated to a regular kick in the teeth each time it tries to raise its ugly head.  Sure, I'm no MUA girl (that neutral palette is pretty/too SHINY SHINY for my slowly-ageing eyelids) but I still get all clappy excited when I spot a bit of a bargain.
Here be my pick of the gifts for next to no pennies at all… heads up skinflints, this one's for you (and me).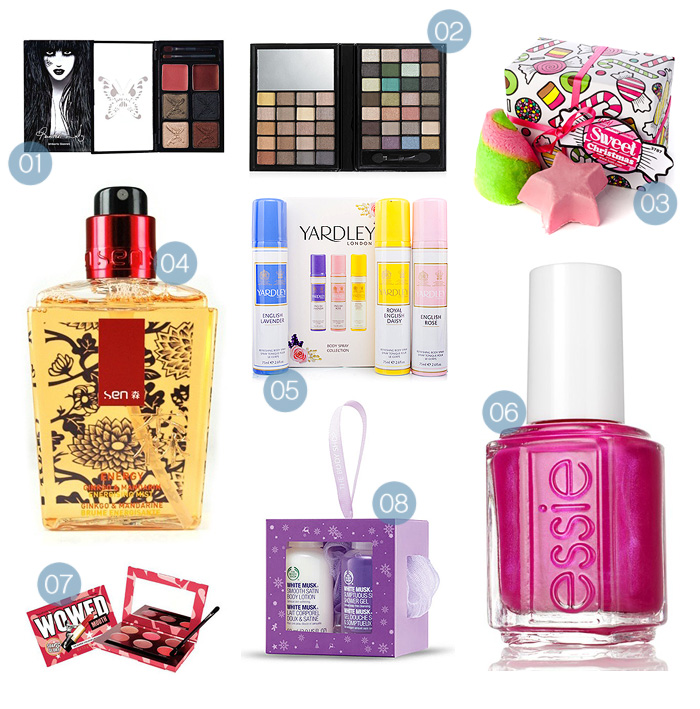 01: Umberto Giannini Painted Lady Beatrice Palette (£8.00)
Part of Boots 3for2 on Christmas gifts, this striking palette from Umberto Giannini (better known for their hair range) offers a wealth of grungy glamour and rather cool illustrationd to boot.  Four eye colours, two lip shades and a butterfly stencil should the desire to flutter yourself up become too much to resist.
02: ELF 48pc Little Black Beauty Book – Warm Edition (£5.00)*
ELF are the kings (and queens) of affordable gifts this time of year and there's no better place to look for achieving the biggest bang for your buck.  A veritable menagerie of neutral-toned eyeshadows presented in book form, complete with a mirror ensures that this is a gift that will delight all makeup fans.
03: LUSH Sweet Christmas Gift Set (£6.95)
Everyone has a Lushie in their life and whether they're big or small in stature, you'll be sure to melt their icy heart with the LUSH Sweet Christmas set containing a Candy Mountain bubble bar and Rockstar soap.  It's a win-win situation, not only will they smell sweeter, you don't even have to do any wrapping.
04: SEN Energy Gingko and Mandarin Energising Mist (£4.95)
Embrace the reinvigorating scent of the far east at a price that will uplift your wallet and splash out on this posher-than-average body mist from SEN.  It promises to refresh, revive and revitalise – something we could all do with once the Christmas shopping is over.
05: Yardley 3-Piece Body Spray Set (£4.99)
A boxed set for under £5 is not something to sniffed at (haw haw), we all know someone who would appreciate this timeless set from iconic British fragrance house, Yardley.  The set contains three 75ml body sprays including: English Lavender, Royal English Daisy, and English Rose.
06: Essie Tour de Finance Nail Polish (£1.99)
Hold the stampede!  Yes, you can get a fabulously hot pink polish from cult NY nail brand, Essie for less than £2!  I see some fabulous stocking fillers in your future!  Not only that… but if you stick on-site a little bit longer, you might come across the £5.00 OPIs… just sayin'.
07: Soap & Glory Wowed Mouth (£12.00)
The most expensive item in today's selection but for your pennies, you're getting a 6-piece lip palette that contains all six shades of S&G's Fabulipsticks.  The perfect gift for any lipstick fan, or ideal for someone who owns all the lipglosses in the world and just doesn't quite know where to start with lipstick.
08: The Body Shop White Musk Shower & Moisture Set (£6.00)
A classic fragrance from The Body Shop that has stood the test of time, and worn it elegantly.  A duo of mini bath-time treats that are great for travel or taking to the gym – the set contains: 1 White Musk Shower Gel 60ml, 1 White Musk Smooth Satin Body Lotion 60ml, 1 Ultra Fine Lilac Bath Lily.
If you're a glitter fan, look out – the next gift guide's got your name on it!
* press sample