It's every mother's worst fear… watching their child get sick and being powerless to wade in and fix it all.
Clinique are once again partnering with Great Ormond Street Hospital Children's Charity for the KISS IT BETTER appeal which raises money to fund research into the causes and treatment of childhood cancer.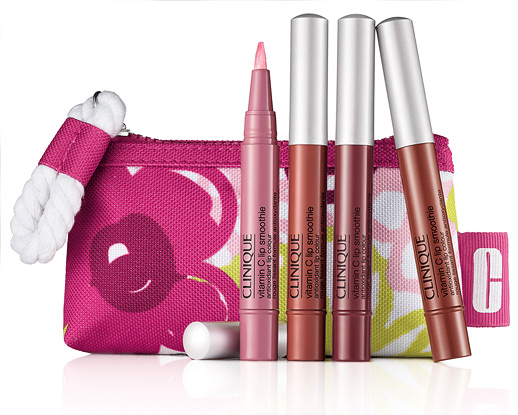 Throughout February, you'll be able to purchase a special Limited Edition Smoothie Kisses Lip Gloss Set (£22.50) featuring the latest lip launch from Clinique, Vitamin C Lip Smoothie Antioxidant Lip Colour.
The set includes four Vitamin C Lip Smoothie glosses, in Pink Me Up, Goodness Grapecious, Nude-tricious and Mango-thon, all housed in a brightly coloured pink bag.
Sold exclusively in House of Fraser stores nationwide during the month of February, £4.00 from each purchase will go to the KISS IT BETER appeal (£2 from Clinique and £2 from House of Fraser).
If the new set doesn't take your fancy, then A £2.00 donation will also apply to all Clinique lipstick or lip gloss (£15.00) sold at House of Fraser stores nationwide, throughout February. (£1.00 will be donated by Clinique and £1.00 will be donated by House of Fraser).
.
If you want to learn more about the KISS IT BETTER appeal and discover other ways to donate, visit www.gosh.org/kissitbetter