From top-to-toe, let's face it… Christmas is all about sparkle, shine, glitter, and glow (I'm a poet, DontchaNo).  It's the one time of the year that we – as grown ups – get to indulge our inner 6-year olds and go bat-shit crazy about all things thoroughly innapropriate for our age.  If you have children, it's even easier because you can totally blame them for your temporary insanity.
Why, just today, I had to divert accusatory looks from my husband as I picked out yet another set of fairy lights for the flat.  I don't know where I'm going to put them, or whether the national grid actually has enough power to supply the electricity to my flat anymore, but dammit – I want my flat to resemble a grotto for the next couple of weeks, is that really too much to ask?  Is it Santa?  Is it?!
Today's gift guide is all about introducing our nearest and dearest (and us!) to a little bit of sparkle.  It may be subtle or it may be in your face with a bling-a-ding-ding – either way, there's plenty of glow to go around!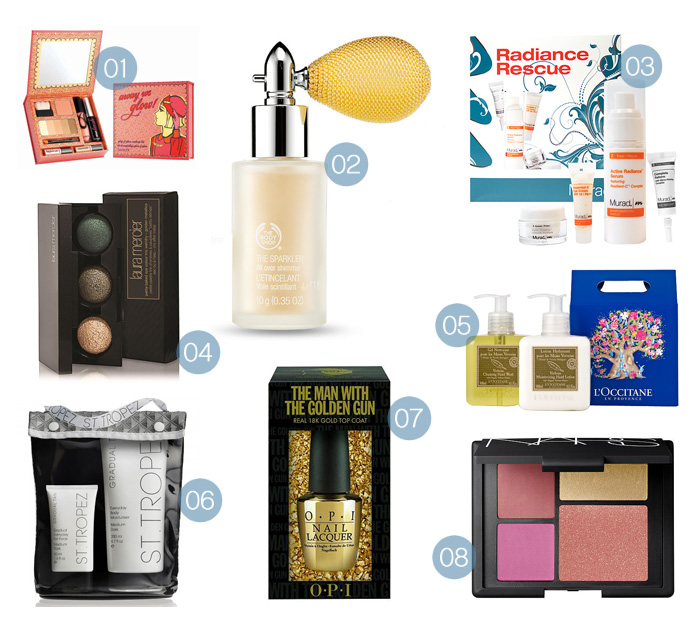 01:  Benefit Away We Glow Gift Set (£29.50)*
This face set from Benefit promises to bring on the glam just in time for Christmas with a full eyeshadow palette of neutrals, a cream highlighting duo in the form of Sun Beam and High Beam, a glistening lip shine, mascara, and Coralista blush.  Making it the complete kit to inject some radiance into your makeup looks through these dark months.
02:  The Body Shop The Sparkler in Enchanting Gold (£14.00)*
Brushing on your highlighter is sooo 2011… opt for the ultimate in decadence and start spritzing on the sparkle instead.  The Body Shop's limited edition atomiser releases a fine-textured shimmer powder that will brighten up your complexion in no time.  Perfect for bare arms and an eye-catching decolletage this party season.
03:  Murad Radiance Rescue 4 Piece Collection (£58.50)*
If your quest for radiance lies beneath the surface of the skin, you might want to try a new skincare routine that promises to work to improve your skin's natural radiance.  The 4-piece collection from the hi-tech U.S. brand contains: Active Radiance Serum 30ml, Complete Reform Serum 3.7ml, Hydro-Dynamic Ultimate Moisture 7.5ml, and Essential C Eye Cream SPF15 4ml.
04:  Laura Mercier Petit Baked Eye Colour Trio (£20.00)
For pint-sized perfection, you can't beat this super-cute eye colour trio from Laura Mercier featuring three glittering shades that are sure to put some sparkle in your stocking this year.  Use them dry for a sheer wash of shine or wet the brush before application for a more vivid, metallic shimmer.
05:  L'Occitane Verbena Energised Hands Duo (£30.00)
Verbena, my favourite line from L'Occitane with its sparkling citrus aroma that brings to mind those warmer months that seem like a distant memory at this time of the year.  This nourishing hand duo will uplift your spirits with a long-lasting zingy freshness that will keep you sneaking back to the sink for another sniff.
06:  St. Tropez Catwalk Glow Set (£20.00)*
Hands up if you haven't shaved your legs for more than a week.  More than two?  Saving on the heating are you?  Well, if your legs have got any New Year parties to attend, treat them to a sun-kissed glow from St. Tropez's Catwalk Glow set which includes two tubes of their everyday Gradual Tan formula, one for the body and one for the visage (that means face, hairy Mary).
07:  O.P.I The Man With The Golden Gun Top Coat (£26.00)
Remember that bling-a-ding-ding I talked about?  Well this is it – the ultimate in 18-carat glitz, for your nails!  This clear top-coat from O.P.I will take any manicure from dull to dazzling in the blink of a glittering eye.  Just one warning, times are tough out there… don't get your fingers lopped off by a Bond baddie down a dark alley, I hear gold fetches a pretty penny nowadays.
08:  NARS Foreplay Orgasm (£39.50)
Even though I don't recommend asking your Dad (or indeed any male relative) to get you this one for Christmas, it should still remain firmly on your wishlist.  This glitzy palette of four cheek shades will soothe the souls of any NARS fans out there taking its inspiration from the best-selling Orgasm blush and featuring a peach matte, gold highlighter, pink matte, and peach pink with gold shimmer blush.  Orgasmic.
If you go crazy for coffrets, look out – the next gift guide's got your name on it!
* press samples