I'm a massive Graze Box fan.  Like a child on Christmas morning, I skip toward the front door when I hear the postman coming every alternate Friday.  *Plop!* as the box hits the doormat, *Squee!* as I grab it in my hot little hands and run off to uncover my weekend treats!
What is it about cutely packaged boxes that suddenly makes the interior of Holland & Barrett look sexy.  There is nothing sexy about Holland & Barrett… or Julian Graves for that matter, probably why they went bust.
Are you one of the few remaining people on Earth who doesn't know what a Graze box is?  Allow me to enlighten you…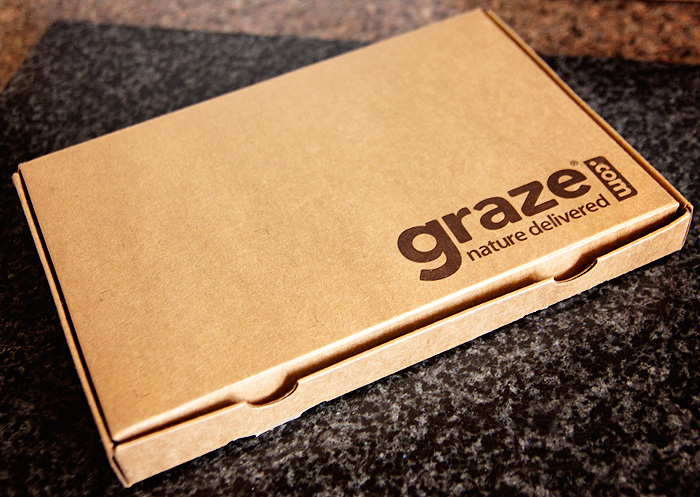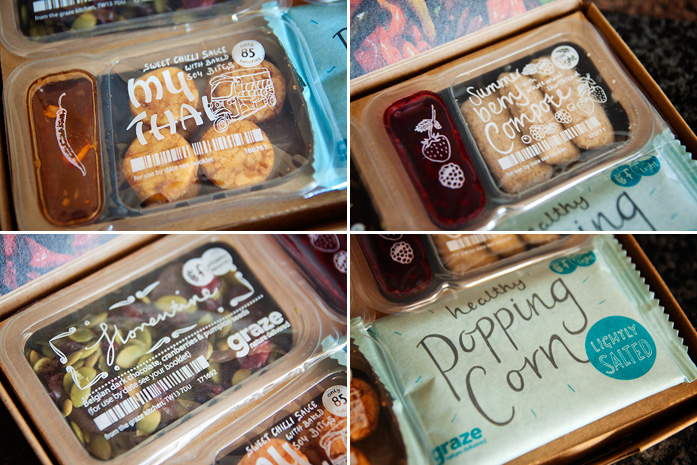 Thai Crackers with Sweet Chilli Sauce | Biscuit with Compote | Florentine Mix | Popcorn
You pay a fee of £3.89 and for your monies, you receive a wee cardboard box delivered to your door, or office… you know, if you have one.  The box contains a selection of four tasty treats, supposedly healthy (usually somewhere inbetween healthy and fattening), definitely moreish.  You can log on to the website at Graze.com and tell them what you like/don't like… even rating the previous box so that future selections are customised to your taste.  Back in the day, they used to include fresh fruit and other lovely bits in their boxes but what with Royal Mail being shit and letting the fruit ferment… they had to stop all that.
There are a billion offers around for you to try your first Graze box for free, mostly because subscribers get given codes to refer friends and earn themselves money off future boxes.  Here, have mine: 616XG25D for a free box*.
They're also now doing Breakfast boxes containing four portions of suped-up porridge… usually with things like dried fruit and nuts added, plus a drizzle of honey.  Yum.  Again, ZXRP1YM will get you into the top-secret (not really) Breakfast Club and award you your first box for free*.
…BUT YOU'RE NOT GONNA WANT TO USE THEM!
Because look, I done did my very own Graze Box.  A DIY Graze Box!  And it cost not THREE POUNDS AND EIGHTY-NINE PENCE.  Oh no, it cost a mere £1.67** and contains lots more goodies!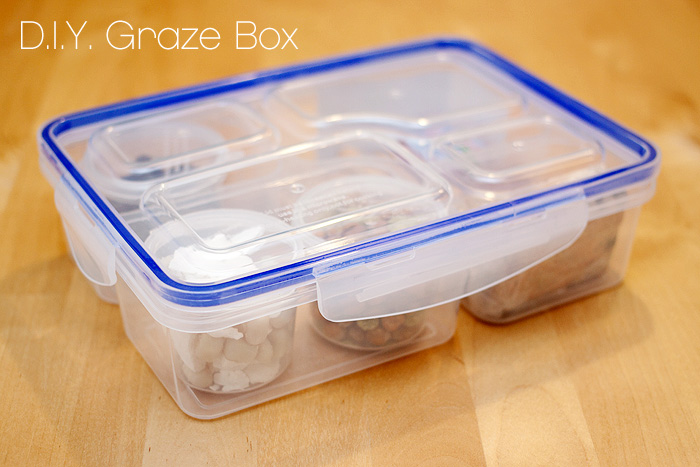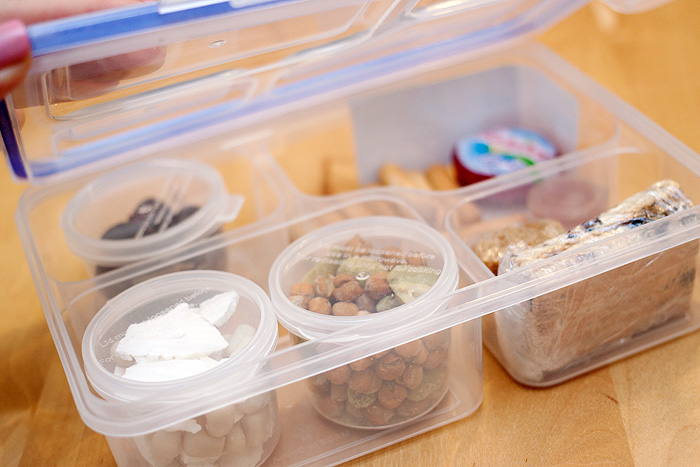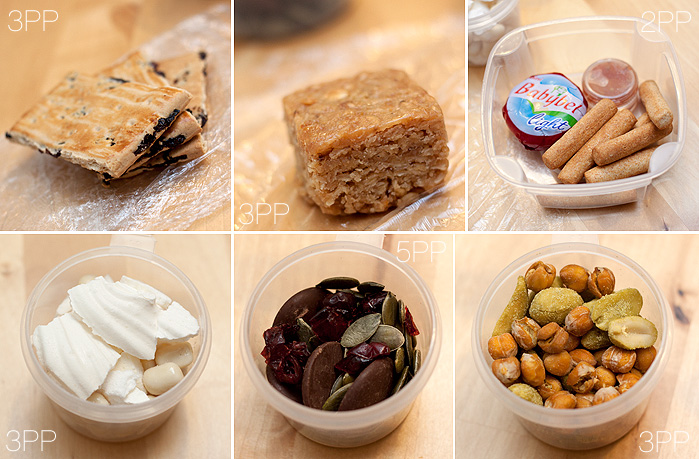 Garibaldi Biscuits | Mini Flapjack | Breadsticks, Cheese & Chutney
Meringue and Yoghurt-coated Strawberries | Florentine Mix | Roasted Chickpeas & Wasabi Peanuts
My favourite thing from my delivered Graze boxes has always been the Florentine mix of pumpkin seeds, cranberries, and dark chocolate buttons so I knew that I wanted to replicate this in my own version (bottom middle).  Infact, this worked out as the most expensive pot (56p), which might have something to do with the fact that I used Montezuma's Giant Dark Chocolate Buttons (om nom nom).
Garibaldi biscuits (top left) are a much-neglected biccie in my opinion!  On Weight Watchers, you can have three for 3PP… plus they're pretty inedible without a cuppa but perfect for dunking, making them a brilliant mid-afternoon, tea-break snack.
I wanted an even spread of sweet vs. savoury, so also included a mini-flapjack bite from Asda bakery (top middle)… now I just need to resist the temptation not to polish the rest of them off!
Leila's passion for breadsticks got me thinking about their potential for grazing on (geddit?), so I picked up some mini wholewheat breadsticks, a jar of tomato chutney, and a Babybel Light (top right).  It's like a cheese and pickle sarnie in skinny form… um, sort of.
The bottom left selection is another for my sweet tooth.  It features a broken meringue nest and yoghurt-covered dried strawberry pieces!
Finally, I included a pot with a comination of dry-roasted chickpeas and wasabi peanuts (bottom right).  So spicy, so good!
Obviously the initial outlay to make your own Graze boxes is something to think about… but as an ongoing thing, this box worked out at £1.67 for the lot.  As far as quantities go… my Florentine mix weighs in 40g, only 1g less than the Graze version… but do you know the really cool thing?  Mine is 5PP… theirs is 6PP!
Would you make your own Graze box?  What would you put in it?

* both codes are affiliated, I get £1 off my next box if you use them (I think).  Please don't use them because now I have a cupboard-full of seeds and dried fruit to use up!
** ignoring the £5845893 I spent on tiny, tiny boxes