I'm really fussy about chocolate brownies, infact… so fussy am I, that I hardly ever order them when I'm eating out.  Do you know why that is?  Because I can't remember the last time I enjoyed a decent chocolate brownie.  They're always too dry… too cake-like.  I don't want a square of dried-up old chocolate cake masquerading as a brownie.  Don't try and placate me with a handful of chocolate drops strewn about the crumbs.  That won't do.
I want a brownie that practically squelches between my teeth.  I want a brownie that basks in its own decadence… I want a brownie that makes me question whether I can even finish it… that's how rich and super-chocolatey I want my brownies to be.  Now, can you see why I never order them?  I'm a brownie-snob.  That's what I am!
Leila and I received a lovely hamper from the sugar-company Billington's last week, containing a few choice ingredients that they felt would result in the perfect chocolate brownie.  Of course, in the interest of science, my daughter and I felt the need to test this theory without delay.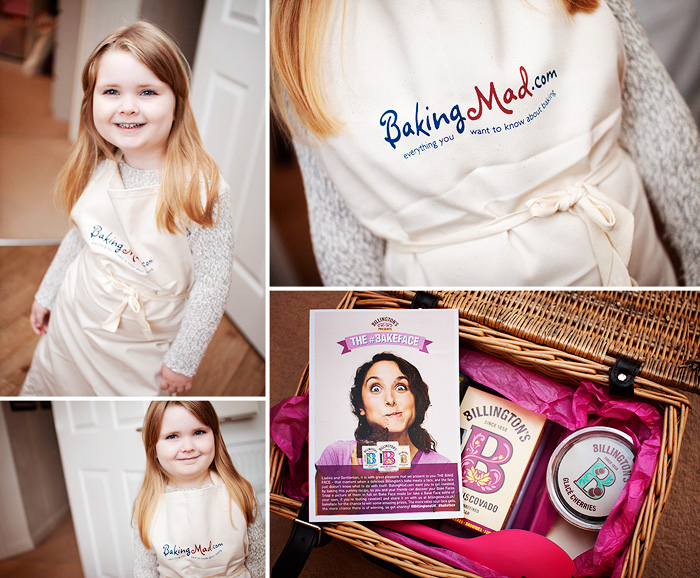 She's so proud of her new apron.  I don't think it's going to stay clean for long… do you?
Along with the hamper, Billington's sent a Chocolate Brownies Recipe card that promised indulgent, squidgy pieces of brownie heaven.  They recommend the addition of glace cherries and dark muscovado sugar, I've never had cherries in a brownie before… have you?
The recipe calls for 300g of dark chocolate, and it nearly broke mine and Leila's hearts to raid our chocolate stash… she was getting ever more hesitant as she got to the last bar.  "Are you sure it needs all this chocolate, Mum?"
"'Fraid so!"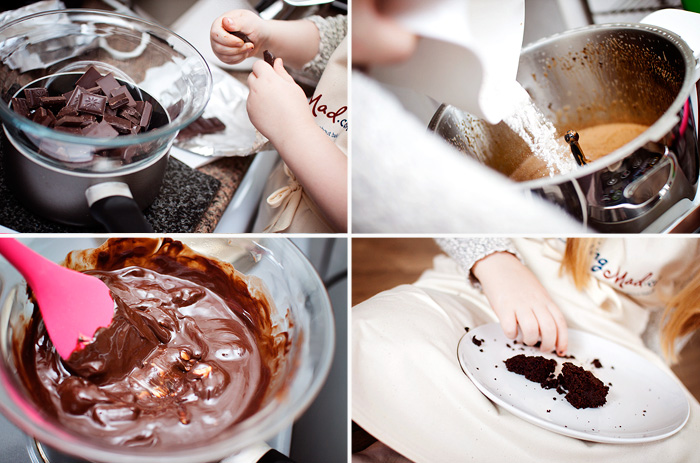 Once we'd melted, mixed, sieved, stirred, and whisked our way through the recipe, it was time to put them in the oven.  Those ensuing 30-minutes felt like the longest of our lives.  The smells wafting from the kitchen were tantalising!
Finally, the timer beeped and we dived for the oven door.  Letting them cool for nowhere near as long as we should have, we began to cut into the squidgy slab of sinfulness.
Unfortunately, I had to wait a little longer than I'd anticipated before I could sink my teeth into a square.  You see, I'd also accepted Billington's mission to capture a #bakeface.  You know… that face you pull when you're indulging in the sweet excesses of gluttony.  Basically, cake.  You know and I know that cake brings a special kind of happiness that salad can only dream of aspiring to!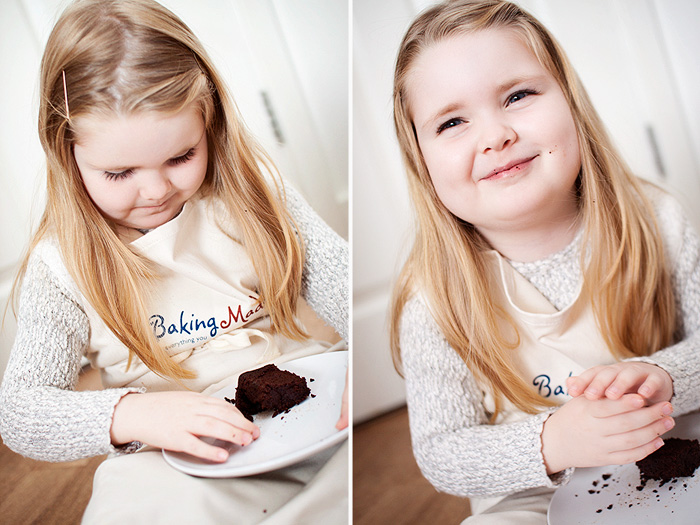 It was quite hard to capture Leila's #bakeface to be honest as she was mostly positioned face-first into her plate.  After a lot of patience – and the fear that I might have to give her another square of brownie in the name of capturing it – I got one.  That final bite.  The understanding that it's all gone.  And then the cherished realisation that you have at least another 5-licks worth attached to your fingers!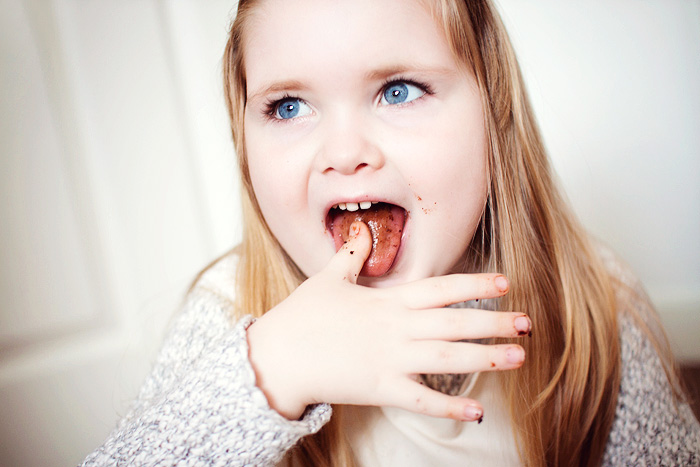 Gotcha #bakeface!
If you'd like to enter your best #bakeface – Billington's invites you to upload your snap to http://bakeface.billingtons.co.uk/ for the chance to win some amazing prices. The more votes your #bakeface gets, the more chance there is of winning!
* Billington's provided me with some of the key ingredients of this recipe
if you liked this post, please don't forget to check out my subscriber options, here