Argan Oil (and the like) has done for leave-in hair serums what the Hummingbird Bakery did for cupcakes.  I have spoken to plenty of women who class these serums as game-changers for taming unruly locks and I too, use them on wet hair before blow-drying and on the ends of my dry hair to seal the cuticle and give the impression of sleeker locks.
The problem that many women find with these products is that it's very easy to go overboard when applying them.  Too close to the roots or a little too much on fine hair and you're never going to be happy with a head that looks like the overspill from your chip pan.
I can probably count on more than one hand the number of times I've had to dart back into the bathroom to re-wash my fringe after getting a little too trigger-happy with the serums and it's the kind of faux-pas that I, at least, haven't been able to break with practise alone.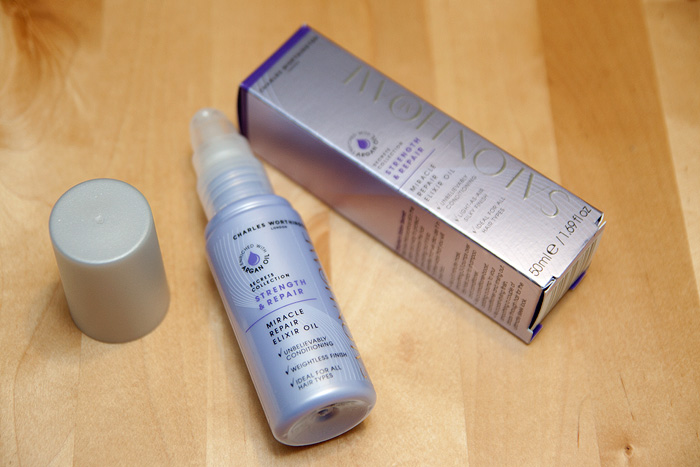 The thing that struck me so intensely about the new Charles Worthington Miracle Repair Elixir Oil is how different it feels in texture to many of the others.  It's a lot lighter, a lot runnier and doesn't seem to stay stuck to my palms for the rest of eternity.  Having said that, it still delivers the same manageability to my hair that I've grown to expect from using these serums.
For a "high street" name, at £14.99, you're not paying a high-street price tag… but a quick look at the ingredients tells me that you're not getting high-street quality either…
Unlike most mass-market "elixir oil" incarnations, the natural oils appear in the top half of the ingredient list, let me transcribe the (partial) list for those of you who might be interested, I'll stop when things start getting tricky to spell 😉
Cyclopentasiloxane [stop now then shall I?], Dimethicanol, Cetyl Dimethicone, Argania Spinosa (Argan) Kernel Oil, Pentaclethra Macroloba (Pracaxi) Seed Oil, Camellia Sinensis (Camellia) Seed Oil, Triticum Vulgare (wheat) Germ Oil, Prunus Amygdalus Dulcis (Sweet Almond) Oil, Tocopherol, Phytantriol, Cocoglycerides, Capryllic/Capric Triglyceride, Aminopropyl Phenyl Trimethicone… (and the list goes on…)
4th ingredient down the list and bingo – which isn't bad considering that when reading the back of the the much-loved Moroccan Oil packet, you'll get to the 6th ingredient in the list before seeing the magic "argan" word.
I'm inclined to think that it's more to do with the blend of silicones they pack into these things that aid the smoothening of the locks far more than the blend of natural oils, but… still, it's nice to see that CW isn't skimping on the oils part of the "magic formula" isn't it?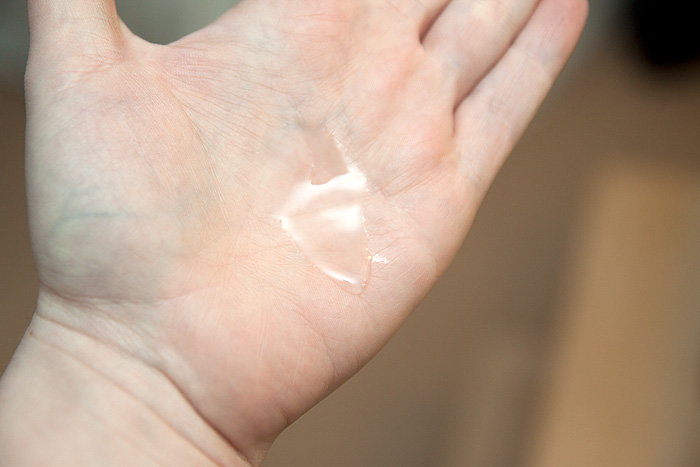 This is definitely worth a try if you're finer-haired and have had trouble with the heavier formulas of other argan oil-inspired products in the past.
Charles Worthington Miracle Repair Elixir Oil is priced at £14.99 for 50ml and is part of the new Charles Worthington Salon at Home range, which is available to buy now in Boots instore and online – I have a couple of other bits from the range that promise all sorts of wonderous things for your barnet – should they impress (or catastrophically disgust me), you can be sure that I'll tell you about it.
* press sample