Are you thinking about Christmas yet?  Can I let you in on a little secret?  I've nearly bought all my Christmas presents already.  Don't hate me, it just seemed to happen without any real intention to get organised – perhaps it's because funds are a little tighter this year than normal ("real" rent will do that to you), or perhaps there's been some really good offers on in all the shops I frequent?  Either way, I have managed to secure some thoughtful pressies for definitely less than it would cost if I had left it until the "holiday spirit" is in full swing!
I even hit the supermarket this week and bought all the chocolates (you know, the present bulker-uppers!) for a £1 a bag – malteasers, minstrels, rolos…. oh god, did someone say chocolate?
Anyway, incase you are feeling a little bit organised, I wanted to tell you about a rather lovely Jimmy Choo GWP that's out on counter now.
No, sorry, it's not a pair of shoes! But perhaps the next best thing – no, not a lifetime supply of Galaxy either, stay with me…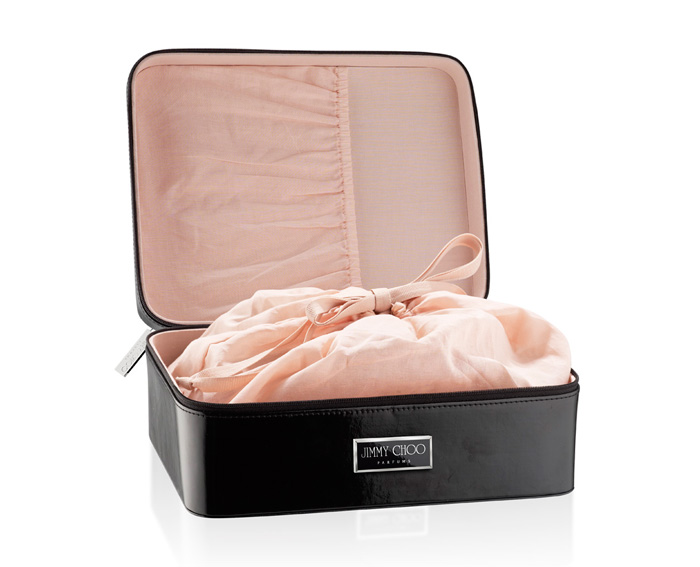 It's a Jimmy Choo shoe case, to put your, err, Jimmy Choos in!  But you know, your Converse would look pretty good in it too (sacrilege!)  This would make a lovely gift for any fashionistas and you can either keep the perfume for yourself, or be super generous and part with that aswell!  Or you know, you could just keep it all for yourself (my precious, etc. etc.)
The Jimmy Choo shoe case is available in department stores nationwide from October 2012 with a purchase of any Jimmy Choo 60ml fragrance.