No, I haven't started blogging in Algebra, C25K stands for "Couch to 5k", a running program that has been devised to get anyone up and running 5k in roughly 9 weeks.  Yes, really.
Being English, I didn't actually know what 5k was off the top of my head.  I'm all about the inches, feet and miles.  I guessed at 2 miles, so was shocked when I looked at a converter and saw that 5k = 3.1 miles!
Me? Run? 3 miles?
In 9 weeks?  Not a bloody chance.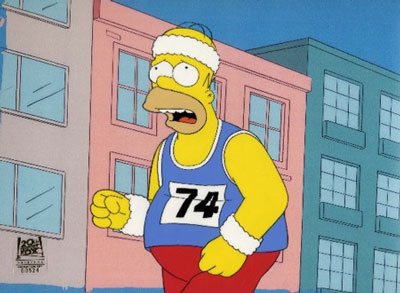 But you know what they say about God loving a tryer…
The program consists of 3 runs a week, each getting progressively longer and more challenging.
Last night, I attempted my first run.  I literally mean, "my first run".  I honestly can't remember the last time I broke the "fast walking" barrier.  I mean, why would I?  I never have to run for a bus and I'm well past chasing men!
I wasn't even sure if I'd be able to co-ordinate my flailing limbs into a running motion anymore.  What if I fell over?  What if I knocked myself out with my boobs?
First things first, the boobs had to go.  I bought a sports bra online a few days ago and it arrived this morning.  It doesn't kill the motion completely, but it absorbs the shock enough for it not to be a problem to my back or my chin!  It also happens to be the most comfortable and uplifting bra I've ever worn (though alas, far from the prettiest).  I'm buying another in white to trial wearing daily (I'm a sad old sports bra-wearing mum nowadays).
Anyway, enough talk of bras… back to the running!
The first week's schedule consists of interval training which involves a 5 minute warm up/cool down and alternating between 60 seconds jogging and 90 seconds walking.  Repeat this until you DIE or for 20 minutes, whichever comes sooner.  In my case, it was very nearly sweet, sweet death.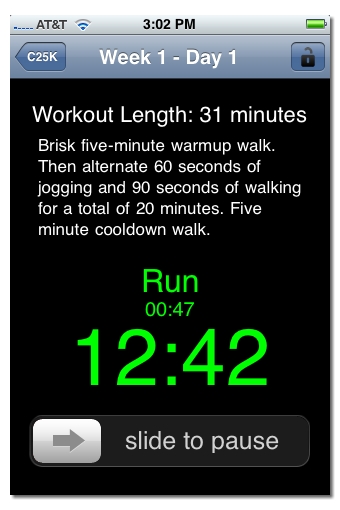 It's cold out there now in the evenings and heaven forbid I'm only going to attempt this kind of body wobbling under the cover of darkness.  Cold air = burny lungs and that was my first obstacle.  I'm a chronic asthmatic which although well-controlled, still requires daily inhalers and the whole burny lung thing was not comfortable.  Next time, I'm wrapping a light scarf round my gob – I don't care if it looks stupid.
Second obstacle?  The snots.  My nose would. not. stop. dripping.  Again, the cold air… I'm thinking that at least the scarf will double as a nose wiper.
Third obstacle?  None really!
Of course, I was knackered after about 10 minutes of walking/running – but I didn't get any stitches, painful calves or shin splints so I think I got off quite lightly really.  Those last 3 minutes did nearly put me in an early grave though… my head felt like it was going to explode every time I pounded the pavement (did you feel the quaking from where you are?).  I think that was because I was a touch dehydrated, I should have had been sipping fluids regularly for a couple of hours before starting the programme (especially being on the CWP).  Something I'm going to remedy from now on.
Once I got home and collapsed in my chair, my pulse stayed elevated above 100 bpm for a good 15-20 minutes… a sure sign that this chick needs to get back out there and improve on her fitness.
I downloaded the C25K iPhone app (there are also podcasts and an android version available) to help me with this endeavour and the app vocally guides you through the timings of when to run and when to walk.  The countdown is particularly motivational for those last 20 seconds of each running segment!
Have you ever tried the C25K programme?  If you fancy giving it a go with me, I could sure do with the virtual company!  Week 1, Day 1 complete… I'm eager commited resigned to the next installment!