I owe you an apology for the sun protection series that never happened.  I planned my posts, split the topic down into the main aspects I wanted to cover but then a few things happened that prevented me from seeing things through…
1).  Turns out there are only 24 hours in a day.  Who knew.

2).  I wanted professional input but one contact went silent halfway through the process and the other replied to my questions with single word answers and I was frankly too aware that they were both doing me a favour to push my luck.

3).  I may have also got the mega wobbles about doing such an important subject justice.
So basically, I failed but I can honestly say that I failed with the best of intentions.
Still, all the 'homework' that I put into the series hasn't entirely gone to waste as it has given me understanding and knowledge that has left me far better prepared to comment on some of the sun protection I've discovered this Summer and I've needed this time to use, compare and decide on my favourite facial sun protection products on the market today.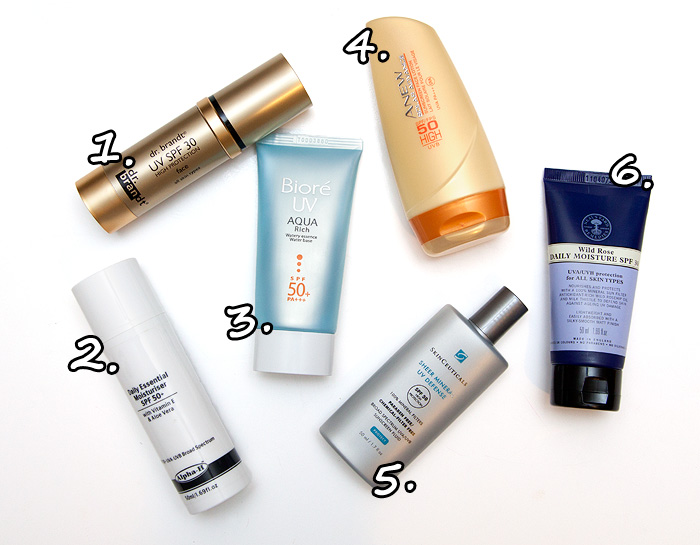 Let's start from the top shall we?
1.  Dr. Brandt UV SPF 30 PA+++* is an an advanced broad spectrum UV protectant that contains 'dry touch' technology.  It wears exceptionally well under makeup and provides a satin finish with no white cast.  Packaged in an airless pump, it refused to dispense for me on a few occasions leaving me pumping nothing but air until I swore at it and it behaved again.
I wasn't hugely keen on the scent but it deserves top marks for leaving a practically naked finish.  Medium-textured and water resistant for 80 minutes.
Price:  £30.00 for 30g at SpaceNK
Repurchase?:  Probably not, it contains Oxybenzone and I don't like the scent.
.
2.  Alpha-H Daily Essential Moisturiser SPF 50+ is an incredibly light-textured solution blended with antioxidant Vitamin E, calming Aloe Vera and pure Honeycomb extract for hydration aswell as sun protection.  This is another superb sun cream to wear under makeup leaving no white residue and providing a dry finish without a hint of greasiness.  Claims water resistance of up to 4 hours.
Price:  £21.82 for 50ml at QVC
Repurchase?:  My heart says yes but my head says no.  Again, this contains Oxybenzone.
.
3.  Biore UV Aqua Rich Watery Essence SPF50+ PA+++ is a fluid-textured solution that feels cooling to the skin when applied.  It leaves no white casts and a slightly dewy (but not greasy) finish.  Perhaps better for normal/dry skins though as it lacks the immediate touch-dry feel of the other two.  It sets after a couple of minutes, which is how long I usually wait before applying makeup over it.  No claims of water resistance.
Price: Around £12 for 50ml from eBay
Repurchase?: Again, probably not.  It's great value but contains Octinoxate.
.
4.  Avon ANEW Solar Advance Sunscreen Face Lotion SPF50 PA+++* similar in finish to the Biore but with a heavier texture.  This is definitely more cream than fluid but the most pleasant smelling of all sun creams trialled.  Packaging is a frustration because the bods at Avon decided it would be a good idea to print orange text over a yellow bottle, cue much squinting.
Again, this works best if you leave it a couple of minutes before applying make up but again, it left no white casts on my skin and once 'set', I experienced no issues with products that I used over it.
Price:  Currently £8.50 for 75ml at Avonshop – an absolute bargain!
Repurchase:  Unlikely, it's another one to use Oxybenzone as a UVA/UVB filter and is a little heavier textured than the others.
.
5.  SkinCeuticals Sheer Mineral UV Defense SPF50* is an all-mineral sunscreen that employs physical UV filters Zinc Oxide and Titanium Dioxide to protect the skin from the sun.  You would usually expect to be left with a white residue as these ingredients sit on the skin's surface, physically deflecting the UV rays but SkinCeuticals Sheer Mineral UV Defense uses micronized particles to provide a sheer, non-chalky finish.  The texture is extremely fluid and needs a good shake before applying as it does separate in the bottle.
Paraben-free and contains plankton extract to increase the skin's defences against UV and heat stresses.
Price:  £26.99 for 50ml at Dermacare Direct
Repurchase:  Possibly, though I found the mattifying effect a little drying for my combo/dry skin.
.
6.  Neals Yard Remedies Wild Rose Daily Moisture SPF 30* is the first sunscreen to be certified by the Soil Association (it's 56% Organic) and contains only one active ingredient: Zinc Oxide.  Naturally scented (as you would expect), the tube dispenses a heavy-textured cream that takes a bit more effort to massage into your skin compared to the others on trial.  Once rubbed in, it dries to a velvety finish with no white residue.  It feels more comforting for my dry skin than the SkinCeuticals but otherwise, very similar once set.
Also contains antioxidant-rich wild rosehip oil and milk thistle, is paraben-free and wears beautifully under makeup.
Price:  £23.50 for 50ml at Neals Yard Remedies.
Repurchase:  Absolutely.  100% mineral, matt-finish but with the added benefits of moisturisation makes Neals Yard Remedies my winning choice.
.
A note on my personal choice to avoid some synthetic UV filters:  I've made the decision to avoid some UV filters that have been linked to possible hormone disruption.  The jury is still out on the validity of studies that have flagged these safety issues but whilst there are good alternative choices available, I'm pleased to be able to make them.
* press sample