You've already seen the lipsticks from my Cherry Culture NYX haul…
Now it's time for the eye shadows!
I wasn't sure what to expect.  I'd heard such good things that I didn't think I'd be disappointed but I wasn't prepared to be quite so delighted either!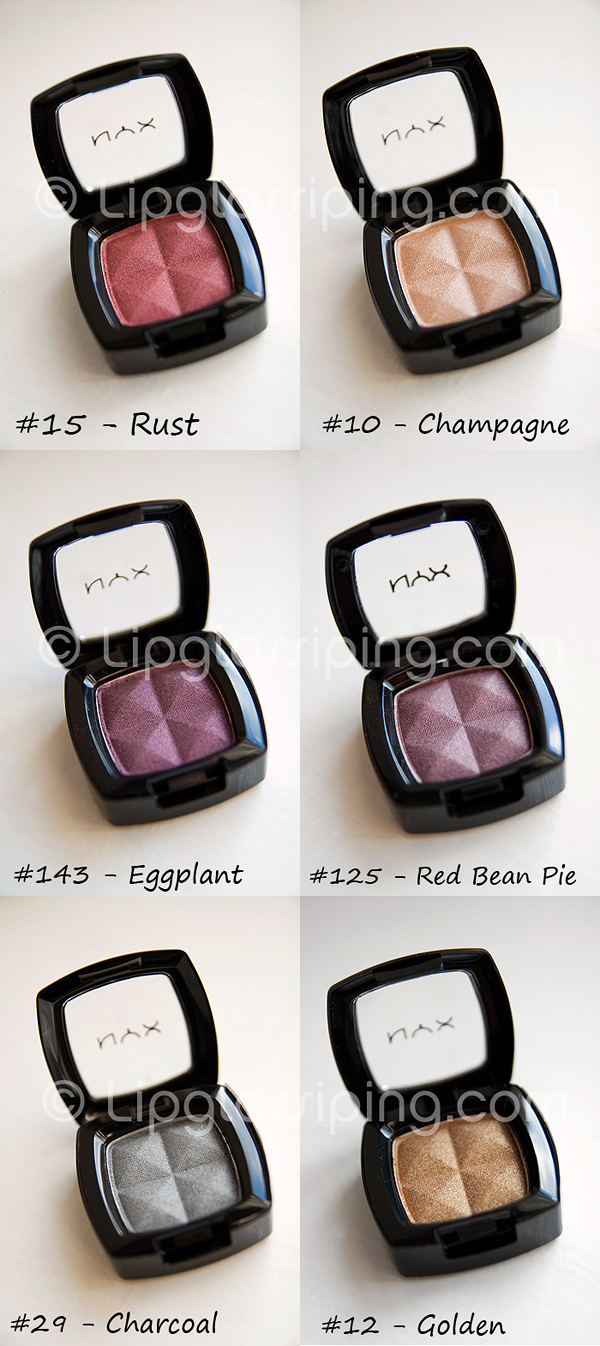 I stuck to what I consider to be great Autumn/Winter shades for me… Purples, Plums, Golds and Greys.  I was tempted by some brighter more Spring-like shades… but I'll save them for my next haul 😉
Here's the swatches (applied dry over UDPP):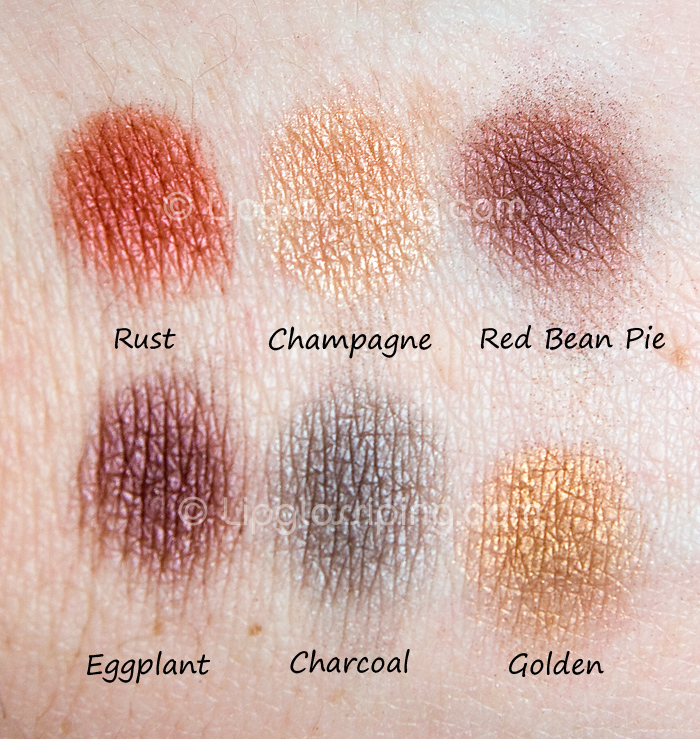 My favourites are Eggplant, Golden, Champage and Charcoal…
Rust is an amazingly pigmented shade… it's a touch too red for my taste but I've got it coming up in my next FOTD so you'll get a clearer idea of how it looks on the eye.
I read up on a few forums about Champagne, and it was often suggested as a nice highlight.  Damn my paleness 'cos it's too dark to use as a highlight for me… it will be a gorgeous shade for a quick wash of colour though – still pleased I bought it.
Red Bean Pie looked fantastic on the site and doesn't disappoint in real life.  It's basically Eggplant but with more plummy/red tones to it.
Eggplant is gorgeously metallic, it's simillar to Red Bean Pie, but a little more purpley.
I never use black in the crease, it's just too harsh for my skintone so I'm always on the lookout for nice greys and Charcoal is the loveliest crease colour for me.  I'm very happy I chose it.
Last but by no means least is Golden – stunning… proper metallic, highly pigmented.. just beautiful!
I'm not disappointed by a single shadow.
I also bought this little beauty…

The much talked about Jumbo Pencil in Milk which is the creamiest, brightest white ever!  I know that it's most often used as a base… but with my creasey creasey eyelids I'm actually gonna attempt to put it to work as an under the brow highlighter!  I'll let you know how it fares…
Can I get a little feedback on my swatches?  I'm not particularly confident with swatching… I think they're pretty colour accurate…  Let me know if you ever want a particular shade of anything I swatch incorporated into a FOTD, sometimes things just look different in a swatch than when put into context on the face – or maybe that's just me?