So after loving a Joe Blasco concealer I'd recently hit pan on and lemming the Ben Nye concealer wheel palette for about 100 years but not having the willpower to save up for it, I hit a dead end in my search for an industrial strength concealer.
I don't really bother with many high street concealers nowadays, although I still carry my trusty stick of Rimmel Hide The Blemish in my glove box.  Having said that, seeing as I literally can't remember the last time I used it, I probably shouldn't get within 10 feet of it without wearing full on hazmat gear.
Where was I?  Oh yes, Grimas…
Grimas are a Dutch company who as well as being founded the year I was born are also sharing enough to let us know that they employ 3 mentally disabled members of staff.  I kid you not, check here – it really does say that.  Equal opportunities rock!
Anyway, back to the products…
I picked up a camouflage concealer in shade G0 and a creme make up base/foundation in G1.
Camouflage Concealer: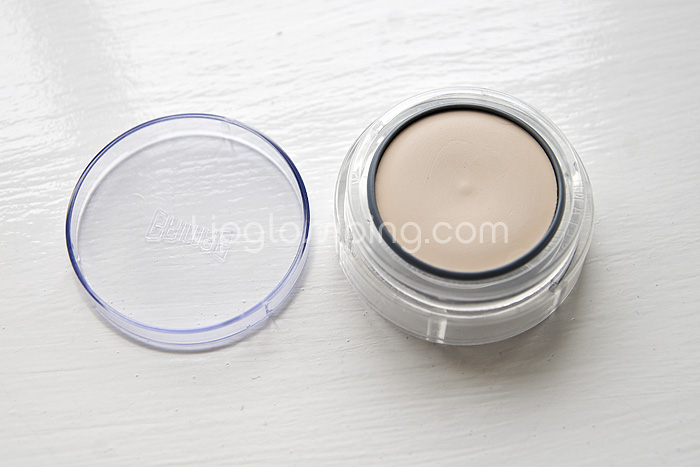 Creme Base/Foundation: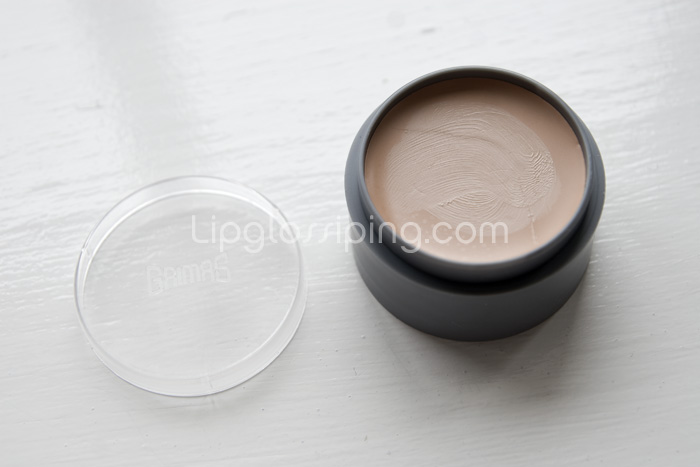 The texture of the concealer is quite hard, but very pigmented (as you would expect from a stage makeup brand) – a little goes a very long way!
When I swatched the concealer I thought it was going to be wayyy too pale for me, but it actually blended in really nicely and although I wasn't expecting it, I found that it neutralized redness better than anything I've ever tried before – including various specialized green and yellow concealers.
The foundation is a little dark for me to be honest so I may end up going back for shade G0… I need some honest opinions from my husband and some good light to see if I've tangoed myself so I'm reserving judgement at the moment.  The texture of the foundation is a lot thinner and oilier than the concealer making it easier to blend.  However, it's still highly pigmented and a light touch is the order of the day!
The foundation applied nicely with my stippling brush which I was pleased about as I'm loathe to use sponges which always seem to make cream foundations streak terribly on me.
On to the swatches…
G1 Foundation on the left/G0 Concealer on the right – note* my face is a shade or two darker than my hand!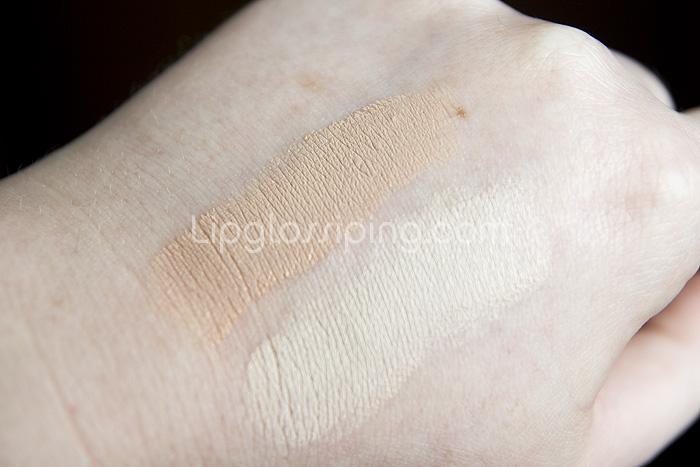 Considering they're supposed to be 1 shade different from each other – that shade difference is a yawning chasm and I'm blatantly somewhere in the middle of it.
As I said, I'm not completely convinced that despite this, it doesn't still work for my skin tone.  However I'll let you be judge, jury and executioner with another of those hideous before/after shots.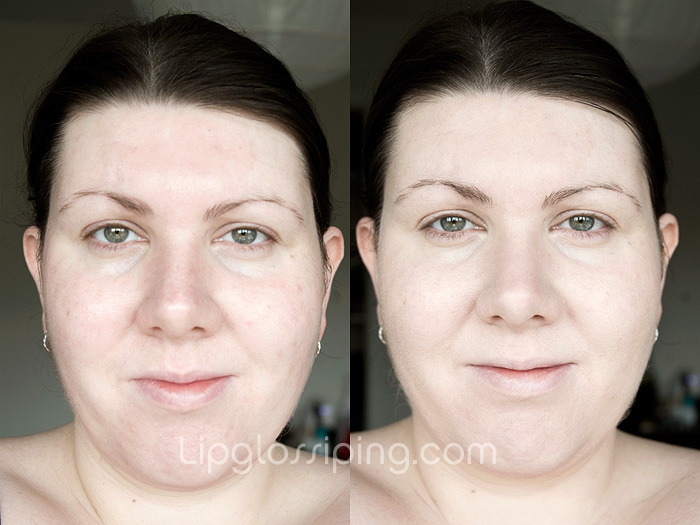 The concealer (like most thick concealers) will settle in fine lines, so I'd avoid the undereye area with this stuff.  I was also impressed by the fact that it didn't seem to need setting with powder.  Before I'd had a chance to set it – the doorbell rang with my Asda food shop so I was distracted for over half an hour and when I remembered that I hadn't powdered and looked in the mirror expecting to see huge amounts of shine and slip – it still looked as matte as it had when I first put it on.  Not massively high maintenance then!
I purchased Grimas from Facepaint UK as they were the only company I could find that charged a reasonable £2 p&p within the UK.  I'm also pleased to report that delivery was super quick (1 working day from ordering).
Overall, I'm really pleased with my experiences with Grimas – especially at how good the concealer neutralizes any redness.  My only disappointment is with the shades on offer – I'd love there to be something inbetween G0 and G1.
[starreview tpl=14]