I know it's old hat and not terribly cool but I can't help it, I'm still a big fan of mineral foundation.  Party like it's 2006 and all that.  You see, the thing is… me and minerals, we shouldn't get along.  On paper, we're a match made in hell thanks to my permanently dehydrated complexion and amazing ability to develop flakies quicker than I can say B.B. Cream.  In theory, I should be reaching for the richer cream fondations,and avoiding powders as though my life depended on it.
Except, that with a little bit of care and some post-application hydration, my skin just adores minerals.  Especially in the warmer weather.
I'm going to tell you about the one I'm wearing at the moment.  It was on my lust-list for many years and I finally succumbed to the wantsies when I saw Sirvinya had it down in her blog sale list.
Meow Cosmetics are an indie mineral makeup company from the U.S. who have been operating online for many years now and were one of the first I discovered back when I was a regular user of indie brands.  Their catalogue of products is so vast, I don't mind admitting that I find it bewildering.  Choosing the correct foundation shade for your skintone is quite a task in itself, admittedly made easier by some great, indepth instructions on the site.
If you think I'm exagerrating, I'm not.  Meow Cosmetics offer a staggering choice of 86 shades.  In three different formulations.  That's 258 possible combinations of foundation.  Bejesus.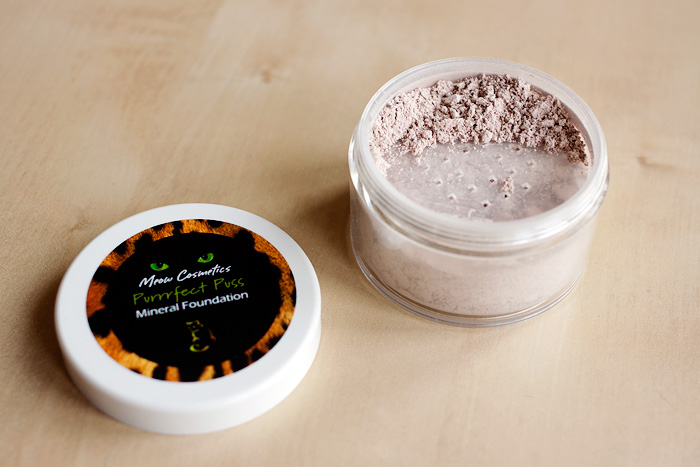 Here's mine.  It's the Purrfect Puss formulation which is described as a light-medium formulation with buildable coverage.  It features the brand's original matte formula but with enough of a sheen to look fresh rather than dull.  The brand boast that their formulation doesn't need "buffing" in the same way that traditional minerals do… and I find this to be true, a brush-on formula that can be layered nicely without the risk of micro-exfoliating my dry skin and causing further problems.
The shade that I have here is Frisky Chausie.  Two words.  The first "Frisky" relates to the depth of shade (ultra light to dark) and the second "Chausie" is the undertone.  In this case, Frisky = Light and Chausie = Cool Pink.  Making a great match for anyone who is a little pinker than a MAC NW15-20, like me.
Super pale girls will be delighted to hear that there are even two shades lighter than "Frisky" in each undertone!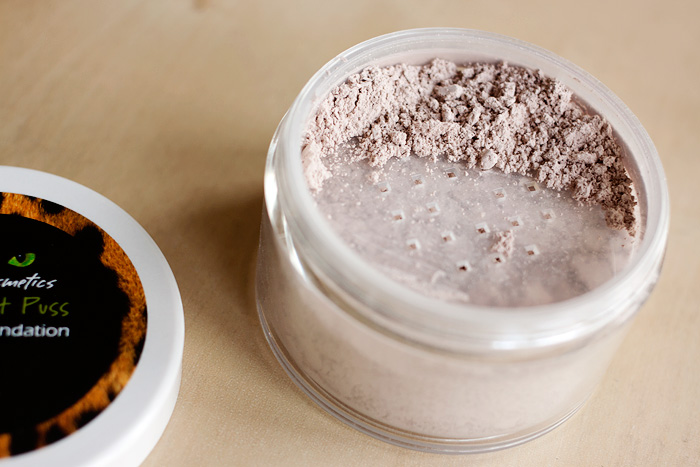 The powder is finely milled, velvet-textured and easy to apply.  I tap a little into the lid and give it a swirl with a dome-topped synthetic brush.  Although a popular choice for many mineral makeup fans, I rarely use a flat-topped kabuki as I just don't appreciate the fuller coverage, preferring instead to build it as I go… focusing multiple sweeps around the side of the nose and other places where my redness is more pronounced.
I always finish my mineral foundation application with a spritz of hydrating toner, something like the Balance Me Skin Bright Hydrating Mist.  If your skin is less dehydrated than mine, you'll be fine with a light spritz from a can of Avene water or similar.  I just find that this finishing touch ensures that the product melts into the skin and ensures that it doesn't look remotely "powdery".
I've included a swatch shot and a before/after below so that you can see how great the colour match is for my complexion.  If you struggle to find a foundation that matches well with your skintone, you should give this range a try – sample baggie sizes are also available should you need to order a small selection to find your perfect match.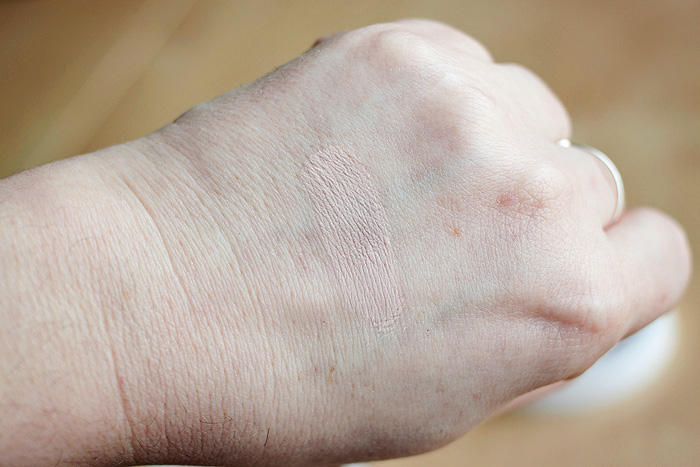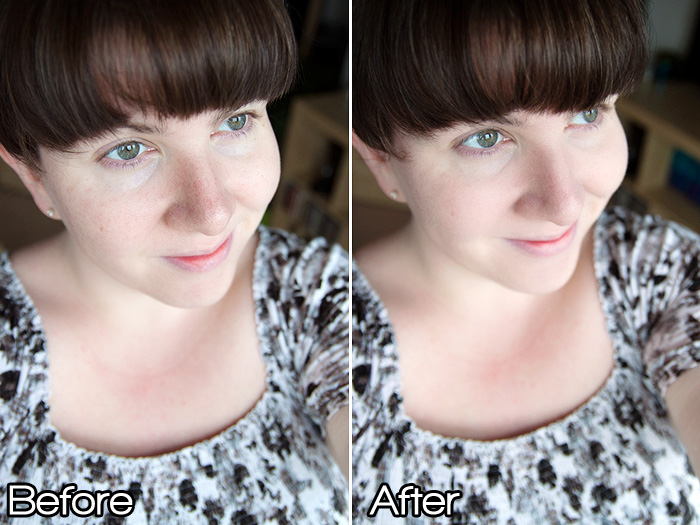 Meow Cosmetics Mineral Foundation in Frisky Chausie is available to buy online in three different sizes with prices ranging from $1 to $23.45
if you liked this post, please don't forget to check out my subscriber options, here