I've posted about the packaging and I've posted individual close ups of the eyeshadows alongside their official descriptions.  This post will document the swatches from the new Urban Decay 15 Year Anniversary Eyeshadow Collection* alongside my thoughts on each eyeshadow.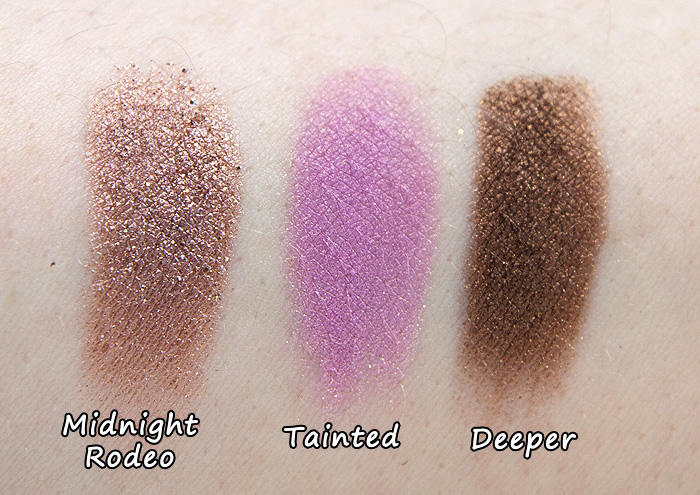 Midnight Rodeo is as Anitacska has been warning me, the love-child of MC/MCRA.  A beautiful base colour, spoiled by chunky glitter that will be ALL over your face in minutes if you're not very careful about tapping off as much glitter as possible.  Urgh.
Tainted is a disappointment to me too.  A slightly amped up lilac yet it looks more dirty mauvey in the pan, less… prissy and simply more exciting!  Still, the texture is nice, the gold shimmer is a pretty touch and it could well be a grower.  No glitter.
Deeper is a ridiculously well-pigmented shade of awesomeness.  Copper with a firey gold sparkle (not glitter), it's like a big beasty teddy bear and will make a fantastic liner on green eyes.  It looks a touch 'grainy' in my swatch (like Mignight Rodeo) – it's not… that's my bad.
Midnight 15 is a velvet-smooth, pale silver taupe.  A great inner corner highlight or an allover wash to brighten the area.  It has some (not too many) silver glitter particles.
Junkshow is a shocking pink with violet flashes.  Smooth shimmer with no glitter, I can see this one getting a lot of use on days when I'm feeling a little brave!
M.I.A is one of the most buttery eye shadows I've ever swatched.  It's a deep chocolate shimmer with no glitter.  Hugely versatile.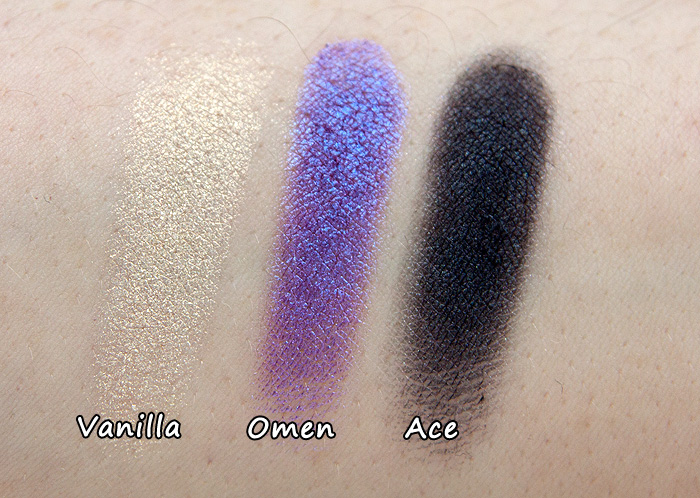 Vanilla, the obvious highlighter is a smooth pale gold.  No glitter.
Omen is a violet with strong blue flashes.  Clearly, it's stunning and builds up with great intensity though you'll find a dupe (albeit a more greasy version) for a £1 in MUA's eyeshadows.  Glitter free.
Ace is a graphite that is a good shade lighter than my swatch suggests (sorry).  A nice alternative to black for darkening the crease colour with a good texture.  No glitter.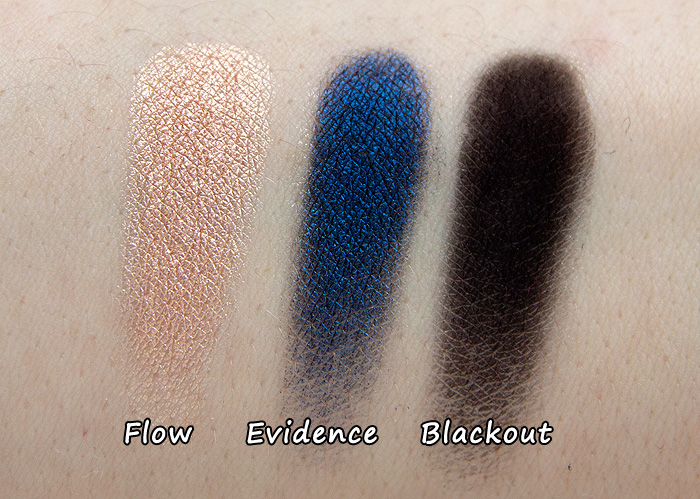 Flow is a beautiful, neutral lid shade.  A shimmery peach that doesn't pull too warm for cool skin tones.  Very pretty if not hugely exciting.  No glitter.
Evidence is a cracking midnight blue with some great vivid flashes.  It benefits from some building up and has a slightly hard texture.  No glitter.
Blackout, it's matte black.  Move along.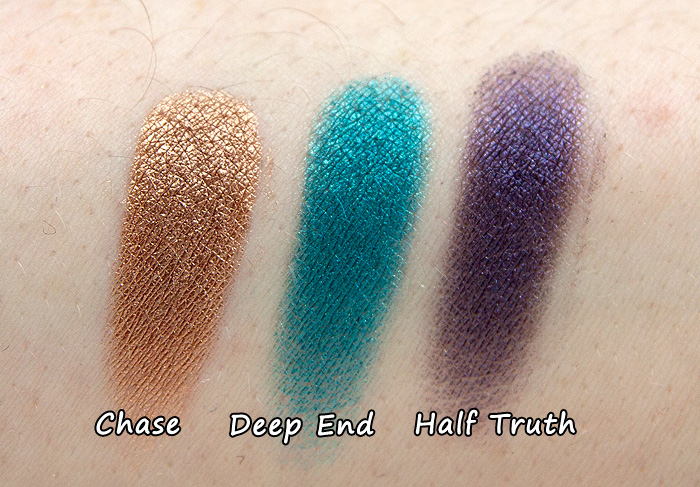 Chase almost looks foiled right?  Another ridiculously buttery eyeshadow with a high-metallic finish.  Very pretty and glitter-free.
Deep End is a beautiful green/blue mix that leans slightly more green to my eye.  It's a pretty shimmer with impressive pigmentation.  No glitter.
Half Truth is a smoky purple with multi-coloured shimmer.  Probably the most unique shade in the palette and my favourite!  Tres jolie!
.
My top 5 shades:  Half Truth, Deeper, Chase, Evidence, M.I.A
The Urban Decay 15 Year Anniversary Eyeshadow Collection is available to buy online at Debenhams.com, priced at £39.00
Have your favourites changed now you've seen the swatches?
* press sample